Sembra una trovata pubblicitaria e politica ma no, è tutto vero! Liam Cunningham, l'imponente Ser Davos di Game of Thrones, ha LETTERALMENTE mandato a quel paese (per non usare le sue parole testuali) un fan di Salvini.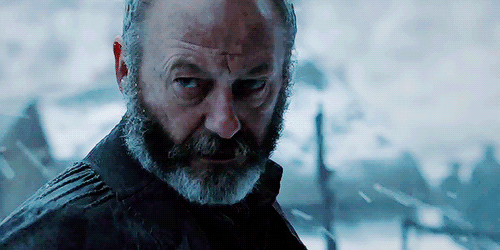 L'attore, che già più volte su Twitter si era interessato all'Italia, specificamente criticando il M5S dopo il disastro del ponte di Genova e denunciando vari disagi riscontrati all'aeroporto di Napoli, questa volta ha voluto appoggiare la manifestazione delle Sardine a Modena. I partecipanti alla protesta contro Salvini, che non hanno l'intenzione di fermarsi alle 2 tappe emiliane e stanno progettando di spostarsi in altre grandi città italiane, possono contare su un alleato in più.
Liam Cunningham li ha voluti incoraggiare appoggiandoli pubblicamente e postando sul suo profilo ufficiale il video del loro raduno sotto la pioggia.
Ecco il tweet:
Al che un utente evidentemente salviniano ha commentato, e lo riportiamo noi dato che lo ha poi prontamente cancellato, con: "Fatti gli affari tuoi. In Italia non esiste il fascismo, però ci sono un sacco di comunisti".
L'attore non si è lasciato sfuggire la ghiotta occasione di togliersi un sassolino dalle scarpe e ha risposto senza mezze misure suscitando un clamore assoluto tra chi stava seguendo il post. Questa sua risposta sta facendo praticamente il giro del Web e non può che far piacere e spronare ancor di più i manifestanti.
Riportiamo il commento di Liam Cunningham dato che, nonostante l'utente abbia cancellato il suo, la risposta di Ser Davos è comunque rimasta:
Ser Davos non ha appeso definitivamente la spada e l'armatura al chiodo dopo il finale di Game of Thrones. Le battaglie per lui continuano anche su Internet, e le sue armi stavolta sono una tastiera e i suoi tweet avvelenati.