Spoiler alert: non proseguite con la lettura se non siete in pari con la visione di Game of Thrones 8.
A due settimane esatte dal mistero della tazza di caffè abbandonata, ecco che nella medievaleggiante Westeros fanno capolino altri oggetti moderni dimenticati dallo staff.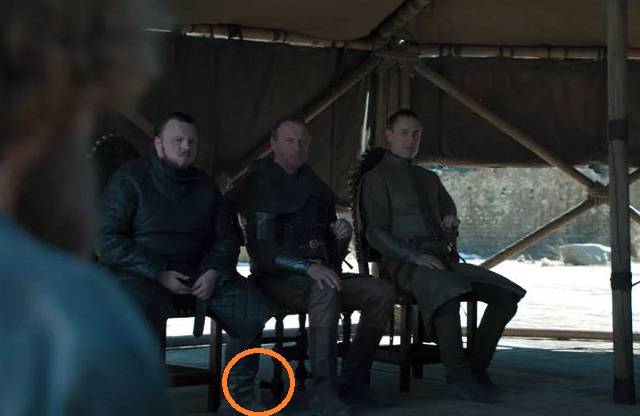 Durante una delle scene più importanti dell'episodio finale di domenica in cui si è deciso chi meritasse "The Iron Throne", ben due bottiglie d'acqua sono visibili ai piedi di due importanti protagonisti. Una è ben visibile dietro il piede di Sir Samwell Tarly, ovvero l'attore John Bradley. Una seconda bottiglia può essere vista pochi istanti dopoai piedi di Ser Davos, interpretato da Liam Cunningham. Sembra che gli attori stessero cercando di nascondere le bottiglie ma evidentemente senza successo.
Le bottiglie d'acqua sono solo l'ultimo di una serie di errori che hanno segnato in negativo Game of Thrones 8. Ci riferiamo non solo alle dimenticanze risolvibili in post-produzione, ma anche alla mancanza di cura nei dettagli (come alcuni momenti assurdi della 8×05) che stridono fortemente con la qualità ineccepibile delle prime stagioni. Lo show sembra aver abbandonato la sua precisione millimetrica, la stessa che gli ha permesso di ottenere un successo senza eguali. E questa sensazione diffusa ha dato vita a una petizione online firmata da milioni di utenti della rete, nella quale si chiede alla casa di produzione HBO di girare nuovamente l'ultima stagione.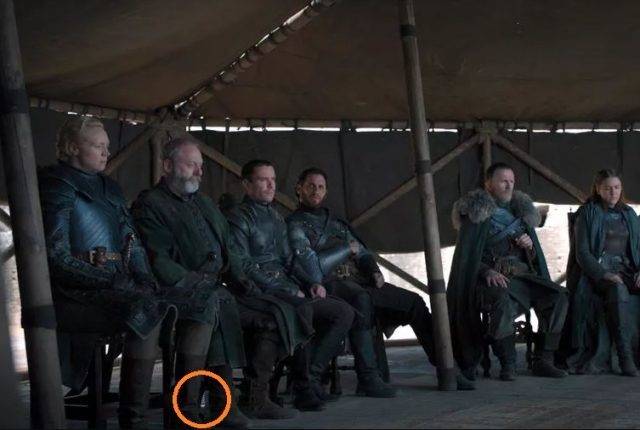 Ancora nessuna reazione da parte della HBO per quanto riguarda le bottiglie d'acqua, ma ricordiamo che l'errore della tazza di caffè dimenticata sul tavolo ha provocato un diluvio di meme sui social media, fatto che probabilmente si ripeterà. Se precedentemente la HBO aveva rilasciato una dichiarazione brillante (Il caffè apparso nell'episodio è stato un errore. Daenerys aveva ordinato una tisana), stavolta potrebbe non bastare per risollevare le sorti della reputazione della casa di produzione, almeno in merito a Game of Thrones 8.