Game of Thrones è un coacervo di personaggi straordinari. Regine splendide che cavalcano draghi volanti o reggono le fila di molti regni. Figli bastardi che assurgono al ruolo di re. Cavalieri indomiti che turbinano tra le lame come danzatori o brandiscono spade fiammeggianti. Personaggi straordinari per tempi eccezionali. E si potrebbe continuare senza sosta a portare nomi e volti speciali.
Eppure in mezzo a tutti questi riusciamo a intravedere qualcuno in grado di farsi notare per la sua straordinaria normalità: Ser Davos Seaworth: il cavaliere delle cipolle. Normalità, sì, ma a suo modo comunque eccezionale. Non un mero contorno, un personaggio di sfondo buono per colorire la trama tra un picco di climax e l'altro. Ma qualcuno in grado di mettersi sulle spalle il peso stesso della narrazione. Di divenire, quasi con timidezza, motore e artefice di alcune delle svolte principali di tutta la storia.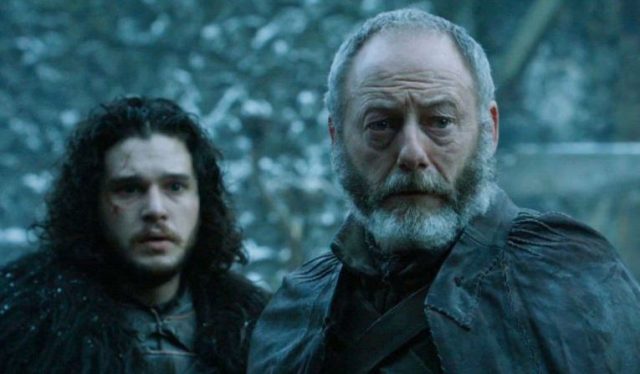 L'evoluzione di Ser Davos lungo le varie stagioni di Game of Thrones è sicuramente particolare. Non ha difatti, a un primo sguardo, nessuna svolta epocale. Non vive momenti di catarsi o di stravolgimenti. Sembra venire trascinato dagli eventi, mosso da correnti nelle quali fa più la parte del relitto che del vascello. Eppure, quasi sottotraccia, lo troviamo come consigliere del Re del Nord, Jon Snow, e con un'influenza e una capacità diplomatica che non ha nulla da invidiare ai professionisti del genere come Varys, Ditocorto, Qyburn.
Ser Davos ci dà una grandissima opportunità. Come nessun altro personaggio in Game of Thrones: ci permette di immedesimarci e identificarci in un personaggio reale. Un personaggio che con i suoi limiti e le sue paure, con i suoi errori e i suoi personalissimi eroismi, è squisitamente umano.
Ser Davos è il gancio che Martin e la HBO danno al pubblico per entrare definitivamente in Game of Thrones.
Tutti sognano di cavalcare un drago come Daenerys o controllare gli eventi con la splendida spietatezza di Cersei. Di lanciarsi in battaglia con il proprio metalupo come il Re del Nord o cambiare il proprio volto per assaporare la vendetta come Arya. Ma sappiamo bene che questa è mera finzione. È sogno. Tutti noi però potremmo essere Ser Davos.
Il cavaliere delle cipolle è la rappresentazione di ognuno di noi. È l'opportunità di vedere se stessi muoversi e destreggiarsi in un mondo più vasto e terribile senza soccombere. Non ha la forza del Mastino, ne l'abilità di Cersei. Non ha l'astuzia di Varys né l'intelligenza di Tyrion. Ma ha tutte queste qualità ben dosate e una che hanno pochi altri in Game of Thrones: il buon senso.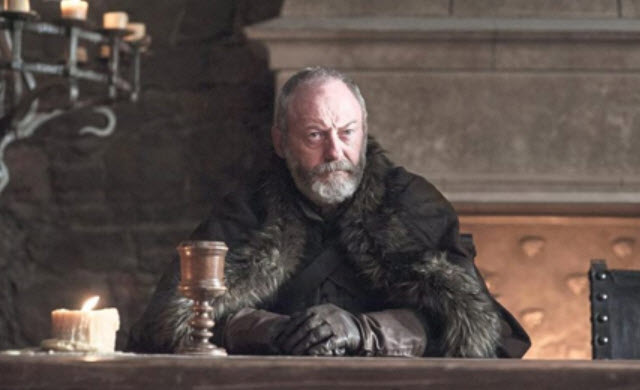 Badate bene: buon senso, non ingenuità. Tutt'altro. Ser Davos è smaliziato. Sa quando mentire e quando raggirare. Ma lo fa senza quel tornaconto personale che si percepisce nella maggior parte degli altri. È divorato dai conflitti interiori e ammette le sue paure e i suoi limiti. Ma non si arrende. Mostra una caparbietà e una determinazione che hanno il sapore dell'eccezionalità. Se non fosse che lui per primo lo rifiuterebbe, sentendosi inadeguato, sarebbe la persona migliore da far sedere sul trono di spade.
"Un uomo semplice in un nido di vipere"
Queste sono le parole con cui l'attore irlandese Liam Cunningham, che magistralmente lo interpreta, ha definito il suo Ser Davos Seaworth. Difficilmente se ne potrebbero trovare di migliori. Bisogna infatti ricordare che Davos nasce come un contrabbandiere. Soprannominato "cavaliere delle cipolle" diviene "Ser" sul campo di battaglia. Davos Seaworth è un personaggio che, seppur partito dal basso, è riuscito a emergere e ad arrivare sulla cresta dell'onda. Non solo.
Si è guadagnato un posto d'onore sia nel cuore dei fan, che lo adorano, sia all'interno della serie. Anche perché, nonostante tutto, è ancora in piedi all'ultima stagione.
Ser Davos è quindi ora un personaggio fondamentale in Game of Thrones. Non solo per la trama ma principalmente a livello drammaturgico. Diventa nella serie la risposta alla moralità ambigua che contraddistingue e rappresenta il mondo di Game of Thrones. Un mondo che non ha una distinzione granitica in bianco e nero. Risulta invece più distribuito su una scala di grigi.
I personaggi di questa mastodontica serie non sono per niente semplici e piatti. Sono invece complessi e sfaccettati. Stannis Baratheon, a cui è legata tutta la prima parte della narrazione del nostro cavaliere delle cipolle, stava provando a compiere la scelta giusta. Per farla però ha bruciato la figlia. Ser Davos è stato profondamente turbato da ciò, non ha accettato passivamente le decisioni del suo re. E ha avuto l'ardire di dirglielo in faccia. Davos, come forse solo Samwell, è il "compasso morale" della serie. Un uomo che non tollera le ingiustizie, anche se non sempre è in grado di evitarle. A volte vorrebbe poter intervenire, ma è costretto ad alzare le mani. Anche questi momenti però lasciano un segno.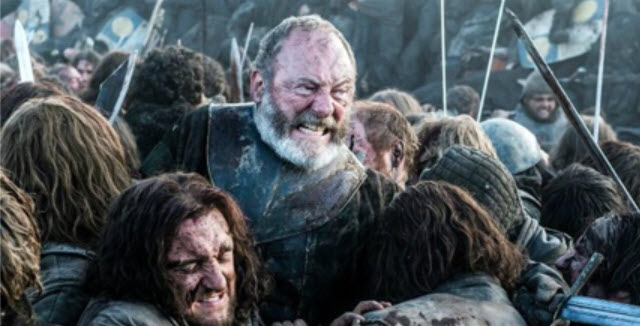 Per questo si può considerare come una sorta di alter ego dello spettatore all'interno della serie. Davos Seaworth sembra essere immune a quella droga, il potere, che annulla la capacità di giudizio. Il potere, in questa serie come nella vita reale, fa fare cose terribili anche a persone buone. È la natura del mondo e lo è anche in Game of Thrones.
Si può immaginare Ser Davos come l'avvocato di famiglia nel film Il Padrino, interpretato da Robert Duvall. Con i dovuti distinguo, una persona indifferente al potere.
Il potere è qualcosa che porta alla solitudine. Qualcosa che ti conduce verso una fine terribile, prima o poi. Soprattutto in Game of Thrones. L'unicità di Davos è proprio nel suo modo di fare, agire e pensare. Più che perseguire il Bene, lui cerca di fare la cosa giusta.
Questo suo atteggiamento, questa sua eccezionale normalità, gli ha permesso di conquistare la ribalta nella trama e soprattutto l'amore del pubblico. Lo spettatore infatti vede in lui qualcosa che dovrebbe essere dentro ognuno di noi: la nobiltà d'animo. Concludiamo con le parole che lo stesso Liam Cunningham ha riportato su Ser Davos e che ci fanno dire che forse, almeno questa volta, ci abbiamo visto giusto:
"Amo la sua normalità e il fatto che sia totalmente estraneo all'ambizione personale e mi colpisce sempre la sua nobiltà d'animo che permette a tanti spettatori di identificarsi con lui"