Attenzione: evitate la lettura se non volete imbattervi in spoiler su Game of Thrones 8×05
Suona, suona la campana.
Suona, suona per tutti. Ostaggi e vittime di un'immane carneficina che non conosce ragioni al di fuori dell'irragionevole vendetta. Suona, rimbombando tra le mura di una capitale in ginocchio. Devastata dalla furia di una donna sola, accecata dalla sete di fuoco e sangue. Il popolo, spezzato, implora pietà. La nemica, sconfitta, ritrova se stessa poco prima di esalare l'ultimo respiro. Gli alleati, inermi, si perdono nell'oblio di un errore fatale.
La Vita, capace di sconfiggere la Morte, soccombe sotto le raffiche di un vento rovente che parla la stessa lingua dell'Inverno. Fermato per sempre e poi risorto, attraverso Daenerys Targaryen. Nata dalla Tempesta, Regina delle Ceneri. Figlia di Aerys II, il Re Folle. Realizzatrice del più macabro dei suoi sogni. L'ultimo, in punto di morte. La distruzione di una città, King's Landing, rasa al suolo mentre una campana, incessante, suona. Suona per tutti, eccetto lei. L'"isola", abbandonata soprattutto da se stessa.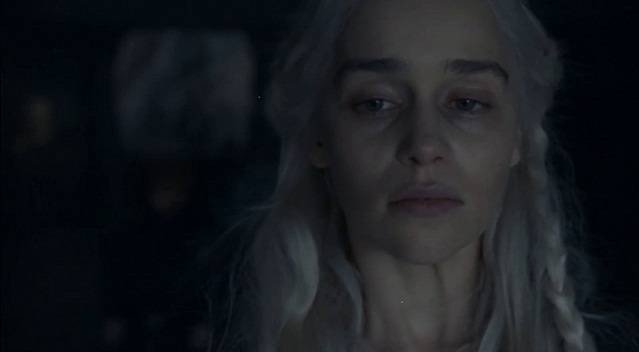 Suona, suona la campana. E The Bells, penultimo episodio dell'ultima stagione di Game of Thrones, sembra quasi voler omaggiare il capolavoro immortale di Ernest Hemingway. Omaggio a sua volta, almeno nel titolo, di un famoso sermone di John Donne, espressione di un concetto secondo cui non esisterebbe un solo uomo estraneo all'umanità. La campana suona quindi per tutti, evocando gli spettri della morte. Ma anche le flebili luci della speranza, nel bel mezzo di una guerra sanguinolenta.
Daenerys, tuttavia, non c'è più. I fantasmi del destino hanno bussato alla sua porta per portarla via, verso le tenebre di una storia che aveva minacciato fin dall'inizio di gettarla tra le braccia della follia. Tipica dei Targaryen, per i quali il mondo lancia sempre una moneta con l'auspicio di un esito positivo. E di chi si alimenta del potere, fine a sé, per riempire gli spazi vuoti di un'esistenza che le ha strappato dalle mani tutto e tutti. Fino a privarla anche di Jon, l'ultima sicurezza rimastale. L'ultimo appiglio a cui aggrapparsi.
L'amore ha rivelato tutte le debolezze di una donna fondamentalmente sola. Straniera nella terra in cui è nata, incapace di superare la diffidenza di un popolo che non la acclamerà mai. Un amore più forte di ogni cosa, nel momento di massima vulnerabilità. Persino della sua ossessione, il Trono di Spade. Conquistato (con irrealistica semplicità) nel tempo di un volo. Preso, grazie ad una vittoria effimera preannunciata in una visione di tanti anni fa. Perso, per sempre, dopo aver ignorato i rintocchi della campana.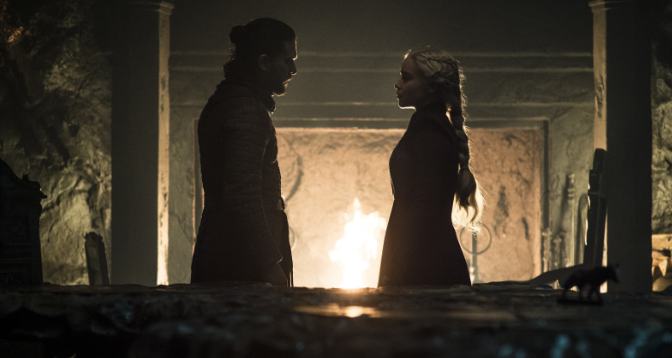 Daenerys non ce l'ha fatta. Il potere è potere, ma la furia cieca con cui ha fatto a pezzi la capitale non ne è espressione. La Madre dei Draghi non ha accettato l'ennesimo "no" rifilatole dal destino. Non dopo aver perso tutti, o quasi, in un batter di ciglia. Non dopo aver sconfitto la morte ed aver subito i tradimenti degli alleati. No, Daenerys non ce l'ha fatta. È impazzita, concludendo un percorso lineare (condizionato negativamente solo dalle poche ore rimaste a disposizione) durato otto stagioni.
L'amore impossibile di un uomo rivelatosi essere suo nipote ha fatto breccia, e il "no" di Jon ha fatto traboccare il vaso. I Targaryen non vedono ombre nell'incesto, ma il figlio adottivo di Eddard è un vero Stark. La conseguenza, purtroppo naturale, ha spezzato il filo sottile che la teneva in bilico sulla soglia della follia fin dalla nascita. Al contrario di quello che è successo alla sua ultima vittima, Cersei Lannister, immersa anima e corpo in una catarsi repentina che non dovrebbe sorprenderci.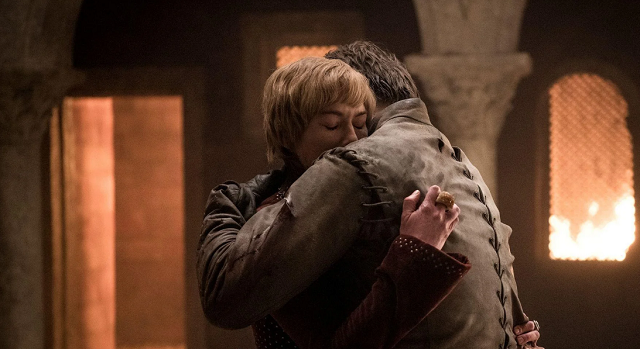 Grazie ad un capovolgimento delle parti che avevamo auspicato nella recensione di una settimana fa, il personaggio interpretato straordinariamente da Lena Headey ha ritrovato nell'ultimo atto della sua vita le infinite sfumature di una donna dai mille volti. La maschera crudele della Mad Queen ha lasciato spazio gradualmente alle crepe presenti nella sua anima, emerse momento dopo momento man mano che la nemica conquistava il suo regno. Fino ad esplodere in un tenero abbraccio, l'ultimo.
Jaime, protagonista di una volta narrativa che farà discutere a lungo, ha scaldato il suo cuore. Cersei, la regina spietata, ha ritrovato Cersei, l'amante. E Cersei, la madre, messa in ginocchio da una profezia che le ha strappato via le uniche persone che davvero contassero per lei. Eccetto una, il Valonqar che ha stretto le mani intorno al suo collo per sciogliere entrambi in un fiume di lacrime. Un tenero atto d'amore condiviso da due "mostri", sovrapposto sorprendentemente all'efferato omicidio passionale che abbiamo atteso invano per anni.
Cersei è morta (?) investita dalle macerie di una Fortezza che l'ha chiusa in una morsa per una vita intera. Ma tra la braccia rassicuranti di Jaime, incatenato ad un amore che non conosce altre ragioni al di fuori dell'amore stesso. I due fratelli, insieme, hanno tirato fuori il peggio di sé per stare, semplicemente, l'uno abbracciato all'altra. Ma anche il meglio, mentre il mondo andava in frantumi sotto i colpi di una fine imminente. Disperati, senza speranza. Con un figlio che non nascerà mai.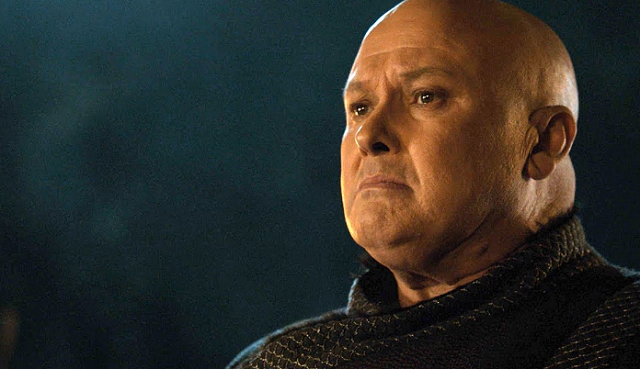 La campana, intanto, suona ancora. E segna la fine di un uomo che aveva capito tutto, come sempre, prima di chiunque altro. Non Jon, inerme di fronte alla deriva della Regina che avrebbe dovuto spezzare la ruota. Non Tyrion, leone impavido accecato (stoltamente) dalla fiducia incondizionata riposta nella donna che ama molto più di quanto voglia dare a vedere. Ma Varys, pronto a sacrificare se stesso in nome di un Potere che dovrebbe servire il popolo invece di servirsene.
La lunga mano del Ragno, tuttavia, potrebbe esser sopravvissuta alla morte. Dopo aver tentato, invano, di avvelenare il cibo di una Regina che di mangiare non voleva saperne, infatti, potrebbe realizzare il suo piano grazie ai messaggi inviati prima di esser giustiziato. Forse al nuovo, misterioso, Principe di Dorne. Forse a Gendry Baratheon, Lord di Capo Tempesta. Magari a Robyn Arryn, Edmure Tully e chissà chi altro. Sono solo speculazioni, ma se così fosse ritroveremmo una speranza.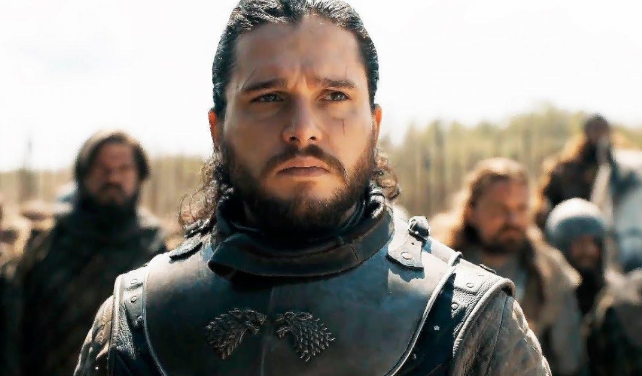 Daenerys Targaryen, nuova Regina dei Sette Regni, potrebbe soccombere a sua volta sotto i colpi del Re che ha fatto di tutto per stare alla larga dal Trono di Spade. Sembra assurdo pensarlo ora, dopo quello che abbiamo visto. Ma sarebbe la fine più sensata: Westeros, devastata da anni di guerre per il potere e dall'invasione di un'orda di non morti, troverebbe in Jon Snow il "male minore" per voltare pagina. Nella forma di una Repubblica, con un Trono cosparso di cenere che verrebbe finalmente distrutto.
Non sarà Arya ad accettare quello che ha appena vissuto. Sarà forse lei, dopo esser scesa dal cavallo bianco sporco di sangue che sembra quasi evocare quello di uno dei quattro Cavalieri dell'Apocalisse, a chiudere gli "occhi verdi" della Regina. Non in nome della vendetta, messa da parte grazie al consiglio appassionato del "padre" Sandor, finalmente libero, sereno e privato del fastidioso soprannome. Ma in nome del bene di un popolo intero, quello di Westeros, messo in ginocchio dalle illogiche dinamiche sanguinarie del gioco del trono.
Vogliamo pensare che la campana, la prossima volta, possa suonare per tutti. E che ai rintocchi mortiferi si sostituiscano i rintocchi festanti di un mondo nuovo. Ricostruito dalle fondamenta, finalmente felice. Sopravvissuto alla Lunga Notte, in piedi anche dopo aver subito la follia dell'ennesima regnante corrotta dal potere e distrutta dalla solitudine. Un'isola desolata, in un mare di esseri umani che vogliono semplicemente vivere.
Antonio Casu