Attenzione! Non proseguite nella lettura se non siete in pari con la visione di Game of Thrones 8.
Nel terzo episodio di Game of Thrones 8 abbiamo assistito a uno dei momenti insieme più discussi e più eclatanti della serie: la sconfitta del Night King. Ad anticipare di poco questo momento le parole di Melisandre, che riecheggiano nei nostri ricordi, evocando il primo incontro della Donna Rossa con Arya. In quell'occasione le disse le stesse parole: Occhi marroni, occhi blu, occhi verdi. Occhi che avrebbe chiuso per sempre.
Se anni fa questo monito sembrava generico, ora che gli occhi blu si sono dimostrati un chiaro riferimento al Night King si è subito iniziato a pensare a chi possano alludere gli altri. Quelli marroni, per molti, sono quelli di Walder Frey, primo personaggio di grande rilievo ucciso da Arya, oltre che quello che ha inaugurato il suo ritorno a casa.
Per quanto riguarda gli occhi verdi, qualcuno ha ipotizzato che possano essere quelli di Ditocorto. È possibile, e la profezia risulterebbe così già completa. Però se l'ordine in cui Melisandre ha pronunciato i colori – in lingua originale marroni, poi blu, poi verdi – non è casuale, ciò potrebbe voler dire che gli occhi verdi mancano ancora all'appello. Che l'ordine importi o meno, l'opinione più diffusa è che debbano ancora essere chiusi, e che siano gli occhi di Cersei. Questo non è però l'unico grande nome a cui la profezia di Melisandre potrebbe riferirsi.
Ad avere gli occhi verdi c'è anche Daenerys.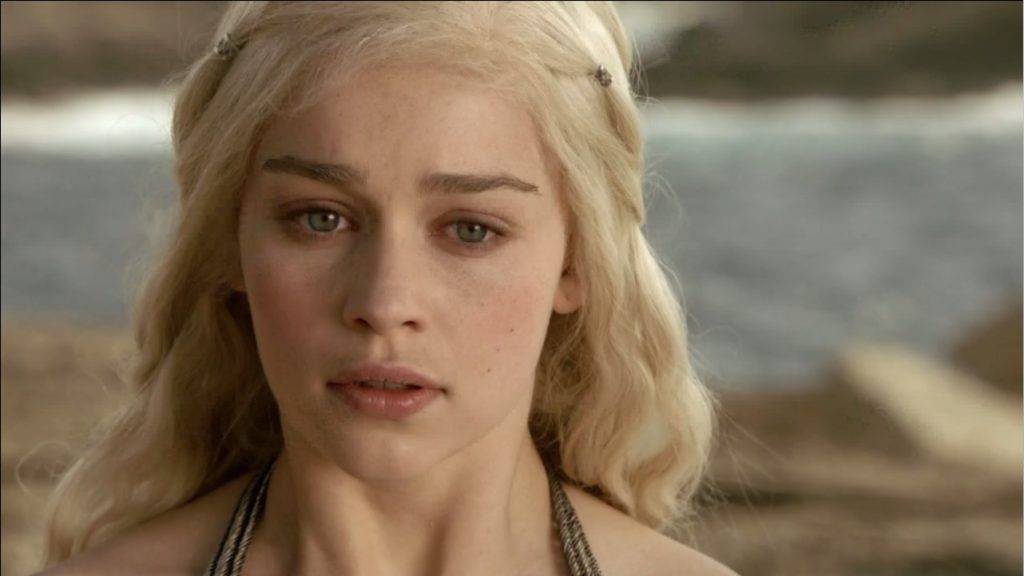 Anche la Madre dei Draghi , infatti, seppur di una particolare sfumatura, ha gli occhi verdi. Cersei sembra la soluzione più scontata alla frase sibillina di Melisandre. È sulla lista di Arya, e sappiamo che dovrà morire perché così le è stato predetto da Maggy la Rana. Però la profezia, almeno sui libri, dice anche che a ucciderla dovrà essere uno dei suoi fratelli. Molto probabilmente Jaime, già in viaggio per Approdo del Re. Che a ucciderla possa essere Arya diventa meno probabile. Aumentano invece le probabilità che a morire entro la fine di Game of Thrones 8 possa essere proprio Daenerys.
È vero, all'interno dei libri la giovane Targaryen ha gli occhi viola, tratto distintivo della casata quanto i capelli. La serie però ha preso spesso e volentieri una via molto diversa rispetto ai romanzi cui si ispira. E allo stesso modo in cui Arya ha ucciso il Night King (anche se per troppi motivi non era un nome preventivabile in relazione alle profezie), Daenerys potrebbe essere colei i cui occhi verdi la giovane Stark farà chiudere per sempre. E le motivazioni non le mancherebbero.
Dall'inizio di Game of Thrones 8 il comportamento di Daenerys si è fatto via via più preoccupante. Nelle stagioni passate l'ombra della follia Targaryen è sempre stata presente, ma in qualche modo più lontana e temperata. Di recente invece ha iniziato a farsi più imponente, fino a diventare negli ultimi episodi un rischio concreto e quasi tangibile.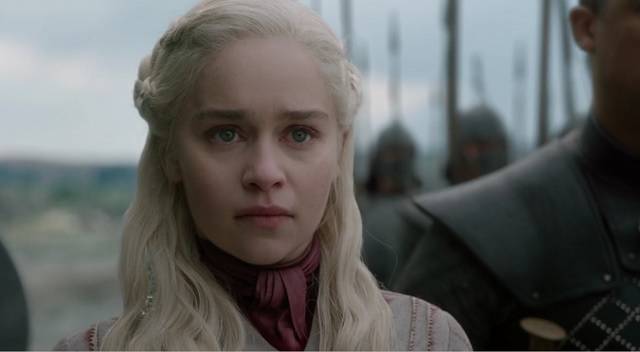 Daenerys sta andando lentamente ma ineluttabilmente alla deriva.
In pochissimo tempo ha subito una quantità incredibile di gravi perdite: Viserion, Jorah, metà del suo esercito, il diritto esclusivo al Trono di Spade. Nello scorso episodio ha perduto anche la sua flotta, ma soprattutto Rhaegal e Missandei. Suo figlio e quella che si poteva considerare a tutti gli effetti la sua migliore e unica amica.
A tutto questo si aggiunge il fatto che è sempre più sola. Lo abbiamo visto benissimo nello scorso episodio. In maniera implicita, semplice ma efficace, è stato dimostrato nella scena dei festeggiamenti a Grande Inverno. Molto più esplicito invece lo scambio tra Tyrion e Varys: anche i suoi più fidati consiglieri la stanno abbandonando. Eppure va avanti, inarrestabile, senza sentir ragioni. È sulla buona strada per diventare ciò che per tutta la sua vita ha cercato di evitare, ma non solo.
Sembra che Daenerys si stia avviando sullo stesso percorso già tracciato da Cersei.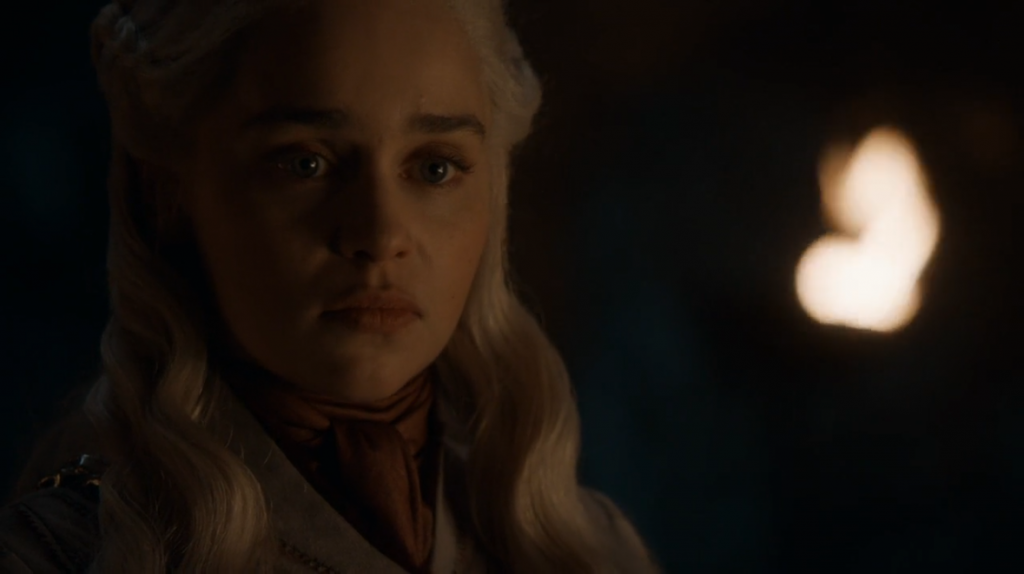 Dopo la morte del primo figlio ha reagito con dolore. La morte del secondo le ha causato una furia cieca, una infinita sete di vendetta. Se per ottenerla dovrà radere al suolo un'intera città, bruciando vivi i suoi abitanti, ben venga. Burn them all!, gridava il Re Folle. Bruciateli tutti. Lo stesso ha fatto Cersei al Tempio di Baelor.
Tutto ciò che contava per Daenerys le è stato strappato via. Eccezion fatta per Drogon, le rimangono solo sete di potere e vendetta. La prima lampante ormai da tempo, la seconda, durante lo scorso episodio, arde nei suoi occhi come fuoco vivo. Così come Cersei non ha ormai più nulla da perdere, o quasi. Le è rimasto solo il suo ultimo figlio, e intende condurlo su Approdo del Re per bruciarla fino alle fondamenta.
Dopo aver perso Viserion e Rhaegal per mano altrui, questa volta potrebbe essere lei la responsabile della morte del suo figlio più amato, proprio come Cersei lo è stata per la morte di Tommen. Questa potrebbe essere la fantomatica goccia che fa traboccare il vaso che ha da tempo raggiunto il limite, quella che le farebbe perdere ogni freno e impazzire del tutto. È vero, non sappiamo ancora se accadrà, ma la morte sembra ormai incombere sull'ultimo drago rimasto. E se anche non dovesse accadere, il fattore scatenante potrebbe essere uno qualunque.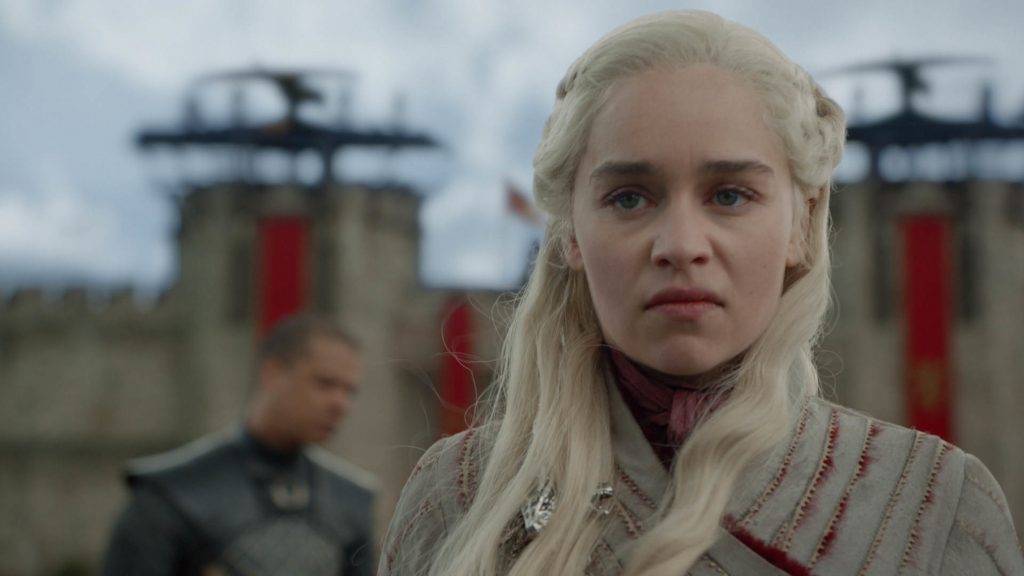 Daenerys è ormai diventata tanto imprevedibile da essere pericolosa quanto Cersei, se non anche di più.
Non sembra più farsi alcuno scrupolo nel perseguire i propri scopi, e chiunque si frapponga fra lei e ciò che vuole è un ostacolo che va eliminato. Chiunque le faccia un torto può ritenersi in pericolo di vita. Se lo sguardo folle che aveva alla fine dello scorso episodio non ci inganna, siamo ormai giunti a quel punto.
Cosa farà quando verrà a sapere che Varys contempla la possibilità di farla assassinare? O quando scoprirà che Jon ha rivelato la sua identità ad Arya e Sansa come lei gli aveva ordinato di non fare? Lo considererà tradimento. E la punizione che la tiranna folle che sta diventando impartirebbe sarebbe una morte orribile. L'unico modo per fermare Daenerys a questo punto, accecata dalla rabbia e dal dolore, dal potere e dalla vendetta, sarebbe ucciderla.
Sappiamo che Arya è già diretta ad Approdo del Re. Le rimangono vari nomi da spuntare dalla sua lista: Ilyn Payne, la Montagna, Cersei. Daenerys è l'ultimo dei suoi pensieri. Ma se davvero la regina Targaryen dovesse diventare un pericolo per la sua famiglia? Per Jon che si frappone fra lei e il trono? Allora potrebbe abbandonare la sua missione principale e decidere di intervenire. A fermare Daenerys, divenuta ormai pericolosamente ingestibile, potrebbe essere la persona nel cui futuro ci sono occhi verdi da chiudere per sempre. Forse solo non quelli che tutti ci aspettiamo.