Attenzione: evitate la lettura se non volete imbattervi in spoiler su Game of Thrones 8×04
Sconfiggere la Morte non è bastato per mettere fine alla tragedia. Il sangue scorrerà ancora copiosamente, e la ruota continuerà a girare. Il Gioco del Trono, d'altronde, sa essere spietato quanto la marcia dell'Inverno. E non saranno le parole di un ambasciatore, lucido e stremato, a fermare gli eserciti.
L'abbiamo capito fin troppo bene con il quarto episodio dell'ultima stagione di Game of Thrones, The Last of the Starks. Lungo, intenso e sorprendente, con il raro merito di non esser risultato in alcun modo anticlimatico. All'altezza della straziante e maestosa Battaglia di Winterfell, se non addirittura superiore.
Perché la guerra per la conquista del Trono di Spade, portata avanti da due Regine che rappresentano le due facce della stessa medaglia, è catastrofica quanto l'incedere di un incubo leggendario. E soprattutto perché l'uomo, nel momento in cui abbraccia con convinzione le proprie ossessioni, svela un volto non tanto dissimile da quello di un enigmatico Re della Notte.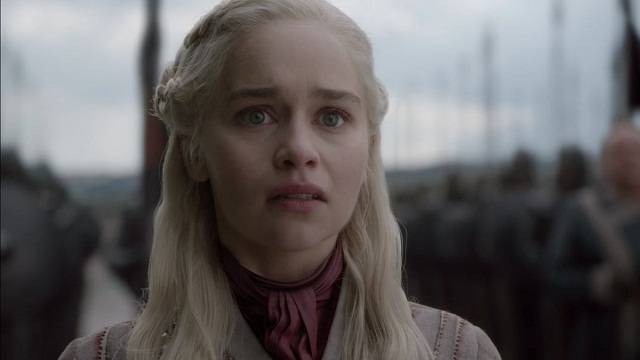 A differenza di quello che ci hanno voluto raccontare Benioff e Weiss, sempre più indirizzati verso il point of view della coppia formata da Daenerys e Jon, i torti e le ragioni delle due Regine si mescolano continuamente in un vortice caotico che deve impedirci di demonizzare aprioristicamente Cersei Lannister.
Non renderebbe giustizia ad uno dei personaggi più solidi di Game of Thrones, dotato di un'infinità di sfaccettature incarnate meravigliosamente, anche in questo episodio, dalla splendida Lena Headey. E altrettanto possiamo dire di Daenerys Targaryen, incatenata ad un'ossessione che porterà con ogni probabilità alla morte di svariate migliaia di persone.
Donne, prima ancora che Regine sull'orlo di una folle deriva. Antieroine dotate di un'umanità sincera che sfora nel perseguimento di un destino che dovrebbe vederle occupare quel maledetto Trono. Distinte, unicamente, dalla decisione di battersi o meno contro la Morte. E dai colori di un vessillo, macchiato in ogni caso dal rosso vivo del sangue.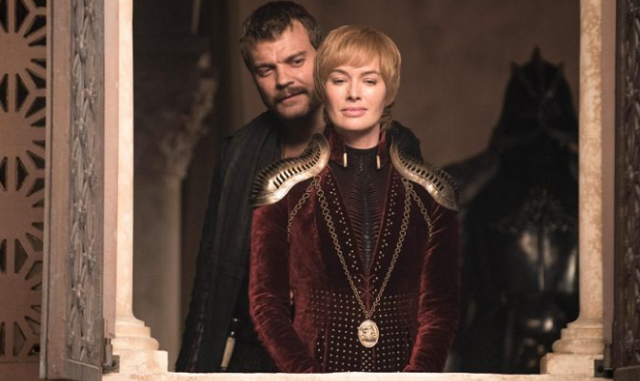 In fondo quello che dice Qyburn è vero: quanto sono consistenti le rivendicazioni di Daenerys, figlia di un re deposto da più di vent'anni? Quanto non lo sono quelle di Cersei? Messi di fronte all'inconsistenza del concetto di legittimità, inginocchiato all'atavica legge del più forte, non resta che assistere allo scontro tra due eserciti e arrenderci all'esito della battaglia. Come avremmo fatto se avessimo vissuto in prima persona la Ribellione di Robert Baratheon, usurpatore quanto Daenerys. Ma anche quanto Cersei, il cui unico merito è stato quello di annientare i nemici nel miglior momento possibile.
Non possiamo prendere posizione. Non di fronte all'ineluttabilità del potere che alimenta se stesso in una spirale senza fine. Possiamo solo sperare di imbatterci in un governante lucido, come dovrebbe fare ogni singolo cittadino di Westeros senza farsi abbindolare dalle mosse propagandistiche. E purtroppo in entrambi i casi i confini tra razionalità e pazzia sono labili, appesi ad un filo. Incarnati dalle espressioni facciali di Cersei, regina spietata con un ghigno malefico che si tramuta con difficoltà crescenti nel dolce sorriso di una madre. Ma anche in quelle di Daenerys, sempre più vicina al crollo che la metterebbe sullo stesso piano del padre.
Isolata dal tragico destino di una Regina che sta perdendo rapidamente ogni riferimento, la giovane Targaryen dovrà reagire alle terribili dipartite di Jorah, Missandei e Rhaegal. Combattere con i fantasmi che sussurrano sempre più convintamente nella sua testa e affrontare la solitudine di una donna lontana dalla sua gente, estranea in una terra che vorrebbe conquistare. Dimostrare prima di tutto a se stessa di poter essere la grande regnante che ha sempre pensato di essere. Ma forse è troppo tardi: la frenesia con cui ha voluto affrontare subito Cersei (a prescindere dalle numerose controindicazioni) dice tanto sulla sua deriva.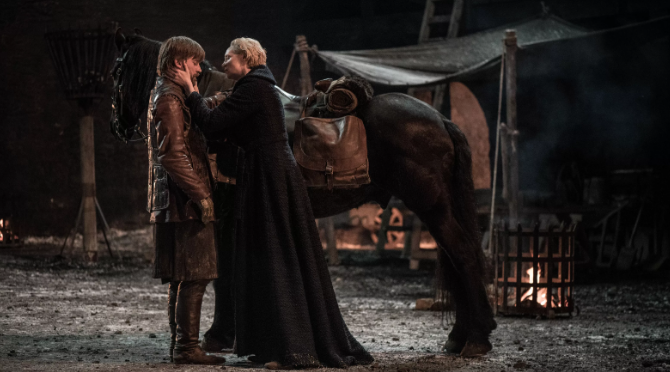 Non le resta che l'amore di un uomo, un po' come a Cersei. Amore puro, se si parla di Jon. Disinteressato e appassionato, incrinato solo dalla pesantezza insostenibile di un cognome da portare. Ma ancora vivo, negli occhi di due amanti che non riescono a fare a meno l'uno dell'altro. L'ultimo argine che la separa dalla follia, più di ogni altra parola pronunciata da ogni altro consigliere. Al contrario dell'amore tossico che unisce Cersei a Euron Greyjoy, scheggia impazzita capace di tutto. Anche di cercare vendetta contro la stessa Mad Queen, ora che sa (grazie a Tyrion) di esser stato raggirato a proposito della paternità del figlio in arrivo.
Amore tossico, come quello che stringe in una morsa due fratelli gemelli. In grado di tirar fuori il meglio di Cersei nella stessa misura in cui tira fuori il peggio di Jaime, tradito dalla natura di un sentimento morboso che non conosce fine. E che rischia di cancellare con un colpo di spugna il cammino di redenzione del Lannister pentito. Ma non facciamoci ingannare dalle apparenze: l'"uomo spregevole", diretto a King's Landing per salvare l'amore di una vita, potrebbe aver mentito alla sua Brienne (per impedirle di seguirlo) e avere un obiettivo diverso: trasformarsi nel Valonqar profetizzato una vita fa da Maggy la Rana.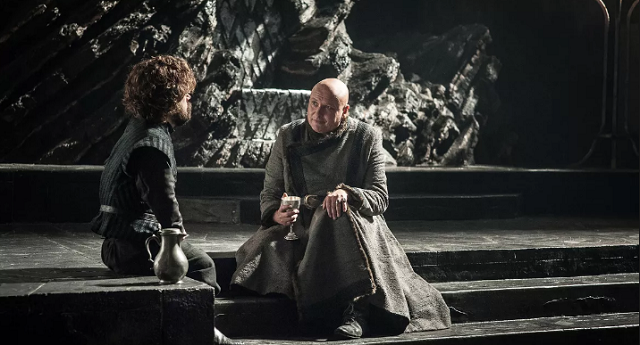 L'amore sa essere, nella stessa misura, un'ancora di salvezza o un pericolo mortale. E a fare la differenza, tra le incertezze di una vita vissuta con passione e intensità, sono le parole lucide e distaccate dei consiglieri più fidati. Punti di riferimento imprescindibili per un bravo regnante, chiamato quotidianamente a prendere decisioni pesanti. Come dovrebbero essere Tyrion e Varys per Daenerys, ora più che mai. Ma il tarlo del dubbio ha investito anche loro, nel momento più difficile. Tyrion, stanco di combattere una guerra dopo l'altra, ha cercato ad ogni costo di convogliare la sua Regina nella giusta direzione, senza mai riuscirci fino in fondo.
Accecato forse a sua volta dai sentimenti, non riesce più a vedere quello che vede Varys. Cinico, distaccato e interessato esclusivamente ad una stabilità che porti benefici al popolo, Il Ragno ha ritrovato finalmente la centralità persa da tempo. Le sue parole, lapidarie e decise, hanno detto tutto a proposito delle esigenze di un Reame che rischia di subire ancora le conseguenze di una ruota che continua a girare. La soluzione non è l'assolutismo di Cersei Lannister, e nemmeno la monarchia illuminata di una donna maledetta dal proprio cognome. La soluzione potrebbe essere l'ascesa di un regnante che di regnare non ha mai voluto saperne.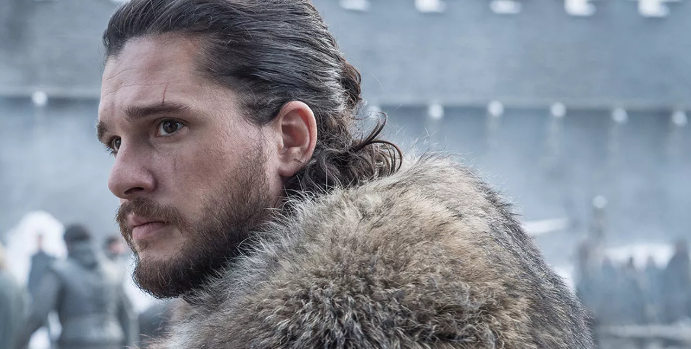 Ma è davvero così? Jon Snow, vero erede di Eddard Stark da troppi punti di vista, è l'uomo che più di ogni altro sembra avere le caratteristiche ideali per essere il nome giusto. Ma un grande leader non basta, se al coraggio, l'onore e il senso del dovere non si accompagna una buona dose di astuzia. Quella che Sansa ha palesato e Jon non ha avuto nel momento in cui ha rivelato alle "sorelle" la verità sulle proprie origini. Stolto e ingenuo nel fare gli stessi errori del padre adottivo, non riuscendo oltretutto a rendersi conto delle gravissime conseguenze delle proprie azioni. Potenzialmente deleterie.
Jon, fiero lupo in un mondo di serpi, sosterrà Daenerys fino alla fine, ma se la Targaryen dovesse morire nell'assedio di King's Landing rischierebbe di trovarsi nella scomoda posizione di dover fronteggiare in prima persona Cersei. Il finale più probabile, con un capovolgimento delle parti che chiuderebbe il cerchio con il solito, eterno, scontro tra gli Stark e i Lannister. E un Targaryen, l'unico a non aver mai accarezzato l'idea di sedere sul Trono di Spade, che quel trono potrebbe distruggerlo per dar vita ad una nuova era. Persino ad una Repubblica, come avevamo ipotizzato un mese fa. Spezzando, finalmente, la ruota.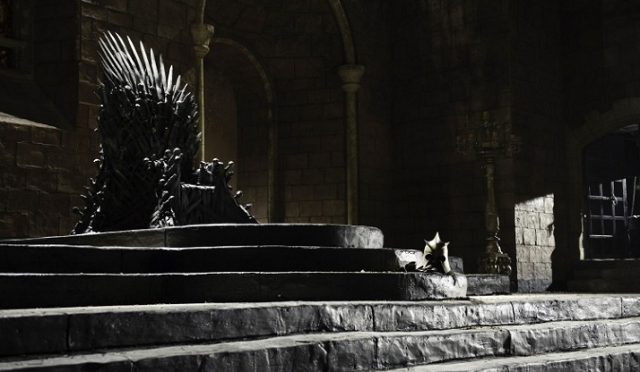 Sarebbe, in fondo, l'unico vero finale possibile per Game of Thrones. In caso contrario, infatti, ogni altra possibilità darebbe vita ad un quadro provvisorio e soggetto a evoluzioni continue. Con un Re che sarebbe legittimo per qualcuno e un usurpatore per qualcun altro. Causa di guerre e conflitti eterni, alla faccia di chi vorrebbe invece la pace.
Il gioco del trono, a quel punto, supererebbe i confini del racconto di Game of Thrones, lasciandoci con il gusto amaro di una fine che non metterebbe davvero un punto. Ma non è questo il momento giusto per pensarci, non oggi. Oggi c'è chi, come Arya, non farà altro che non essere una lady e dare tutta se stessa per eliminare l'ennesimo nome dalla lista. Chi, come il Mastino, cercherà di lasciarsi alle spalle il passato una volta per tutte. Chi ci ha salutato, forse per sempre, come Tormund e Gendry. Chi l'ha fatto senza dubbi, come Missandei. E chi, come Sansa, potrebbe ancora regalarci delle sorprese.
Poi ci sono loro, le due Regine. Divise dalla Storia, facce diverse della stessa medaglia. Pronte ad affrontarsi in un confronto che potrebbe far saltare per aria King's Landing e farà scorrere sicuramente tanto (troppo) sangue. Per la penultima volta, forse l'ultima. Con una lezione da pagare a caro prezzo: il potere non è un diritto. Il potere non è un dovere. "Il potere è potere".
Antonio Casu
LEGGI ANCHE – Game of Thrones 8×03, la recensione – Non oggi