La seconda parte della nona stagione di The Walking Dead sta per arrivare, e noi sappiamo già – in parte – che cosa ci aspetta. Nonostante ciò, la showrunner Angela Kang è riuscita a incuriosirci ancor di più durante un'intervista.
Sappiamo già che i nostri beniamini dovranno affrontare i Sussurratori, un gruppo di sopravvissuti che ha "scoperto" come muoversi tranquillamente tra i vaganti. I nuovi villain di The Walking Dead, infatti, sono soliti uccidere e scuoiare i vaganti per poi ricoprirsi delle loro pelli putrefatte. In questo modo riescono a muoversi liberamente tra le mandrie e possono attaccare gli altri sopravvissuti.
Ciò che ha rivelato la showrunner Angela Kang, però, è che i Sussurratori non potrebbero essere più diversi dagli altri nemici con cui si sono battuti Rick e gli altri protagonisti di The Walking Dead. La Kang, infatti, ha dichiarato che secondo i Sussurratori non c'è più nulla, al mondo, che meriti di essere salvato. Con il nuovo gruppo di villain sarà dunque impossibile anche soltanto cercare di instaurare un qualsiasi tipo di dialogo: non vogliono ragionare, non vogliono negoziare. Vogliono soltanto vincere.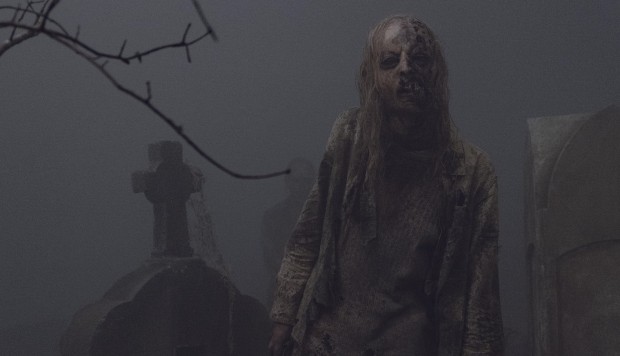 Dopo averci incuriosito con le sue parole, Angela Kang ha anche espresso il proprio parere sul Samantha Morton, che nel gruppo dei Sussurratori interpreterà Alpha:
È fantastica. Sono così sorpresa dalle cose che fa in un modo che mi fa pensare "È meglio di quel che credevo questa donna potesse essere". È un'attrice così interessante e profonda. È stato piacevole averla con noi. È così gentile. Non potrebbe essere una persona più carina. L'intero cast l'ha amata, anche la troupe.
Ad affiancare Samantha Morton troveremo Ryan Hurst a interpretare Beta. Hurst è già conosciuto da molti telefilm addicted per aver interpretato il migliore amico di Jax, Opie, nella serie tv Sons of Anarchy.