Attenzione: la seguente teoria contiene SPOILER legati all'episodio 9×06 di The Walking Dead.
Di villain ne ha visti passare tanti, l'universo di The Walking Dead.
L'infuso di malinconia e inquietudine del Governatore, l'incosciente solitudine che innesca la crudezza di Negan, o ancora quella figura ibrida che è stata Shane col suo conflitto interiore, quello costruito sulla necessità di interpretare l'eroe e il caduto come la netta distinzione tra uomo e amico.
Se c'è un difetto che la serie può vantarsi di non avere è la perfetta costruzione del villain non ridotta al riflesso psicogeno.
Ad avvicinarsi alla giuria (per le suddette ragioni ormai esigente) dei fan di The Walking Dead, saranno a breve i noti Sussurratori.
Due settimane fa, con sorpresa dei più, il finale dell'episodio 9×06 ha fatto udire una frase di senso compiuto («non lasciateli fuggire») proveniente dalla mandria di non-morti, pronunciata con voce rauca e, appunto, sussurrata.
Una sorpresa che coinvolge maggiormente i non conoscitori della serie a fumetti, la quale ha ormai da tempo inoltrato la figura dei Sussurratori come main villain della relativa saga.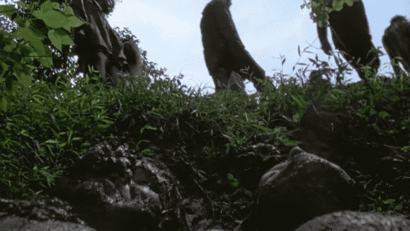 Il gioco di voci costruito sul finale di puntata è strettamente legato alle caratteristiche delle nuove, incombenti figure: i Sussurratori sono un gruppo di ostili introdotti nel fumetto il lontano Agosto 2014.
La loro caratteristica principale è un'evoluzione del trucco adottato sin dalla prima stagione dal gruppo di Rick, ossia il camuffamento nella mandria.
Questi vestono pelli putrefatte di non-morti al fine di confondersi tra essi e guidare le mandrie, riuscendo a risultare invisibili sia alle mandrie stesse che agli altri gruppi, comunicando tra di loro attraverso "sussurri" e non pronunciando mai i propri nomi.
Ma cosa c'entra Morgan Jones con tutto questo?
Per capirlo, dobbiamo fare un salto al Marzo 2013, quando The Walking Dead lanciava l'episodio 3×12 ("Clear").
Sulle note di "Lead me Home" si chiudeva uno degli episodi più profondi dell'intera serie, che attraverso la musica recitava "lead me on my way": era questo il messaggio di Morgan, una necessità contro natura che nemmeno le sue trappole riuscivano a tenere lontana.
Morgan aveva trasformato e sublimato la sua volontà di essere salvato in quella di salvare, "ripulire".
Eppure la reazione del personaggio è sempre sembrata almeno parzialmente slegata dal trauma della perdita dei familiari. Per quanto pertinente, la reazione di Morgan assume nei gesti e nelle parole una forma estremamente dettagliata, quasi legata (anche) a episodi ignoti allo spettatore, e a Rick stesso, visibilmente confuso dalla deriva del suo compagno.
A innescare la seguente teoria è proprio una delle affermazioni che, con drammatica compulsività, Morgan urla più volte a Rick e "sussurra" altrettante volte a se stesso: "people wearing dead people's face".
Morgan vaga nella paranoia, sente voci e le cerca tra i morti. Quella frase, apparentemente insignificante, fa da catalizzatore dell'ossessione per la ricerca di qualcosa "all'interno" dei non-morti. Magari un essere umano.
Se Morgan avesse incontrato i Sussurratori già molto tempo prima, sentendo le loro voci bisbigliare tra la mandria e scorgendo occhi umani tra le orde?
Se il suo "clear", il suo ripulire fosse un modo per contrassegnare e definire i non-morti che si rivelano realmente tali?
Un'altra idea, altrettanto plausibile, è che Morgan incontrerà a sua volta i Sussurratori in Fear The Walking Dead, che li abbia già incontrati in passato o meno.
Dalla seguente foto, tratta dallo spin-off, notiamo Naomi (uno dei membri del nuovo gruppo di Morgan in Fear The Walking Dead) circondata da vaganti apparentemente comuni. A una più attenta osservazione, notiamo che questi sembrano avere occhi "umani", differenti dagli occhi solitamente bianchi/chiari dei non-morti (altro strano particolare la mano destra di uno dei due, che appare tutt'altro che deperita).
Non è impossibile che, data la cura maniacale nei dettagli in fatto di trucco e costumi nel team di produzione, questi siano i primi segnali di comparsa dei Sussurratori.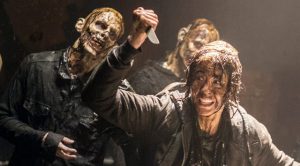 Un nuovo, inquietante villain nell'universo di The Walking Dead.
LEGGI ANCHE: The Walking Dead 9×06 – Chi sei adesso?