The Vampire Diaries si è conclusa nel 2017 ma si è lasciata alle spalle una scia di momenti iconici e, bisogna pur dirlo, anche trash. Nelle 8 stagioni che sono state trasmesse a partire dal 1 settembre 2009 per The CW, ne sono successe davvero di tutti i colori: tra relazioni mutevoli, dinamiche contorte tra i personaggi, colpi di scena, svolte e nemici sempre più bizzarri non possiamo dire di esserci annoiati – sebbene la serie abbia avuto i suoi alti e bassi. Cerchiamo dunque di ripercorrere le avventure di Elena Gilbert e gli affascinanti fratelli Salvatore tramite questi 30 disagi che solo i fan numero uno di The Vampire Diaries potranno capire.
1) Le guerre tra Team Damon e Team Stefan. Come dimenticare i mille e più sondaggi sul web per decretare chi fosse il migliore (o forse semplicemente il più bello)? E poi arrivava la simpaticona di turno che diceva e io me li scelgo tutti e due!
2) Matt Donovan, che è un disagio di per sé, senza necessità di aggiungere altro.
3) Il triangolo no, non lo avevo consideratooo! Se nei primi episodi si aveva l'impressione di aver già chiaro il destino sentimentale di Elena, accanto a Stefan, andando avanti abbiamo capito che Damon ci avrebbe messo lo zampino e così oltre alle guerre per decretare quale fosse il miglior Salvatore, sono iniziate quelle Stelena vs Delena.
4) Abbiamo shippato Caroline con mezzo cast maschile, ma alla fine la Klaroline ha rubato i nostri cuori. Sì, esatto. Proprio la ship che in fin dei conti non si è concretizzata. Mai una gioia!
5) Ma quanto è sfortunato Alaric? Ma non si può! Non è possibile!
6) Odio Klaus. No, lo amo. No, lo odio. Ma no, dai, è un grande! Quante volte abbiamo cambiato il nostro giudizio sul più temibile dei Mikaelson? Con lo spin-off The Originals, però, abbiamo spazzato via i nostri dubbi: impossibile detestare il personaggio interpretato da Joseph Morgan (di cui abbiamo parlato più nel dettaglio qui).
7) Abbiamo guardato con ammirazione – ma anche con un po' di spavento – la capacità dei vampiri di spegnere e riaccendere le proprie emozioni con la stessa intermittenza delle lucine di Natale. Che si fa, proviamo anche noi?
8) Ma quanti cavolo di doppelgänger ha Elena Gilbert?
9) Abbiamo visto e rivisto la scena di Miss Mystic Falls in cui Elena balla con Damon un milione di volte. O forse anche di più.
10) E, naturalmente, abbiamo sognato di partecipare a Miss Mystic Falls con gli incantevoli abiti delle protagoniste (e con i loro compagni, ma questi sono dettagli).
11) Non abbiamo mai capito se, alla fine, amiamo oppure odiamo Katherine: è super crudele, però ha una personalità davvero accattivante.
12) Qui si muore e si ritorna in vita come se niente fosse, è mai possibile? Senza contare che la resurrezione non funziona mai coi nostri personaggi preferiti.
13) Bonnie e Jeremy. BONNIE E JEREMY. Non ci siamo ancora ripresi.
14) Simpatici i genitori dei Mikaelson. No, no, proprio simpaticissimi.
15) Da quando Elena è diventata una vampira, l'abbiamo sopportata sempre meno. Si può avere una protagonista con così poca personalità?
16) Che disagio è l'incredibile capacità di Jenna, nella prima stagione di The Vampire Diaries, di invitare in casa vampiri di ogni storta senza rendersene conto?
17) Elijah che sfodera fazzoletti come se fossero spade.
18) Il bacio Delena sotto la pioggia. Super cliché, però ci fa impazzire ogni volta, ammettiamolo.
19) Già Elena stava diventando antipatica, in più quando ha spento del tutto le sue emozioni… addio proprio.
20) Ci mancavano solo le sirene! Lo abbiamo pensato tutti, vero? Ma in fondo, dopo vampiri, licantropi, ibridi e compagnia bella, sì, mancavano solo le sirene.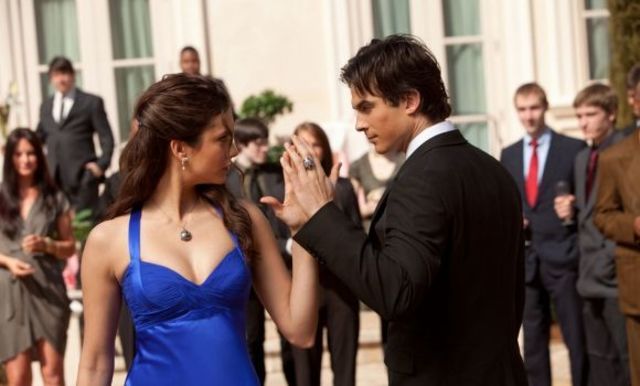 21) Abbiamo cercato sul web qualche riproduzione della collana di Elena, perché dai, è troppo bella e la vogliamo anche noi.
22) Meglio non mettersi con Alaric, a quanto pare, visto che tutte le sue compagne sono morte a un certo punto.
23) Il matrimonio tra Stefan e Caroline ha spezzato i sogni di gloria dei sostenitori della Klaroline. No, non è vero, i sostenitori della Klaroline non si arrendono mai.
24) Quindi alla fine l'abbiamo scoperta l'utilità di Matt Donovan? No, eh?
25) Il nervoso che abbiamo provato tutte le volte che Katherine si è finta Elena, addirittura baciando Damon.
26) Ci piace tantissimo Lexi anche se l'abbiamo vista davvero per poco tempo sullo schermo.
27) Le ultime stagioni sono diventate tragedie greche e l'unico modo per poterle guardare era quello di avere rotoli e rotoli di scottex accanto per asciugare le nostre lacrime.
28) Ma perché vanno ai funerali come se stessero andando alla più importante sfilata di moda del momento? In comune con i 30 disagi che abbiamo elencato per Pretty Little Liars.
29) Un'intera stagione senza la protagonista. Perché? Che senso ha avuto? Forse la serie sarebbe dovuta concludersi prima.
30) Il disagio dei disagi però è quel misto di insulti e parole carine che abbiamo rivolto alla nostra Pleccona, come viene affettuosamente chiamata dai fan, per tutte le lacrime che ci ha fatto versare nel finale. Un finale che, in fin dei conti, non è andato giù a molti spettatori.