Niklaus Mikaelson, meglio conosciuto come Klaus, fa la sua comparsa nel diciannovesimo episodio di The Vampire Diaries, anche se non è la prima volta che si sente parlare di lui. Voci, sussurri e leggende sul suo conto gli hanno aperto la strada negli episodi precedenti, come la premonizione di una catastrofe. Il grande Klaus, il terribile Klaus, il cattivo. Sembra non esserci spazio per i dubbi: il vampiro originale è un antagonista, pronto a rendere un inferno la vita di Elena Gilbert e dei fratelli Salvatore. E se la sua storia fosse davvero coincisa con quella del villain di stagione, non avremmo dovuto aggiungere altro. Ma le cose sono andate ben diversamente.
Klaus si è rivelato un personaggio talmente sfaccettato e complesso, da diventare protagonista di un altro show, lo spin-off The Originals, che ruota attorno alle vicende della famiglia Mikaelson. E questo ha reso Klaus automaticamente un eroe? Sarebbe sbagliato affermarlo. Anzi, il protagonista di The Originals risponde meglio all'etichetta di antieroe almeno fino agli ultimi episodi. Cerchiamo di cogliere tutte le sfumature di questo personaggio e osservare il suo diverso ruolo tra le due serie.
Le prime informazioni che lo spettatore riceve su Klaus escono dalla bocca di Rose-Marie, uno dei personaggi secondari di The Vampire Diaries, che mette in guardia Stefan dal vampiro originale. Secondo lei Klaus è spietato, il più odiato tra gli originali, un vampiro che non si ferma davanti a nulla pur di raggiungere il proprio scopo, per quanto deprecabile possa essere. Ma cosa c'entra Klaus con i protagonisti della serie? Il vampiro lotta da più di mille anni contro una maledizione che tiene incatenata la sua natura di licantropo, in realtà infatti Klaus è un ibrido. Per spezzarla gli occorre la presenza della Doppelgänger di Katerina Petrova (meglio conosciuta come Katherine Pierce), ossia Elena Gilbert. Al vampiro non interessa nulla di Elena, per raggiungere il suo obiettivo è disposto a mettere a repentaglio la sua vita e a nulla serve l'intervento di suo fratello Elijah, a sua volta un originale, ma con più senno del fratello. Klaus emerge in tutta la sua furia, la sua rabbia e il suo egoismo, perfettamente incasellato nell'etichetta di antagonista.
Una conferma sembra essere data dalla sua esecuzione della cerimonia per spezzare la maledizione, del tutto incurante delle condizioni di Elena (che si salva comunque per miracolo), ma soprattutto dal suo ingannare Elijah: Klaus arriverà addirittura a pugnalare il fratello e lasciarlo cadere in un sonno profondo pur di liberarsi di lui e proseguire con il suo piano. Grazie al sangue di Elena, l'originale comincia a creare altri ibridi. L'unica scintilla di "umanità", sempre che si possa parlare di umanità riferendosi a un vampiro, è data dal suo coinvolgimento con Caroline: Klaus, proprio il grande Klaus, sembra non resistere al fascino della ragazza, e in sua presenza si rivela ben più vulnerabile del previsto. Caroline però, sebbene a sua volta affascinata dall'originale, mette in chiaro di non voler assolutamente una relazione con lui. Anche se per molto tempo lei resterà il tallone d'Achille di Klaus.
L'ultima volta che vediamo il capo dei fratelli Mikaelson in The Vampire Diaries (ecco 5 cose che in fondo ci mancano della serie) è quando trascorre un momento di passione con Hayley, all'apparenza una scappatella, che però si trasforma in qualcosa di imprevisto: Klaus Mikaelson diventerà papà e la piccola Hope cambierà per sempre il furente vampiro originale.
Nel passaggio dalla serie principale allo spin-off, iniziano a emergere tutte le contraddizioni e gli sviluppi della personalità di Klaus.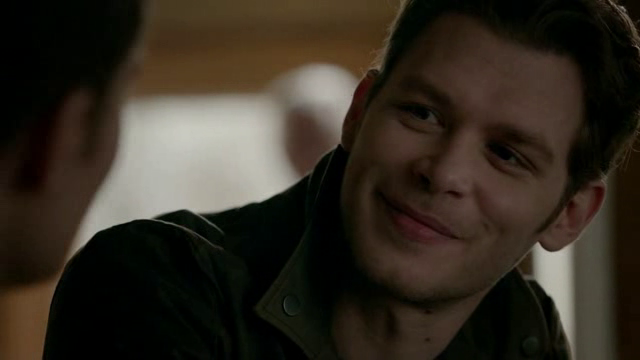 Adesso non lo vediamo più come l'antagonista, l'avversario, ma lo vediamo nei panni del protagonista. Certo, un protagonista inusuale. Klaus è ben lontano da essere l'eroe di cui New Orleans ha bisogno. Non ha perso il vizio di porre se stesso al centro del mondo, è ancora egocentrico ed egoista, pronto a perseguire i propri scopi a ogni costo. Sembra non importargli nulla del rischio di calpestare gli altri e soprattutto sembra non voler essere troppo coinvolto da Hope, sua figlia. Ma la bambina conserva nel nome proprio la speranza di un cambiamento. Quando il vampiro originale comincia a sentirsi padre – e lo vediamo raccontare una fiaba con Hope protagonista in un momento davvero tenero che mai ci si sarebbe potuti aspettare dal Klaus di The Vampire Diaries (e ci sono 10 cose che non capiremo mai della serie ) – è costretto a separarsi per cinque anni dalla figlia, per proteggerla da altri nemici.
Questo distacco crea una distanza non solo fisica ma anche emotiva tra padre e figlia. Klaus cerca di non lasciarsi coinvolgere dal punto di vista sentimentale e per un periodo ricalca le antiche orme di se stesso. Perché per Klaus non è facile comportarsi da eroe, nemmeno quando sta lottando per qualcosa di positivo. I suoi mezzi sono sempre discutibili, la sua furia sempre in agguato. Klaus rapisce, tortura, uccide... insomma, non sembra proprio il tipico padre modello. Eppure, c'è qualcosa di importante che lo contraddistingue. Seppur all'apparenza nascosto, Klaus in realtà non ignora il legame familiare. Per secoli e secoli ha combattuto per salvare i suoi fratelli in ogni circostanza – ed è vero che spesso si è messo contro di loro per i suoi comodi, ma non li ha mai messi veramente in pericolo. Questo legame lo tiene ancorato al bene. Perché, con tutte le complicazioni del suo carattere, comunque Klaus non è cattivo.
E così, nel corso degli episodi di The Originals, Niklaus Mikaelson sfida il suo più grande nemico: sé stesso. In qualche modo, cerca di essere migliore. Cerca di riallacciare il rapporto con Hope, che ormai cresciuta ammira e teme il padre allo stesso tempo. Vuole proteggerla e deve misurarsi con il poterlo fare solo fino a un certo punto. Hope ha bisogno del suo spazio, della sua libertà. Grazie alle dinamiche tra lui e la bambina, Klaus imparerà a relazionarsi anche con gli altri e a scegliere le giuste guerre da combattere. Ma questo è sufficiente per diventare eroe?
Klaus diventa davvero eroe proprio alla fine. Nell'ultimo episodio di The Originals vediamo un Klaus lontano anni luce da quello di The Vampire Diaries. La famiglia Mikaelson si è trovata a combattere contro un nemico imprevisto, il cosiddetto Vuoto, una forza malvagia che si impossessa delle persone e distrugge tutto. Questo Vuoto, alla fine, viene intrappolato nei corpi di Klaus ed Elijah e l'unico modo per liberarsene definitivamente è eliminare Klaus ed Elijah stessi. Da Elijah ce lo si sarebbe potuto aspettare, ma il sacrificio di Klaus è qualcosa di imprevisto: per la prima volta il vampiro mette davanti il bene degli altri al proprio ed è pronto a morire per salvare Hope e il resto della famiglia. Non c'è tornaconto personale, non c'è niente. Solo un sacrificio. E Klaus diventa eroe.
Leggi anche – Meglio The Vampire Diaries o The Originals?