The Vampire Diaries è stato un meraviglioso viaggio durato otto anni. Una serie piena di amore, amicizia, divertimento, vendetta, redenzione e tanto sovrannaturale che ha appassionato migliaia di fan in tutto il mondo. Al centro di The Vampire Diaries troviamo il triangolo amoroso tra Elena, Damon e Stefan che ha creato due fazioni accanite: i Delena e gli Stelena. Posso affermare con fierezza di appartenere alla prima. Mi sono innamorata della storia di Damon ed Elena quando l'ho scoperta per la prima volta leggendo i libri. Sono tanti i momenti Delena in The Vampire Diaries ma solo uno lo attendevo con ansia da quando la serie è iniziata:
la scelta di Elena nel finale della quarta stagione.
Il giorno del diploma è ormai passato e la notte è calata. Damon si trova davanti a un caldo fuocherello che arde in un enorme camino. Quel fuoco, insieme a una pallida lampada, illumina tenuemente la stanza. L'atmosfera è romantica e antica, come se ci trovassimo immersi in un period drama e non in The Vampire Diaries. Una dolcezza smorzata dalla tensione e dalla rabbia che pervade ogni cosa. Elena arriva, con passo deciso, indossando un bellissimo vestito di pizzo bianco che la risalta e la mette in contrasto con un Damon in nero. Dopo un primo scambio di battute è Damon a prendere la parola:
Sono un egoista. Prendo delle decisioni sbagliate che ti feriscono. Sì, preferirei morire piuttosto che diventare umano, preferirei morire adesso piuttosto che passare un po' di anni insieme a te solo per perderti quando sarò vecchio e malato, e tu no! Preferirei morire in questo momento, piuttosto che passare i miei ultimi anni a ricordare quanto stavo bene e quanto ero felice, perché è così che sono fatto, Elena, e non posso cambiare! E non c'è scusa al mondo che racchiuda tutti i motivi per cui è chiaro che sono quello sbagliato per te!
Damon voleva scusarsi per non aver preso la cura perché sapeva di aver ferito Elena. Ma a che scopo se le scuse erano false? Non era pentito della sua decisione. Non vuole tornare umano e non solo perché ama essere un vampiro. Successivamente scopriremo l'esistenza di altre cure ma, per adesso, ce n'è soltanto una dose. Se Damon la prendesse, comporterebbe invecchiare, ammalarsi, morire e lasciare Elena nel pieno della sua giovinezza. Per lui è semplicemente inaccettabile. Passare pochi anni con Elena invece dell'eternità è un fardello troppo grande da sopportare. Non vuole ricordare quanto era felice durante la vecchiaia. Preferisce morire come vampiro adesso che come umano in futuro.
Ammette di essere egoista, di aver pensato solo a se stesso ma non cambierebbe la sua scelta. Tuttavia Damon non è più l'egoista di un tempo. È cresciuto ed è cambiato così tanto dalla sua prima apparizione in The Vampire Diaries, compiendo un sorprendente percorso di crescita. Non spezza più i colli delle persone come fossero dei grissini e capisce di meritare di essere amato, senza limiti o paure, esattamente come solo lui sa fare. Elena lo guarda intensamente, sospira e prende la parola.
Va bene. Allora non dispiace neanche a me. Non mi dispiace di averti incontrato. Non mi dispiace il fatto che conoscerti mi abbia fatto riflettere su ogni cosa. E che da morta sia stato tu, più di chiunque altro, a farmi sentire viva! Tu sei… una persona orribile. Hai preso tutte le decisioni sbagliate, e di tutte le scelte che ho fatto questa sarà di sicuro la peggiore, ma a me non dispiace di essere innamorata di te! Ti amo, Damon.
Elena parte piano. Non urla, non si scalda troppo, rimane composta e seria. D'altra parte si era già sfogata in precedenza quando ha rifilato all'uomo che ama uno schiaffo che vale più di mille parole. In quell'azione così istintiva c'era tutta la sua preoccupazione di perderlo per sempre. Era come se volesse dire: "Fallo ancora e ti uccido". 
Nonostante tutto il male che Damon ha causato, Elena non si pente di averlo conosciuto. Questo vampiro dallo sguardo magnetico è piombato nella sua vita all'improvviso e l'ha completamente sconvolta. Damon ha sempre contestato Elena, le sue scelte e le sue idee, mostrandole l'altra faccia della medaglia. La ragazza ha iniziato a pensare, a farsi domande su tutto. Ha capito che quello che dice o che fa non è sempre giusto. Solo così si comprendono i nostri errori, solo così si cresce e si migliora.
Stefan non ha mai accettato la trasformazione di Elena. Per lui c'era qualcosa di profondamente sbagliato in Elena vampiro. Lei non dovrebbe essere così e, con la scoperta della cura, ha cercato in tutti i modi di "ripararla", come se fosse un giocattolo rotto. A Damon, invece, non importava niente. L'avrebbe amata comunque. Ha subito visto il suo potenziale, è stato comprensivo, l'ha sostenuta e aiutata, mostrandole i lati positivi di essere un vampiro. Elena non si era mai sentita così libera e così a suo agio come nei momenti trascorsi con Damon. 
Si è sentita viva nella morte.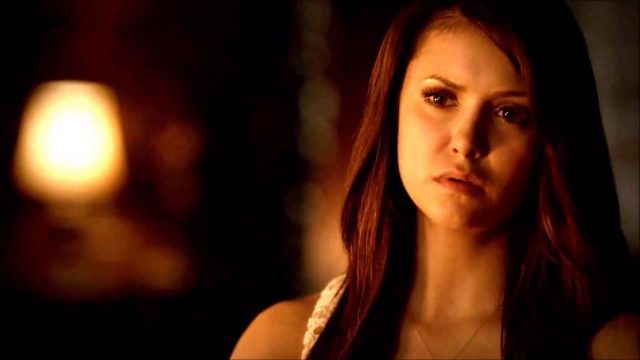 Damon ha ricambiato quello che la ragazza ha fatto per lui in passato. Elena aveva sempre visto del buono nel vampiro fin dal principio, lo aveva fatto sentire compreso e amato, spronandolo a non nascondere la sua umanità. E Damon l'ha ascoltata, è cambiato perché è questo che l'amore fa. Si è insinuato nelle loro vite, facendosi strada nei loro cuori finché non si è impossessato di loro completamente. Sebbene lo insulti definendolo una persona orribile, Elena lo ama e non può più negare quello che prova per lui. La dichiarazione della ragazza è una delle più belle nella storia delle serie tv.
Damon è incredulo. Le corre incontro e la bacia, senza neanche lasciarle finire la frase, mentre una dolcissima canzone suona in sottofondo. Non so voi, ma io piango, commossa, come se fosse la prima volta che vedo questa scena!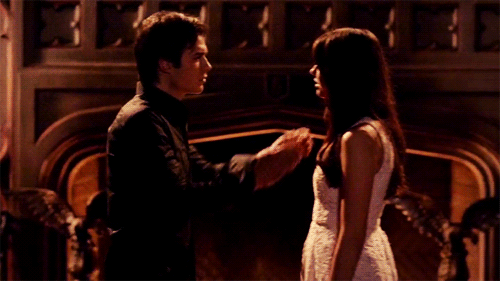 Il percorso di Elena e Damon è sempre stato in salita e si è coronato in questa stupenda scena. Hanno sempre avuto un rapporto speciale, spontaneo, adulto e naturale che nel tempo si è consolidato. La loro storia d'amore non sarà tutta rose e fiori. L'amore non è una favoletta da quattro soldi. È sfida, confronto, impegno. Elena e Damon si sono messi in discussione a vicenda, sono cambiati l'uno in funzione dell'altra. Elena sa che ci saranno delle difficoltà, che probabilmente è la peggior decisione della sua vita. Però vuole provarci e Damon lo merita dopo anni in cui tutti hanno sempre preferito Stefan.
Il minore dei fratelli Salvatore era il buono, l'eroe che tutti avrebbero voluto avere ma alla fine si è rivelato solo un ipocrita. E in questo preciso istante, mentre ascolta la conversazione tra Elena e Damon, perde tutto. Il vampiro ha vissuto anni di sofferenza e di sfiducia totale che sono stati ripagati da questo indimenticabile momento. E come dice Alaric:
You got the girl, man