*Attenzione sono presenti spoiler delle prime tre puntate della terza stagione di The Handmaid's Tale.
The Handmaid's Tale è tornata, e con essa tutto il carico di inquietudine che questa serie tv solo è in grado di trasmetterci. Con una nota in più di vaga positività, tuttavia ancora ben lontana da un vero e proprio sentimento di speranza. Perché nel mondo di Gilead sono ormai in atto cambiamenti che vanno ben oltre la riassegnazione della nostra ancella. E quei cambiamenti, tenui, silenziosi, hanno la consistenza delle sottili crepe di un edificio che ha perso la sua solidità ma è ancora in piedi.
Ma a essere ancor più saldamente in piedi è proprio June, protagonista del mondo distopico di The Handmaid's Tale. Nella scorsa stagione l'avevamo lasciata ancella e madre, intenta a fare la cosa più dolorosa quanto più giusta per il bene del proprio figlio: separarsene. La ritroviamo in questa terza stagione come madre e donna. Intenta a fare ancora una volta la cosa più ardua: essere forte per rendersi utile.
The Handmaid's Tale entra con questi tre episodi in una nuova fase: quella della Resistenza.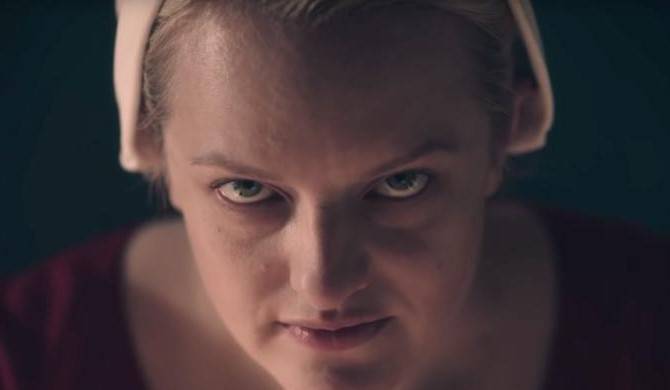 Con una Elizabeth Moss – sempre più brava di anno in anno – che ci guida, sguardo dopo sguardo, ghigno dopo ghigno, verso la costituzione di una "cultura femminile". Nella puntata d'apertura ci mostra la disperazione che va persino oltre l'orrore dello stupro a rate, delle torture e dell'oppressione. La scelta di restare nell'inferno di Gilead porta con sé un gran numero di pesi da sostenere. Un'ulteriore separazione da un'altra figlia venuta alla luce dal suo grembo. Il senso di colpa di aver reso in parte vano l'immane rischio corso dalle Marta che hanno cercato di farla scappare in Canada. La consapevolezza delle penitenze che l'attendono. Tutto ciò pur di provare di nuovo, con più impegno e più forza, a lasciare Gilead portando Hannah con sé. Proprio come la sua primogenita le aveva chiesto di fare nella scorsa stagione.
In quel peso sul cuore portato da June si specchia la disperazione di Serena Joy. Distrutta, ma non tanto da pentirsi della sua scelta. Anche lei è madre ora. In grado di andare oltre l'egoismo del proprio amore.
Ma l'ingiustizia di Gilead, che ha fatto del terrore l'arma che controlla e uccide la speranza, è riuscita a trasformare la paura in tenacia. L'apparente assuefazione alle vessazioni fisiche e psicologiche di cui June è vittima risulta essere la maschera più convincente in questa fase. "La normalità è solo ciò cui ci si abitua" diceva Zia Lydia. Sembra ormai abitudine quella con cui June si dirige verso la frusta che massacrerà i suoi piedi di fuggitiva. Ma nelle mani che strofinano pazientemente il pavimento del Centro Rosso, negli occhi che lo fissano come persi, c'è il riverbero di una tenacia che ha agganci più solidi della speranza. È un sottile filo rosso che connette le scelte prese da June al coraggio della Marta della Resistenza. Per giungere sino alla mano mutilata di Serena Joy, inconsapevolmente pronta a distruggere ciò che Fred è così preoccupato di proteggere.
La trasformazione di Serena Joy è ormai in atto. Il suo talamo nuziale brucia come lo spirito di una donna che sa di esser stata complice dell'orrore.
La scena dell'incendio di casa Waterford è di una potenza eccezionale. Nel riverbero delle fiamme si esprime tutta la rabbia e la ribellione ormai in atto di Serena. È la voce di ogni oppressa di Gilead che urla giustizia. È la moglie che decide di non inchinarsi al marito. La donna che rifiuta il padrone. Una scena incorniciata da June, ancora DiFred, che sembra quasi danzare nell'aria densa di fumo prima di arrivare nella stanza in fiamme. La fotografia è maestosa, la miccia della rivolta palpabile.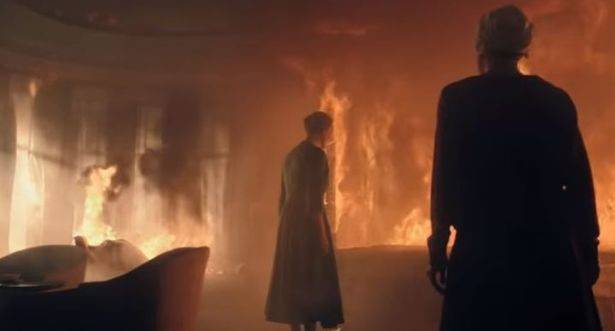 La seconda puntata di The Handmaid's Tale è una prova generale per quella che sembra essere la nuova struttura della serie.
È una fase di crescita per June. Non più ancella dallo sguardo basso e defilato, ma donna, nel pieno potere di ciò che Gilead non è riuscito a toglierle: la capacità di capire ancora cosa sia giusto. E di sfidare il regime per realizzare il suo senso di giustizia. Nonostante la paura, nonostante l'assurdo. In un mondo che sovverte il buon senso, incolpando June di confondere la figlia con i suoi tentativi di riprendersela. Che trasforma gli aguzzini negli "innocenti" agnelli di Dio. La resistenza di June è una mano che si aggrappa all'ultimo sprazzo di lucidità che la società non può permettersi di perdere. E in quello stesso mondo che rimette a Dio il giudizio finale, il paradosso si consuma nella falsa misericordia dei suoi seguaci e nell'infinita propensione al prossimo di quelle donne marchiate come immorali dai Figli di Giacobbe.
Il secondo episodio di The Handmaid's Tale ci mostra proprio chi è "quel prossimo": nessuno in particolare. O meglio nessuno di cui sappiamo necessariamente il nome.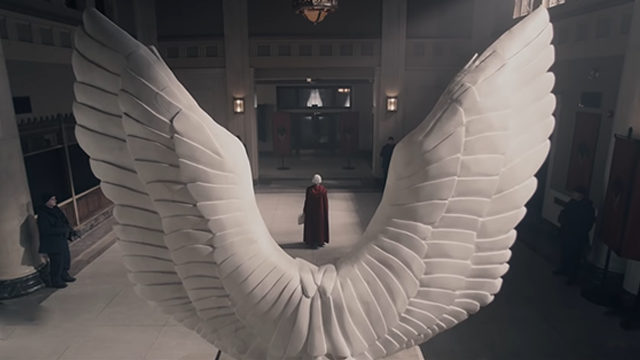 Perché non si pongono limiti all'empatia che porta ad aiutare un altro essere umano in difficoltà, che lo si conosca o meno. Non ostacolare la sua opportunità di avere una vita migliore è sempre la cosa giusta da fare. Lo sappiamo noi che abbiamo pianto all'arrivo in Canada di Emily, tra gli applausi e il calore di chi era lieto di accoglierla. Lo sa June, che alla semplice sopravvivenza ha scelto l'azione. Timidi bagliori di speranza per chi ce l'ha fatta a salvarsi. Brutalità nascoste dietro una porta. Se il primo episodio di The Handmaid's Tale 3 ci aveva alleggerito della crudeltà delle prime due stagioni, i due successivi ristabiliscono l'ordine dei toni. Riassaporiamo secondi che sembrano durare ore nella cantina del comandante Lawrence, nel disperato tentativo di salvare una Marta fuggitiva.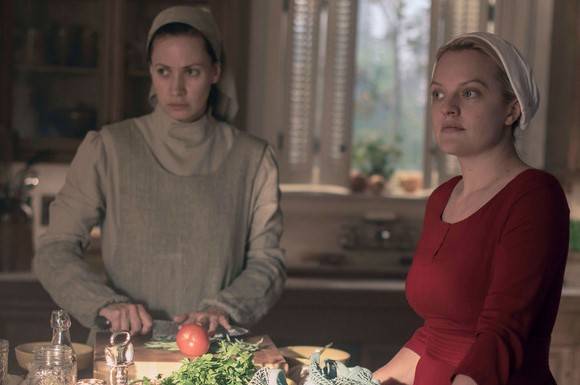 Il terzo episodio ci fa riscoprire tutta l'inquietudine della struttura di Gilead. Ma soprattutto, lo spessore di questa serie.
L'episodio precedente si apriva con una nota di speranza per un possibile sodalizio tra June – ora DiJoseph – e il nuovo comandante cui "appartiene". "Useful" con il dubbio che tutto non sia così semplice come sembrava. Dopo tutto si tratta sempre di The Handmaid's Tale, qui non c'è posto per soluzioni banali. Torniamo alle impiccagioni degli eretici e allo sguardo di OfJoseph ormai sempre più consapevole del sistema.
"Ufficialmente non sono stati impiccati perchè parte della Resistenza, ma perchè eretici. I martiri ispirano, mentre gli eretici sono solo stupidi".
Rivediamo l'assurdità di un sistema legislativo che decide se le persone debbano vivere o morire. Velocemente (ma non del tutto) al muro, o lentamente, spazzando rifiuti radioattivi alle Colonie. Riassaporiamo l'amaro pensiero del feroce patriarcato di Gilead, che umilia le donne che dice di venerare. Che le odia e le tormenta.
La puntata si rivela un piccolo capolavoro di sceneggiatura.
A momenti ricchi di tensione e paradossi cui si appoggiano tutte le bugie del fanatismo religioso, si alternano confronti verbali sui massimi sistemi della società. Capiamo che il comandante Lawrence non è stato messo lì solo per un confronto tra un uomo passionale ma debole come Fred e uno pratico e intelligente come Lawrence stesso. La sua conversazione con OfJoseph è un tripudio di interrogativi sulla millenaria relazione sociale tra uomo e donna. Domande cui si possono fornire solo risposte parziali.
"- Perchè se le donne non vogliono essere definite dal loro corpo non fanno altro che usarlo?

– Magari gli uomini sono fottutamente distratti per vedere altro."
Quanto di vero, falso, relativo, e/o soggettivo c'è in questo dialogo? Tanto quanto nella definizione richiesta di "moralità". "Una cosa stupida, chi può definire cosa sia morale?" Allora cos'è che definisce le persone? Uomini o donne che siano? Per il comandante Lawrence è "l'utilità". La ragione per la quale ha salvato Emily. Una donna innaturalmente intelligente che un giorno potrebbe essere utile al mondo. La stessa ragione che ha condotto lui a cercare di "salvare" un mondo che stava morendo di troppa scelta. La stessa per la cui mancanza accusa OfJoseph.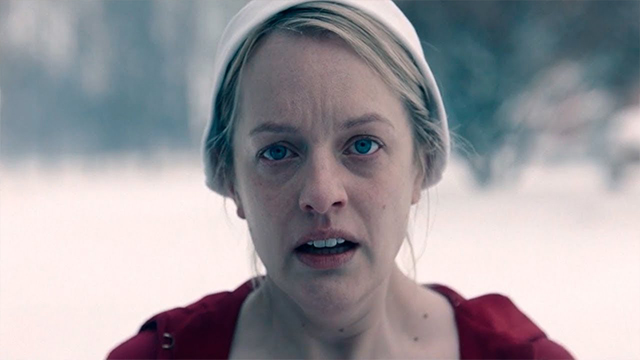 In questa nuova stagione di the Handmaid's Tale non è più l'utero a definire le donne. Ma la loro utilità.
Sicuramente non saranno d'accordo gli altri comandanti e seguaci di Gilead, ma poco importa. A stabilire che d'ora in poi sia così è la neonata cultura femminile richiamata da OfJoseph. Quella che include June, ora conscia del fondo di verità in alcune delle parole di Lawrence in merito all'utilità in un mondo da costruire per qualcuno di reale. La cultura che include Serena, ormai decisa a non nascondere i segni della sua sottomissione ma a vestire la disobbedienza come il migliore dei suoi abiti. La stessa che includerà le donne scelte da June per essere salvate dalle Colonie. Usate solo all'apparenza come dimostrazione di utilità e capacità di scelta agli occhi di Lawrence. Ma parte di quella tattica che farà di tutte queste donne l'incubo degli uomini che le odiano.
È nata la cultura femminile auspicata dalla madre di June. Solo in un'altra forma necessaria. È iniziata la lotta. È iniziata la Resistenza. Quella Utile.