"Never mistake a woman's meekness for weakness."
"Mai scambiare la docilità di una donna per debolezza." (The Handmaid's Tale)
Così la signora Castillo, diplomatica messicana, cita "Il posto di una donna", libro scritto da Serena Joy Waterford, durante le trattative commerciali con suo marito e gli altri comandanti. The Handmaid's Tale, coraggiosissima serie targata Hulu, ci mostra nel corso delle puntate il doppio volto del femminismo. In questa scena in particolare, quello portato avanti da Serena Joy: "femminismo domestico". Una tesi che auspica un ritorno ai valori tradizionali, al ruolo puramente "biologico" della donna e all'osservanza della religione cattolica. La donna ideale è, in quest'ottica, moglie e madre, nonché protettrice della casa e del tepore familiare. Il fanatismo e il colpo di stato dei Figli di Giacobbe fa poi sì che ciò diventi realtà – nella Gilead di The Handmaid's Tale – nel modo più letterale e brutale possibile.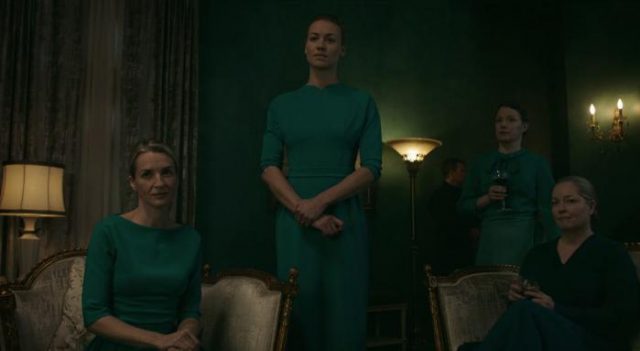 Ma come osserva la stessa signora Castillo nella medesima scena, "Cosa ne pensa la parte silenziosa (le mogli) della stanza, di una società in cui a una donna non è concesso neanche leggere il proprio libro?"
Infatti, il rovescio della medaglia di questa forma di femminismo vede la totale sottomissione delle donne ai ruoli che ricoprono. Sono rispettate come mogli DEI comandanti, madri DEI LORO figli, amministratrici delle LORO case. Ma non come donne in quanto esseri umani pensanti, titolari di diritti civili. Le donne ideali auspicate da Serena Joy appartengono agli uomini cui sono sposate. Come le donne fertili di Gilead, le ancelle di The Handmaid's Tale, appartengono ai comandanti (e alle rispettive mogli) e al dovere di partorire i figli che loro non sono in grado di concepire. E pur sorvolando sulle scene della "cerimonia", potremmo esser tutti d'accordo su quanto il concetto di "appartenenza" di una donna a un uomo (e/o a dei ruoli) sia raccapricciante già di suo. "Troglodita" lo definirebbero gli intellettuali di oggi.
Eppure rappresenta un sistema di pensiero non troppo lontano da quello in voga fino al secolo scorso nella nostra stessa società.
Fino a pochi decenni fa, l'ideale di donna rispettabile era rappresentato da una moglie non troppo lontana da quella che è Serena Joy Waterford. Magari le nostre nonne non vestivano sempre di verde come le mogli di The Handmaid's Tale, e non era certo fuori legge che prendessero in mano un libro o un giornale. Ma il loro posto era considerato all'interno della casa, con indosso un grembiule da cucina e una gonna. Il loro dovere era prendersi cura, soddisfare i mariti e crescerne i figli. Le donne di quell'epoca, in un certo senso, appartenevano ancora agli uomini che sposavano. Certamente in una versione meno brutale e distopica della serie tratta dal libro di Margaret Atwood. Eppure in quegli stessi anni un movimento di rivolta muoveva i primi passi dal secondo dopoguerra in poi. Non c'erano più le suffragette che reclamavano il diritto di voto, ma vi erano donne che iniziavano a ribellarsi apertamente e in modo "trasgressivo". Scandalizzando le spiagge con i primi bikini, andando in club per soli uomini, reclamando un diritto mai contemplato fino ad allora: le pari opportunità. Qualcuna l'ha fatto persino cantando.
Come la giovanissima Lesley Gore, cantante americana che nel 1963, alla tenera età di 17 anni, calcava i palchi degli Stati Uniti per cantare "You Don't Own Me". Un inno all'indipendenza, all'emancipazione femminile e alla ribellione.
"You don't own me. Don't try to change me in any way. You don't own me. Don't tie me down 'cause I'd never stay"
Quale ragazza, in un'epoca che pubblicizzava cravatte mostrando donne inginocchiate ai piedi dei mariti, si sarebbe permessa di urlare al mondo una cosa simile? "Tu non mi possiedi, non provare a cambiarmi, non vincolarmi perché non resterò". Fu un'ispirazione per le giovani donne dell'epoca. Alcuni hanno addirittura incluso la canzone tra i fattori culturali che ispirarono la seconda ondata di femminismo del secolo. E non è un caso che la canzone sia stata oggetto di innumerevoli rifacimenti, arrivati fino ai giorni nostri, epoca che accoglie una terza ondata di femminismo. Negli anni 2000, che hanno dato spazio alle voci del movimento #MeToo, in cui un'emittente televisiva manda in onda una serie altamente controversa come The Handmaid's Tale, "You Don't Own Me" assume ancora un forte significato.
Negli occhi di Offred intravediamo la stessa sprezzante verve che aveva Lesley Gore quando da "Indelebile ribelle" – come la definì il New York Times – cantava "You don't own me. I'm not just one of your many toys. You don't own me. Don't say I can't go with other boys."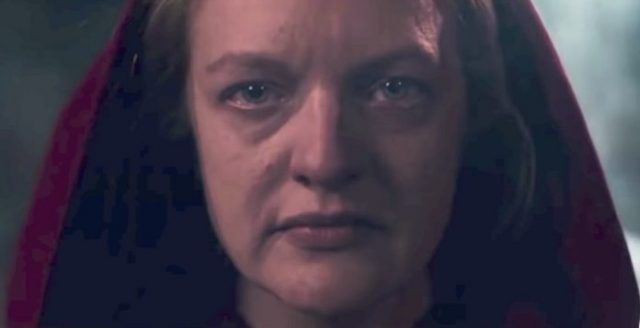 "Tu non mi possiedi. Non sono solo uno dei tuoi tanti giocattoli. Tu non mi possiedi, non dirmi che non posso andare con altri ragazzi".
La maestosa interpretazione di Elizabeth Moss e le inquadrature che pongono il suo sguardo in primo piano, ci permettono di cogliere un grande contrasto. Il terrore che paralizza Offred nei movimenti, nei gesti e nella mimica facciale, e l'ardente fierezza con cui non si arrende, ma che la porta a lottare silenziosamente. I suoi occhi sembrano urlare ciò che cantava Lesley a squarciagola:
"Don't tell me what to do. And don't tell me what to say. Please, when I go out with you. Don't put me on display."

(Non dirmi cosa fare. Non dirmi cosa dire. E per favore quando usciamo insieme non mettermi in mostra)
"You Don't Own Me" è la sublimazione dei pensieri taciuti di Offred, la versione cantata del suo bisogno interiore "Non di arance, ma di urlare! Di prendere la prima pistola nei dintorni." È la coscienza di quella stessa donna presente in lei prima che diventasse "Offred". Quella donna che "l'ha aiutata a trovare la sua strada", che "è morta, è viva, ed è sempre lei". Offred, June: moglie e madre, ma prima di tutto: PERSONA e DONNA. Offred non l'ha dimenticato. Si sforza di tener testa a una condizione insopportabile, di non impazzire proprio per essere un giorno in grado di riprendersi sua figlia.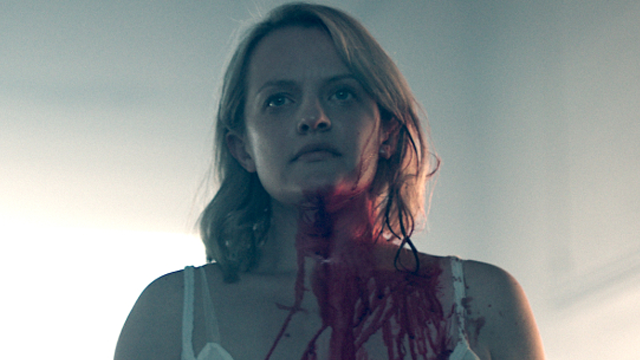 Offred rappresenta l'altro volto del femminismo narrato in The Handmaid's Tale, opposto a quello supportato da Serena Joy. Quello che non condanna le donne perché lavoratrici, perché "adultere", perché umane.
È il femminismo che mostra quanto una madre possa e debba essere prima di tutto una donna, un essere pensante e indipendente. Offred dimostra quanto la maternità diventi, in certe condizioni, proprio quel soffio vitale in più che ti fa andare avanti, e non la catena che schiavizza e asserve le donne a doveri morali ormai superati. The Handmaid's Tale racconta, attraverso le silente ribellione di Offred, la stessa storia che cantava la giovane Lesley nel '63: una presa di coscienza. Il testo della storica canzone si apre infatti con una sottile dichiarazione di quelli che erano i ruoli dell'uomo e della donna all'epoca:
"I'm Gerald and I can always have just what I want. She's that baddest I would love to flaunt."
A non molte donne, all'epoca, non andava di "essere sfoggiate", perché in fondo era considerato "normale" che un uomo "potesse avere sempre ciò che vuole". E The Handmaid's Tale ci offre un interessante spunto di riflessione sul concetto di "normalità", attraverso le parole di Zia Lydia.
"I know this must feel so strange, but ordinary is just what you're used to. This may not be ordinary to you now, but after a time it will. This will become ordinary."

(So che questo debba sembrarvi strano, ma la normalità consiste semplicemente in ciò cui siete abituati. Quello che non vi sembra normale ora, lo sarà tra un po' di tempo.)
Lesley Gore apparteneva a una fascia di coraggiose avanguardiste che aveva intuito che ciò che all'epoca poteva sembrare "normale" non era necessariamente "decente". La sua presa di coscienza l'ha portata giovanissima a cantare – per tante donne – al mondo maschile, "che loro non le possiedono, che non sono solo dei loro giocattoli, che non devono dir loro cosa fare, cosa dire, e non devono cercare di cambiarle."
Anche la protagonista di The Handmaid's Tale vive un percorso di presa di coscienza. Con la differenza che la sua avviene quando è già troppo tardi.
Come lei stessa ammette nei suoi pensieri, la gente prima di Gilead, assuefatta dalla "normalità" e convinta che nulla potesse cambiare radicalmente, non ha colto i segnali d'allarme. June – come tutti del resto – "era come assopita nel mondo. Ma ora è sveglia e cosciente." Cosciente della realtà, passata e presente. Consapevole dell'escalation avvenuta nella società. Offred/June sembra volerci lanciare un messaggio, un monito: "non dormite sugli allori, non sentitevi al sicuro, non pensate che tanto non possa mai accadere il peggio. Sappiate riconoscere i segnali e combatterli!"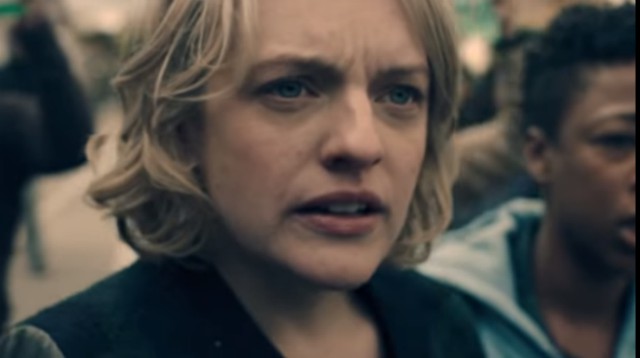 Lesley Gore e le femministe degli anni '60 presero coscienza del mondo, sì, ma in una società che lanciava segnali di maschilismo e patriarcato molto più potenti.
Oggi quella società è cambiata, è più simile a quella pre-Gilead raccontata nei flashback di Offred. L'emancipazione che le donne di oggi hanno ereditato dalle lotte delle madri sembra garantir loro una sicurezza che appare quasi scontata. Ma non dovremmo credere che sarà sempre così. La lotta sociale per conquistare opportunità pari a quelle concesse secolarmente solo agli uomini su più fronti non è ancora finita. Potrebbe sembrar così, ma bisogna ancora stare sull'attenti: idee e forma mentis difficili da sradicare sono ancora una parte importante del nostro tessuto sociale. È ancora tempo di cantare quelle parole.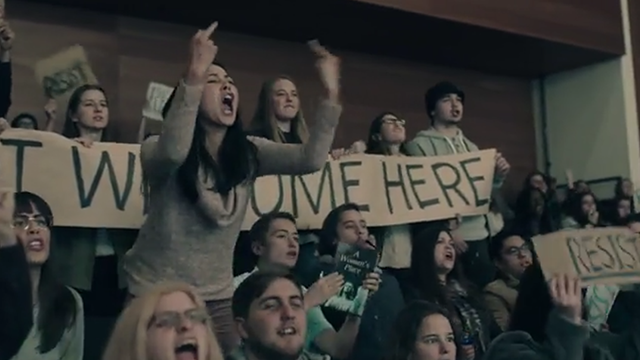 "I don't tell you what to say. I don't tell you what to do. So just let me be myself, That's all I ask of you. I'm young and I love to be young. I'm free and I love to be free, to live my life the way I want, to say and do whatever I…please."
"Io non ti dico di cosa parlare. Non ti dico cosa fare. Perciò lasciami essere me stessa, è tutto ciò che chiedo. Sono giovane e adoro essere giovane. Sono libera e amo essere libera, vivere la vita come preferisco, dire e fare qualunque cosa io…per favore!"
Lesley le cantava con tanto ardore da sembrar quasi sfinita. Tagliò la frase finale con un "per favore" che sembra quasi dire "non dovrei neanche doverlo chiedere". Offred lo sa che certe cose non dovrebbero "esser chieste", come il diritto alla libertà. Ce lo ricorda con gli occhi iniettati di sangue e lo fa attraverso le parole della Offred che l'aveva preceduta:
"Nolite te Bastardes Carborundorum" – "Non lasciate che i bastardi vi schiaccino".
E non dovremmo mai smettere di dar ascolto a nessuna di loro.