The Handmaid's Tale è sicuramente una di quelle serie così emotivamente coinvolgenti che ti rende difficile togliertela dalla testa. Per chi non ne avesse mai sentito parlare (quindi parlo a te nonna, adesso ti racconto di questa serie bellissima di cui solo tu non conosci nulla perché se non c'è un'attrice ventenne spagnola che indossa un corsetto con un'acconciatura improbabile, tu la tv nemmeno l'accendi) la serie narra le tristi vicende dall'Ancella Offred, ai tempi June, mamma e moglie che si ritrova derubata della propria vita e della propria identità dallo Stato e dal tempo storico in cui vive.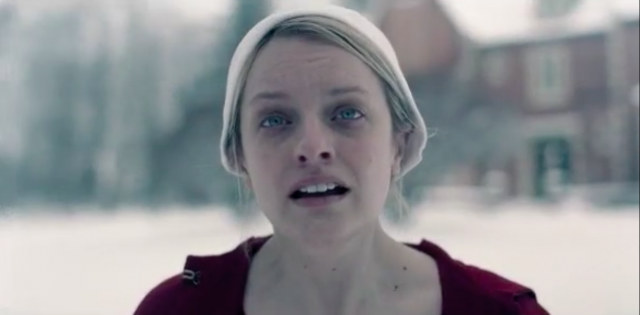 E già, perché in questa serie il "cattivo" di turno è nientemeno che la società in cui le vite di queste protagoniste si sono bloccate, vittime di un'epoca dove terrorismo e crolli finanziari hanno messo il mondo in ginocchio. Eventi nefasti che non sono comunque il male peggiore, quello si chiama estinzione. In questa serie, ispirata al romanzo di Margaret Atwood del 1985, la popolazione mondiale soffre di una gravissima forma d'infertilità che sembra risparmiare solo alcuni esemplari, ed è qui che le nostre protagoniste, le Ancelle, entrano in gioco.
Le Ancelle infatti sono le uniche donne ancora in grado di riprodursi, quindi vengono letteralmente rapite dal Regime che le trasforma in veri e propri strumenti messi al servizio dei più abbienti.
Come se questo non fosse già abbastanza penoso, suddetto regime totalitario scomoda pure la Bibbia per supportare la propria intenzione, affidando a ogni membro della comunità un ruolo dalla suggestiva qualifica. Gli unici uomini a cui è permesso tentare di vincere la lotteria dei papà sono chiamati Comandanti, e sono individui il cui ruolo nella comunità ha una rilevanza politica o economica di qualche sorta. Poi abbiamo le Mogli, quelle sposate dai Comandanti, che vengono mostrate come trofei, morigerate e infeconde, vestono sempre di verde scuro. Se possibile sono peggio persino dei loro compagni. Non solo li appoggiano nelle loro sociopatiche decisioni, ma non mostrano nemmeno un barlume di empatia o solidarietà verso quelle sorelle a cui è toccato un destino tanto crudele.
Al contrario, le trattano alla stregua di incubatrici che transitano nelle loro case e che forniscono loro un servizio e nulla più.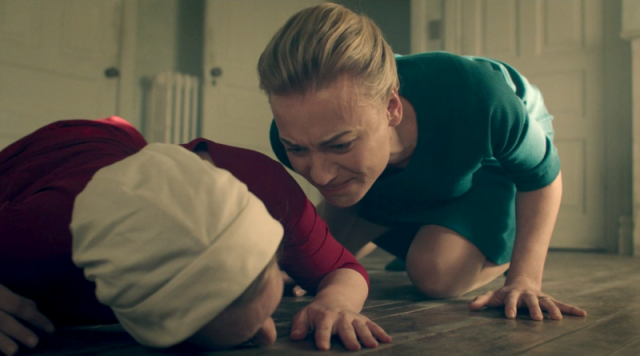 Altra categoria è quella delle Marte, donne pressoché invisibili che fanno le domestiche in casa delle Mogli, ed è il grigio il colore distintivo di esse. Poi ci sono loro, le Ancelle, che vengono mandate di casa in casa vestite di rosso, nella speranza di essere fecondate dal Comandante di turno. La prima cosa che disturba di The Handmaid's Tale è la violenza, non tanto quella fisica perché grazie a serie come Game of Thrones, The Walking Dead e The American Horror Story, siamo belli allenati in materia, ma è piuttosto quella psicologica a turbarci. La più brutale che vediamo è quella messa in atto sulle protagoniste a cui, oltre a un destino terribile da sopportare, viene inflitta anche la beffa. Come se essere rapite e private di tutto ciò che le identifica umanamente non fosse già sufficiente, i crudeli governanti vogliono anche convincerle che il tutto sia una benedizione, che l'essere stata "scelta" basti ad alleviare la pena e a cancellare il ricordo di tutto ciò che c'è stato prima.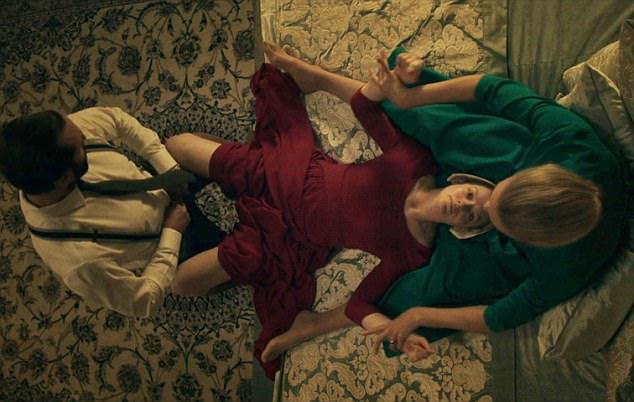 E quando la speranza fa capolino sotto le sembianze di un diverso governo, che sembra avere il potere decisionale per offrire un finale alternativo, ecco che la paura dell'estinzione torna a motivare le peggiori intenzioni, convincendo chi ha raccolto il testimone non solo a voltarsi dall'altra parte ma a ponderare pure l'idea di adottare lo stesso sistema di ripopolamento.
La ruota demoniaca di The Handmaid's Tale.
Poi c'è la violenza che viene esercitata sullo spettatore, specie se di sesso femminile, attraverso i flashback commentati dalla coscienza di June. La osserviamo mentre la sua vita passata da madre, moglie e impiegata, le viene sottratta un pezzetto alla volta, privazione dopo privazione, senza troppe spiegazioni. Attraverso blitz improvvisi per le strade e negli uffici, ma anche negli sguardi di disapprovazione della gente comune che inizia lentamente a farsi corrompere dal movimento promosso da una società che, sebbene appartenga al futuro, ricorda tristemente episodi del passato che abbiamo studiato un po' tutti sui libri di scuola.
Ci sono molti motivi per cui bisognerebbe guardare The Handmaid's Tale.
In primis perché ti tiene con il fiato sospeso a ogni episodio, poi perché fa un uso magistrale della fotografia ed è recitata in modo viscerale da interpreti di vero talento. Ma soprattutto fa riflettere su quanto l'ignoranza e la paura possano rendere questa società invivibile e quanto, in certi casi, già lo sia stata in passato. The Handmaid's Tale ci vuole spiegare che a rendere il mondo un posto peggiore non sono solo le pessime idee, ma l'attitudine infame dell'uomo a voltarsi dall'altra parte, in modo tale da farle realizzare.