The Handmaid's Tale è in assoluto la Serie Tv più "femminile" in circolazione. L'animo delle donne è indagato in tutte le sue sfaccettature: che sia una ribelle Moira, una mente fragile ma dalla fede incrollabile come Janine, una pia manipolatrice come Zia Lydia, una leale come Emily o una donna complessa, profonda, ironica come June. Le donne di The Handmaid's Tale sono ritratte senza sconti, senza moralismi, senza lesinare aspetti scomodi, segreti e incoerenze; la maggior parte delle donne di questa Serie seguono una loro urgenza interiore, una scala di principi che non le abbandona mai, neanche quando sono vestite di rosso o stanno morendo nelle Colonie. La loro forza è seguire la loro natura, anche quando questo le porta a stringere ancor di più le catene di Gilead attorno ai loro polsi.
E poi c'è Serena Joy.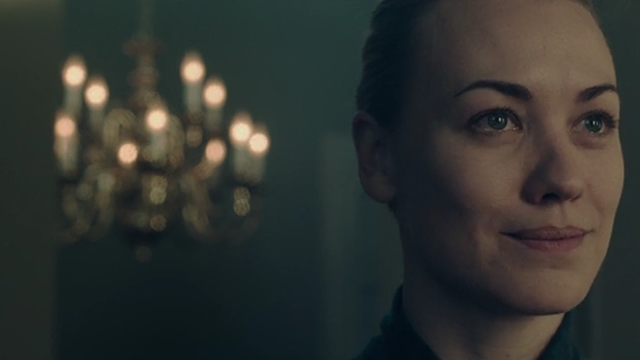 Serena è un personaggio inclassificabile, incoercibile; non riusciamo a capirla e i pochi flashback sul suo passato ci creano ancora più confusione attorno al suo personaggio. Com'è possibile che una donna come lei, pur con le sue idee retrograde, ma emancipata, libera e con le ovaie quadrate, abbia potuto contribuire in prima persona a creare una dittatura in cui le donne contano meno di niente? Come ha potuto lei che era scrittrice favorire un sistema in cui alle donne vengono tagliate le mani se sorprese a leggere?
Come ha potuto, una donna di polso come lei, acconsentire a essere messa da parte, lei che ha contribuito a scrivere i fondamenti di Gilead e che si è chiusa a chiave fuori dalle stanze del potere?
Serena Joy è una contraddizione, anche come donna. Vuole disperatamente avere un figlio, e abbiamo sempre pensato che questo desiderio rabbioso fosse dettato dalla volontà di aderire al suo "destino biologico", alle leggi che lei stessa ha contribuito a scrivere. Abbiamo anche pensato che, fra lei e Fred, potesse essere Fred "il problema": se non c'erano riusciti con la precedente ancella, forse era Fred quello sterile, e non lei. Questo alimentava in qualche modo la sua frustrazione: poter dare la vita, ma non potersi ribellare al marito deve essere stato frustrante per lei.
Serena vuole essere madre, ma non è affatto materna; vede la società come dei blocchi distinti in cui quelli come lei hanno tutto il diritto di schiacciare chi le sta sotto. Anche se chi le sta sotto sono bambini. L'atroce scena in cui mostra a una June sconvolta la sua bambina Hannah, minacciandola di farle del male se dovesse succedere qualcosa al bambino, al SUO bambino, lo dimostra. Lì ci confrontiamo con il lato più disumano di Serena Joy e con una delle scene più strazianti di The Handmaid's Tale; Serena è calcolatrice, fredda, irremovibile, crudele al livello più terribile a cui può arrivare una donna che vuole essere madre: minacciare di fare del male a un bambino.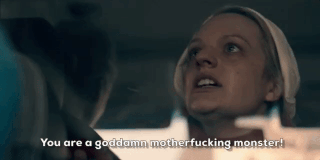 Abbiamo creduto che quello fosse il punto di non ritorno per il suo personaggio; che non solo non avremmo mai potuto odiarla di più, ma che non ci fosse nient'altro dentro di lei, se non rabbia e freddo.
E invece Serena ci stupisce. Perché è questo che fanno i personaggi ben scritti, è questo che riescono a trasmetterci le donne forti/dannate e malvagie/sante: tutte le Cersei, le Aslaug, le Gemma Teller, le Polly Gray di questo mondo ci dicono che l'animo femminile è come un prisma dalle sfaccettature infinite.
Ci stupisce nella sesta puntata della seconda stagione di The Handmaid's Tale, in cui scopriamo un lato nascosto di lei. Un lato che, come dice June, si esaurisce subito. Intanto però abbiamo visto che c'è. Non può più nasconderlo. Serena Joy sa essere buona. Sa trattare una donna con rispetto e non solo come un mucchio di carne che custodisce un bambino, il SUO bambino. Si crea una strana complicità tra June e Serena, in questi pochi minuti: sono ancora schiava e padrona, sì, ma le catene si allentano impercettibilmente.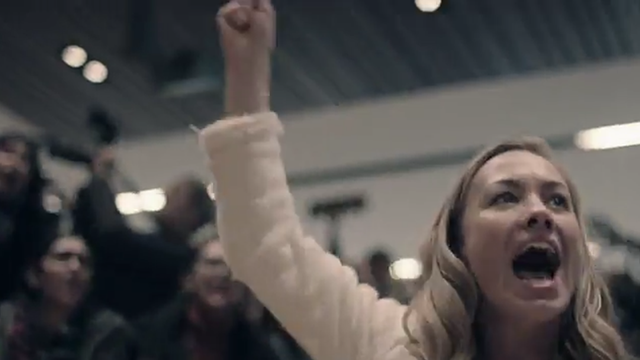 Proviamo anche empatia per la donna che il suo flashback ci presenta: una donna che viene ammutolita proprio da quell'America libera beffardamente evocata da Fred, che silenzia la voce scomoda, che nessuno vuole sentire: la voce di un credo che fagociterà anche lei, insieme a tutte quelle mani alzate in segno di protesta, che tapperà per sempre la bocca di coloro che la chiamano "nazi cunt". Di lì a poco, il credo di Serena ammutolirà la voce di quelle donne e di quegli uomini, insieme alla sua.
Ora finalmente comprendiamo il dramma di Serena; sterile non per sfortuna o per ipocrisia, ma per colpa di una mano assassina. Serena è vittima delle sue stesse idee e della reazione a esse, che la spingono sempre più nel baratro della paranoia, dell'odio, dell'autoritarismo che lei esercita nella sua casa, l'unico regno rimasto alle donne.
Se per poco abbiamo creduto di poter provare anche solo un filo di simpatia per Serena Joy, questo filo viene subito spezzato: la scena dei ferri da maglia ristabilisce subito le gerarchie. June torna a essere un'ancella e non più una complice della sua carceriera: l'oltraggio di aver osato, di aver chiesto di vedere la figlia o di rifiutarsi di spezzare e negare quel legame, è troppo. Ma June ha visto il lato umano di quella donna fatta di freddo e rabbia, e come tutte le vittime prova a sfruttarlo; il suo sorriso di sfida, mentre raccoglie obbediente i ferri da maglia, dimostra che lei sa, che ha capito che c'è un lato morbido nei fianchi irrigiditi della sua carnefice.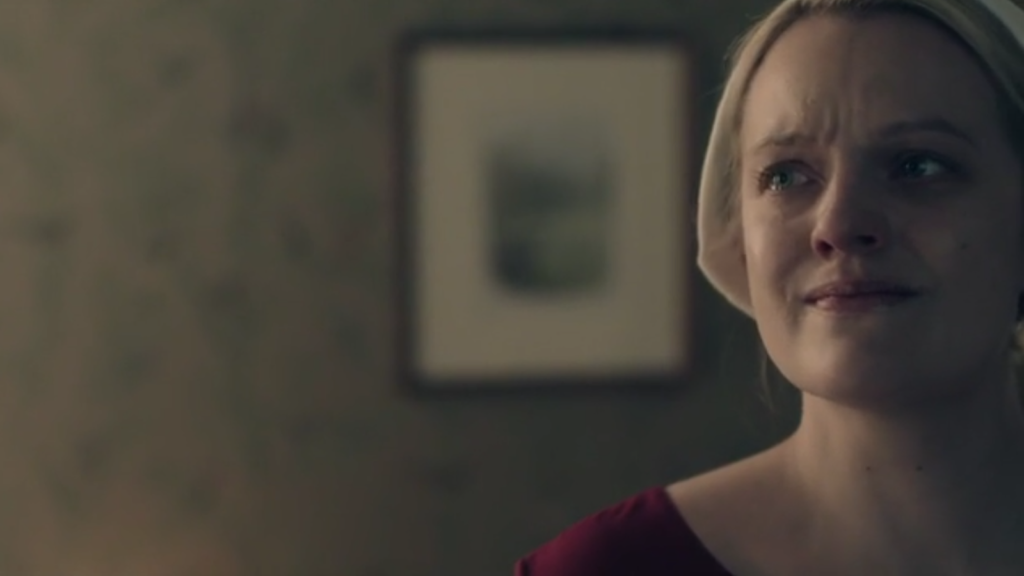 Come noi, ha visto che Serena ha ancora un lato umano, un lato femminile che il regime non le ha tolto; che ora sia svanito come un battito di ciglia, poco importa. Ma ora che sa che c'è, June ha vinto: il suo sorriso significa questo. E la mano che docilmente le porge, la mano che si è nuovamente piegata al suo volere, la mano che rappresenta tutte le mani rabbiose delle donne che hanno provato a farla tacere, un giorno potrà rivolgere le sue dita accusatrici verso di lei.
Perché il sistema funzioni, devi avere il sistema dentro. Serena è dentro il sistema, e ha il sistema in lei. Ma una piccola parte di quell'ingranaggio di regole è stato turbato, in questa puntata di The Handmaid's Tale: come lo sfrutterà June a suo vantaggio, lo scopriremo solo guardando.