Ci ha fatto compagnia per ben dodici anni. Grazie a The Big Bang Theory abbiamo trascorso più di un decennio in compagnia di personaggi singolari come Leonard, Sheldon, Raj e Howard e li abbiamo amati alla follia.
Quando abbiamo visto l'ultimo episodio della dodicesima stagione, siamo stati pervasi da dei sentimenti contrastanti: da una parte eravamo sollevati, perché portare troppo per le lunghe una sitcom così divertente e originale sarebbe stato a dir poco deleterio. Dall'altra, tuttavia, è stato come dire addio a un buon, vecchio amico che purtroppo non rivedremo più.
Fin dalla messa in onda nella prima stagione sulla CBS, avvenuta nell'ormai lontano 2007, The Big Bang Theory è stata acclamata dalla critica e ha immediatamente ottenuto anche il favore del pubblico. Con ben 279 episodi, oltre ad aver ottenuto dieci Emmy Awards, è diventata la sitcom multicamera più longeva nella storia della televisione statunitense.
Quando abbiamo conosciuto Leonard e Sheldon abbiamo subito capito che i due personaggi erano dei coinquilini incredibilmente atipici: Leonard sembrava quasi prendersi cura del suo amico come fosse un fratello maggiore. Lo abbiamo visto infatti cercare di spiegargli in modo elementare quanto fossero giuste determinate convenzioni sociali ed è proprio grazie a Leonard se Sheldon è finito per essere circondato da amici che davvero gli vogliono bene, nonostante il suo carattere tutt'altro che semplice da sopportare.
La verità è che, nonostante i litigi e le incomprensioni, i due protagonisti di The Big Bang Theory sono stati molto importanti l'uno per l'altro e lo abbiamo notato episodio dopo episodio, battuta dopo battuta, e noi abbiamo imparato a voler loro bene come se fossero davvero nostri amici.
La crescita dei personaggi di The Big Bang Theory
Quando nel primo episodio di The Big Bang Theory Leonard e Sheldon fanno la conoscenza della loro nuova vicina di casa, non hanno la minima idea di quanto questa ragazza apparentemente non molto intelligente e svampita diventerà importante per loro.
Penny entra nella vita dei due ragazzi velocemente, facendo invaghire Leonard e innervosire Sheldon a causa dei suoi modi di fare e, soprattutto, del suo disordine. Diventerà immediatamente molto amica anche di Raj e di Howard, ed è proprio grazie a lei che quest'ultimo conoscerà Bernadette e se ne innamorerà perdutamente.
Tutti i protagonisti di The Big Bang Theory sono cresciuti molto nel corso delle dodici stagioni della serie e le loro evoluzioni sono state inoltre incredibilmente inaspettate: chi avrebbe mai detto, guardando i primi episodi della serie CBS, che Howard sarebbe stato il primo a sposarsi e a mettere su una bella famiglia?
Leonard e Penny, dopo vari tira e molla, si sono sposati nella nona stagione. Sheldon, col passare del tempo, ha definitivamente superato la sua "avversione" alle relazioni e, con molta pazienza da parte di Amy, anche loro due sono convolati felicemente a nozze in uno dei migliori season finale di sempre.
Anche il personaggio di Raj (interpretato da Kunal Nayyar) è cambiato molto nel corso delle stagioni: da ragazzo timido che non riesce a pronunciare nemmeno una parola davanti a una donna, è arrivato paradossalmente ad avere più relazioni di tutti i suoi amici.
Cosa sarebbe successo, se…?
E se vi dicessimo che, stando all'idea iniziale di Chuck Lorre, Penny non doveva essere la gentile e simpatica ragazza della porta accanto? Lorre ha infatti dichiarato che il personaggio femminile che aveva immaginato accanto a Leonard e Sheldon si chiamava Katie ed era una persona infelice, malinconica e scontrosa.
Dopo aver consegnato il pilot di The Big Bang Theory e aver ricevuto l'approvazione da parte della CBS, Chuck Lorre ha però ben pensato di analizzare meglio i personaggi per capire cosa potesse migliorare nelle loro relazioni.
Era un casino. Non a causa degli attori, ma perché non avevamo ancora capito bene i personaggi. Abbiamo dovuto superare l'incapacità di comprendere che se una donna si fosse trovata nell'ecosistema di Sheldon e Leonard avrebbe dovuto essere gentile con loro, perché erano davvero vulnerabili.
Kaley Cuoco, scartata nei primi provini, non poteva assolutamente essere Katie. La star era però praticamente perfetta nei panni del nuovo personaggio ideato da Lorre, la frizzante, simpatica e gentile Penny. queste le parole della Cuoco a proposito dell'inaspettata chiamata da parte di Chuck Lorre:
Chuck mi ha chiamata un anno dopo e mi ha detto "Si tratta di un nuovo personaggio, vogliamo che ci sia tu". L'ho letto e mi sono sentita molto meglio di quanto non lo fossi l'anno precedente. Immagino fosse destinato a essere così.
Chissà quale sarebbe stato il finale di The Big Bang Theory se Chuck Lorre non avesse pensato di inserire un personaggio totalmente diverso da quello creato per il pilot?
Sheldon non avrebbe trovato una buona amica su cui contare, Leonard non si sarebbe sposato, e forse non saremmo mai arrivati a conoscere Bernadette (Melissa Rauch) e Amy (Mayim Bialik). A distanza di più di tredici anni, non possiamo non ringraziare Lorre per aver studiato alla perfezione i personaggi e averci regalato la bellissima Penny.
Il finale di The Big Bang Theory
Creare un finale perfetto (o che perlomeno si avvicini alla perfezione) è difficile, e noi serie tv addicted lo sappiamo fin troppo bene. Molte volte siamo stati messi di fronte a ultimi episodi che non superavano minimamente le nostre aspettative, che ci hanno delusi a tal punto da farci diventare scettici nei confronti di tutti gli altri finali di serie.
La conclusione di The Big Bang Theory, invece, non ci ha minimamente delusi. Come molti altri episodi ci ha fatto sorridere, ma ci ha fatto anche commuovere. Abbiamo visto i nostri personaggi preferiti crescere, ma rimanere sempre fedeli a loro stessi: ed è proprio la caratterizzazione dei personaggi a essere la vera arma vincente di The Big Bang Theory.
Già dal momento in cui Sheldon e Amy vengono a sapere di aver vinto il tanto ambito Premio Nobel, sappiamo che l'episodio che stiamo per guardare non deluderà le nostre aspettative.
Qui, nonostante Sheldon Cooper abbia appena raggiunto uno degli obiettivi più importanti della sua vita, lo rivediamo nuovamente impaurito e insicuro: i cambiamenti non fanno per lui, lo sappiamo bene, e il fatto che Amy abbia deciso di cambiare look per divenire più sicura di sé non lo aiuta di certo.
Sheldon, Amy, Leonard, Penny, Howard, Bernadette e Raj si dirigono quindi verso Stoccolma per assistere alla premiazione dei due dottori.
Qui, ancora una volta, Sheldon finisce per deludere i suoi amici. Quando scopre che Penny è incinta non si dimostra felice, ma semplicemente sollevato che non sia malata. Come se ciò non bastasse, quando Howard e Bernadette gli dicono che vorrebbero tornare a casa perché preoccupati per i loro figli, il fisico dà loro una risposta sarcastica che li lascia perplessi e delusi.
Sarà Amy (Mayim Bialik), come è già accaduto molte volte anche in precedenza, a far aprire gli occhi al suo amato Sheldon mettendolo di fronte alla realtà dei fatti: i suoi amici gli vogliono bene, sono lì per lui. Come lo sono sempre stati.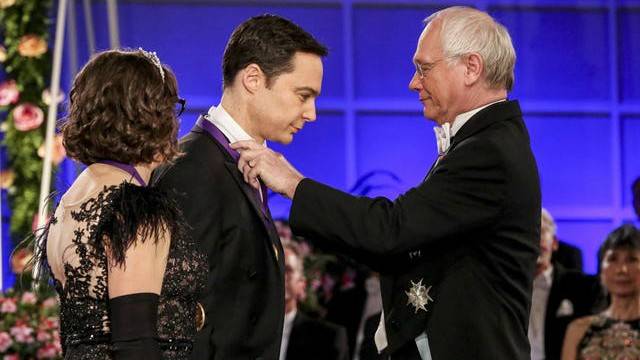 Ed è proprio qui che Sheldon, lasciandoci esterrefatti e decisamente commossi, decide di concentrare il suo discorso di ringraziamento proprio sui suoi amici. Il fisico ha confessato a tutti, innanzitutto a sé stesso, ciò che davvero prova per Leonard, Penny, Howard, Raj, Bernadette e – ovviamente – anche per Amy. Lui non sarebbe lo stesso senza coloro che gli sono stati accanto per anni nonostante gli atteggiamenti tutt'altro che amorevoli, ed è a loro che deve i suoi più sentiti ringraziamenti.
Tra un ascensore che finalmente dopo ben dodici stagioni funziona di nuovo, dopo aver visto i volti dei bambini di Howard e Bernadette e con un discorso di commiato come quello del Dr. Sheldon Cooper, come potremmo dichiararci insoddisfatti dall'attesissimo finale di The Big Bang Theory?
L'unico aspetto che ci ha lasciati un po' con l'amaro in bocca è il "non" lieto fine pensato per Raj (Kunal Nayyar): lo abbiamo lasciato così, sempre romantico e alla ricerca del vero amore. Ma noi non abbiamo dubbi: prima o poi arriverà anche per lui, in maniera inaspettata così come è successo ai suoi migliori amici.
L'addio del cast di The Big Bang Theory
Anche per i membri del cast di The Big Bang Theory, dopo aver lavorato insieme per più di dodici anni, è stato difficile dirsi addio. Il saluto della star Jim Parsons a Sheldon Cooper è stato senza dubbio uno di quelli che ci ha commossi di più:
Toc, toc, toc, grazie… Grazie, appartamento 4A per essere stato una casa di tanti sogni diventati realtà, di tante nuove amicizie. E grazie a voi, sì, TUTTI VOI che state leggendo ADESSO questo messaggio! Nel momento in cui stiamo per registrare il nostro ultimo episodio stasera e stiamo per entrare e uscire dalla porta di questo appartamento per l'ultima volta, è molto difficile trovare le parole per spiegare che esperienza profonda è stata. Ma le parole 'amore' e 'gratitudine' vengono in mente… Quindi amore e gratitudine per tutti voi. TUTTI voi. Grazie.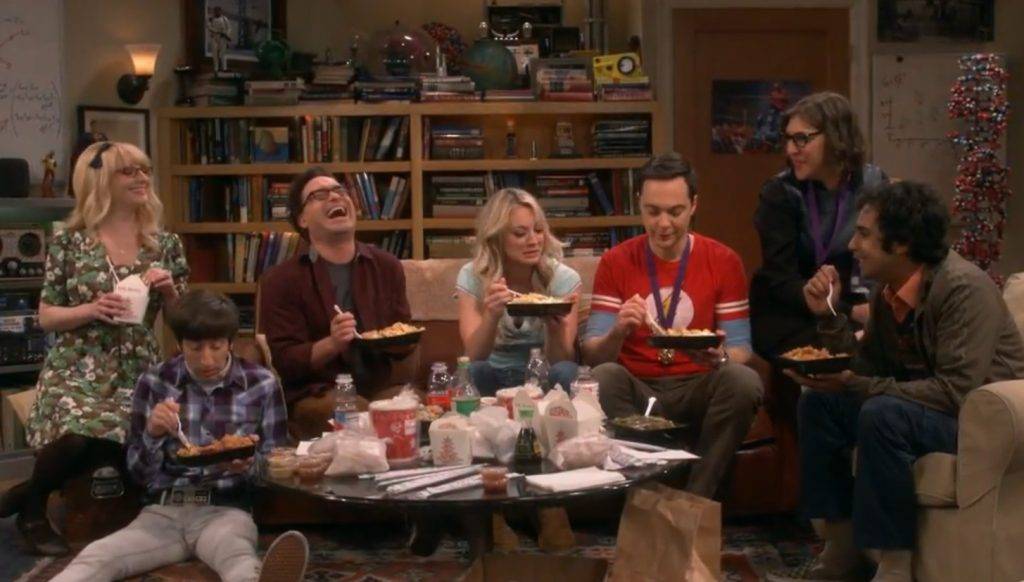 In occasione del primo anniversario della messa in onda dell'ultimo episodio di The Big Bang Theory, è stata Kaley Cuoco a lasciarsi andare ai ricordi e a commuoverci. L'attrice ha infatti pubblicato un post sul suo profilo Instagram con la seguente didascalia:
Un anno fa, oggi avevamo mandato in onda il nostro finale della serie BBT.. la gente mi chiede ogni giorno "è stato difficile andare avanti? Ero triste? Contenta? Come potevo fare qualcos'altro dopo? Come apparirebbe? Mi manca?" La verità è che lo show ha cambiato la mia vita in 100 modi diversi e indipendentemente da dove mi porti la mia carriera, lo devo sempre a questo show e al cervello che c'è dietro. "Non dimenticare mai da dove vieni e non distogliere mai gli occhi da dove stai andando" 🪐🌏
Visualizza questo post su Instagram
A year ago today we aired our BBT series finale .. people ask me every day, was it hard to move on? Was I sad? Happy? How could I do anything else after? How would it compare? Do I miss it? The truth is , the show changed my life in 100 different ways and no matter where my career takes me, I will always owe it to this show and the brains behind it. "Never forget where you came from, and never take your eyes off where you're heading" 🪐🌏
Un post condiviso da Kaley Cuoco (@kaleycuoco) in data: 16 Mag 2020 alle ore 4:46 PDT
È vero, il finale di The Big Bang Theory è stato uno dei più attesi e temuti nell'Universo delle serie tv. Ma noi fan possiamo affermare che, nonostante tutti gli alti e bassi avuti nelle ultime stagioni, siamo rimasti pienamente soddisfatti dal modo in cui Chuck Lorre ha deciso di farci dire addio ai nostri beniamini.