Sheldon Cooper: l'astrofisico con un quoziente intellettivo di 187, ossessionato dall'ordine, incapace di accettare qualsivoglia sconfitta, nerd e fan sfegatato di The Flash, l'amico più sigolare che qualcuno possa avere, ma sopratutto il personaggio più straordinario di The Big Bang Theory.
Il caro Sheldon non fa mai segreto della sua riluttanza nello stringere rapporti sociali e questo è dovuto in parte alla consapevolezza di essere intellettualmente superiore agli altri. I suoi migliori amici, nonché coprotagonisti di The Big Bang Theory, sono i primi a subire la personalità unica di mister Cooper. Proprio per questo suo atteggiamento incline alla solitudine, all'inizio ci risultava impossibile l'idea di vederlo accompagnato da qualcuno. Così, mentre Leonard si fidanzava con la vicina Penny, Raj si dava alla ricerca della dolce metà e Howard trovava Bernadette, lui continuava a dimostrare di non aver bisogno di quelle cose superflue chiamate sentimenti.
Proprio quando ci eravamo arresi all'idea che uno Sheldon innamorato non fosse scientificamente possibile, è arrivata la neurobiologa Amy Farrah Fowler: letteralmente la sua anima gemella nonché sua versione femminile.
Sheldon e Amy si incontrano su un sito online a causa di un profilo falso creato da Raj e Howard. Nonostante la prima lunghissima fase da non fidanzata, Amy riesce ad aprire il cuore dell'astrofisico e a farlo perdutamente innamorare di lei. In questo articolo ripercorriamo i cinque momenti in cui il nostro Sheldon si è lasciato andare alle romanticherie da innamorati.
1) Accordo tra fidanzati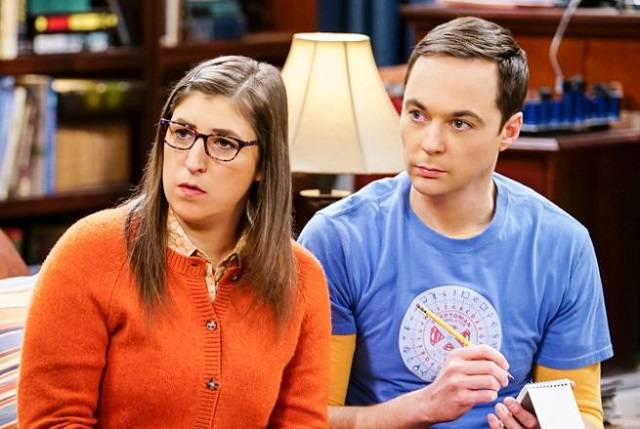 Nella 5×10 di The Big Bang Theory, Amy accompagna Sheldon al negozio di fumetti e fa la conoscenza di Stuart che ne rimane subito affascinato e, perciò, la invita a uscire per un appuntamento con lui. Amy, stanca del suo rapporto con Sheldon, decide di accettare.
In un primo momento, l'imperturbabile Sheldon sembra indifferente a questa notizia, ma alla fine si rende conto di essere gelosissimo della sua Amy e decide di riprendersela. Così si precipita nel luogo dell'appuntamento e la trova con Stuart. Dopo aver confessato alla ragazza che trova repellente il pensiero di lei seduta a un cinema al buio con un personaggio come Stuart, ritiene di voler modificare il paradigma della loro relazione e le propone di diventare la sua fidanzata. Amy accetta e questo la porterà a firmare l'accordo tra fidanzati formulato da Sheldon apposta per lei.
Il contratto, seppur singolare, è il primo gesto importante da parte di Sheldon nei confronti di Amy e in qualche modo anche romantico se lo guardiamo con l'ottica dell'astrofisico.