The Big Bang Theory ormai è arrivata all'ultima stagione, nonostante il progetto iniziale di Chuck Lorre fosse quello di andare oltre il dodicesimo capitolo. Una parte degli spettatori si era già stancata e voleva che la comedy finisse addirittura qualche anno fa. Ma c'è un'altra fetta di pubblico che sentirà profondamente la mancanza di Sheldon & Co. Per evitare una crisi d'astinenza, l'unico rimedio, oltre al rewatch compulsivo, è quello di trovare altre serie tv con elementi simili che ricordino un po' The Big Bang Theory.
Queste cinque in particolare sono comedy che potrebbero aiutarvi.
1) The IT Crowd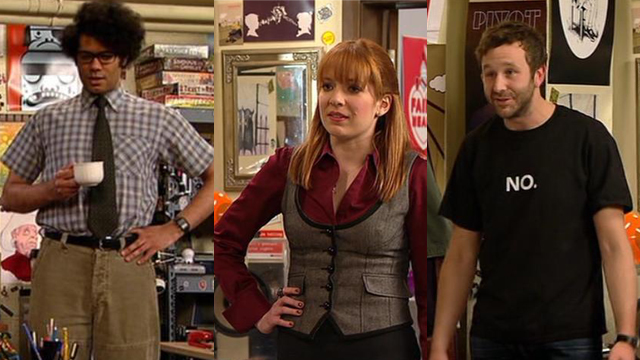 Si tratta di una sitcom britannica composta soltanto da quattro stagioni da sei episodi, più uno speciale. The IT Crowd è perfetta per chi vuole iniziare una nuova serie tv leggera, da gustare in breve tempo. È ambientata in un seminterrato di un'azienda poco affidabile e segue le vicende di due nerd (Roy e Moss) e una ragazza incompetente.
Have you tried turning it off and on again?
Questa è la frase che i due dipendenti della Reynholm Industries devono pronunciare spesso. Il reparto IT, dove lavorano Roy e Moss, è considerato di minore importanza rispetto agli altri, che sono situati nei piani più alti a seconda del prestigio. Proprio come in The Big Bang Theory, la vita dei nerd viene stravolta appena arriva la nuova ragazza all'interno dell'azienda. A differenza della comedy di Chuck Lorre, in cui vediamo i protagonisti migliorare professionalmente, qui i geek non vengono valorizzati dai superiori.