Conosciamo bene Rajesh Ramayan Koothrappali (o più semplicemente Raj), astrofisico originario dell'India e uno dei protagonisti di The Big Bang Theory. Ama indossare felpe con gilet a rombi (forse da un amante dello stile come lui ci si aspetterebbe altri abbinamenti), è molto goloso e ha una passione sfrenata per il romanticismo. Adora i film sentimentali, soprattutto se la protagonista è Sandra Bullock, e serie tv tipicamente femminili come Grey's Anatomy o Sex and the City. Il suo migliore amico è Howard con il quale ha un rapporto strano, particolare, tanto che spesso sembrano più una coppia di vecchi sposi che di amici. Possiede un cane di nome Cannella che lui tratta come se fosse la sua ragazza, viziandola come può.
All'inizio di The Big Bang Theory, Raj soffre di mutismo selettivo che gli impedisce di parlare con le donne. Non riesce nemmeno a dire loro "ciao" se non si trova sotto l'effetto dell'alcol o di farmaci sperimentali. Senza questi espedienti, si deve servire dell'aiuto di Howard. Riesce a superare questo suo blocco nel finale della sesta stagione di The Big Bang Theory. La rottura con Lucy è talmente devastante che non si rende conto di parlare con Penny senza aver bevuto nemmeno un goccio di alcol.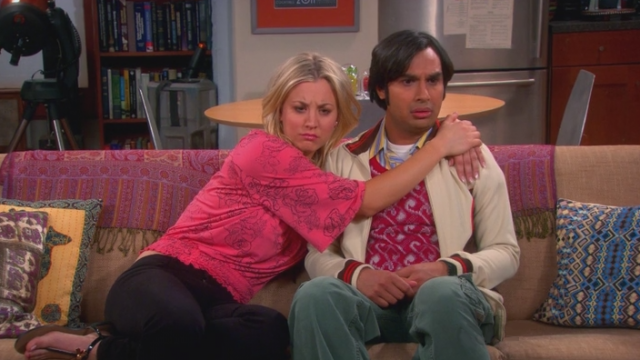 L'astrofisico più famoso del piccolo schermo ha trascorso l'intero show alla ricerca della ragazza dei suoi sogni e della sua storia d'amore da favola. Ha attraversato innumerevoli relazioni, la maggior parte delle quali andavano di male in peggio. Le più importanti sono state quella con la sopracitata Lucy e quella con Emily.
Raj conosce Lucy nella fumetteria di Stuart durante una festa di San Valentino per single. Lucy è terrorizzata dalle persone e, inizialmente, scappa da lui. I due però cominciano a frequentarsi e Raj pensa di poter costruire con lei un bel rapporto anche grazie ai loro "problemi" (lui il mutismo, lei questa fobia sociale). Raj vorrebbe farla conoscere ai suoi amici, lei si rifiuta e i due si mollano.
Nella settima stagione l'astrofisico si iscrive a un sito di incontri online dove conosce Emily. Purtroppo, per la sua troppa timidezza, rovina tutto. La rincontra per caso in una caffetteria, si mettono a parlare e lei accetta di uscire con lui. I due diventano una coppia stabile e questa relazione aiuterà molto Raj, spingendolo ad affrontare le sue insicurezze. Nella nona stagione però si invaghisce di un'aspirante sceneggiatrice di nome Claire e, nella speranza di poter iniziare una storia con lei, lascia Emily. Verrà rifiutato da entrambe inizialmente, salvo poi iniziare a uscire con le due contemporaneamente, senza che loro sospettassero di nulla. Inutile dire che Raj finirà senza averne nessuna.
All'inizio dell'ultima stagione di The Big Bang Theory, l'indiano cervellone è l'unico del gruppo a essere ancora single. Tutti hanno trovato la propria metà. Leonard e Penny stanno insieme ormai da tempo, sguazzano tranquilli nel loro matrimonio nel quale non saranno più soli perché c'è un bambino in arrivo. Howard e Bernadette di figli ne hanno ben due e sono una delle coppie più solide della serie tv. Amy e Sheldon sono uniti nella vita come nel lavoro, tanto da arrivare a vincere il Nobel insieme. Anche Stuart ha trovato l'amore con Denise e andrà a convivere con lei.
Il destino sembra non sorridere al povero Raj? O è solo sfortunato? È davvero giusto questo finale per lui?
Lui, che cerca l'amore da sempre, alla fine delle 279 puntate di The Big Bang Theory è solo. Ma proprio perché la ricerca di una fidanzata è così disperata e continua, è con il suo essere single che Raj dimostra di essere maturato. Non si accontenta di omologarsi e non si dà per vinto. Avrebbe potuto accasarsi con Anu, una ragazza indiana con il quale i suoi genitori hanno combinato un matrimonio. È stata la pressione e la stanchezza di essere l'unico single del gruppo a fargli accettare questo compromesso, rinunciando a quello che aveva sempre sognato. Nonostante abbiano personalità opposte, i due si fidanzano.
Ma l'amore, con tutti i suoi retroscena, è troppo importante per l'astrofisico indiano. Raj e Anu litigano e ammettono di non conoscersi. Decidono quindi di rimandare le nozze e ricominciare da zero perché comunque tengono l'uno all'altra. Ma un altro ostacolo si frappone tra di loro: Anu ottiene una promozione sul lavoro ma deve trasferirsi in Inghilterra. Raj è indeciso e, inizialmente, prevale la voglia di non rimanere più da solo. Per non rischiare di nuovo la solitudine, è disposto ad andare dall'altra parte del mondo e sposare Anu.
I promise you it's not. Believe me, somewhere out there is a woman who loves cooking shows and sweater vests and all the other dumb things you love. I don't think she's waiting for you in England. When you propose to someone in Notting Hill it should be to someone who knows what that movie is.
Le parole di Howard riusciranno a far cambiare idea a Raj. Non partirà per l'Inghilterra per raggiungere qualcuno a cui tiene ma che non ama. Rimarrà in California con le persone che lo amano sul serio, i suoi amici, l'altra sua famiglia, come l'ha definita Sheldon. Questa decisione (che lo porta a essere l'unico single sul divano nella scena finale) è il culmine di un percorso di maturazione iniziato con la rinuncia dei soldi del padre e continuato con la consapevolezza delle sue qualità e competenze, che lo hanno portato a essere la stimata voce narrante degli spettacoli del planetario, lui, un ex muto.
Seduta al suo fianco, mentre Sheldon e Amy ritiravano il Nobel, c'era Sarah Michelle Gellar, meglio conosciuta come Buffy l'ammazzavampiri. Questo incontro ha lasciato intendere che lui non smetterà mai di cercare la sua dolce metà. The Big Bang Theory si è interrotta ma le vite dei protagonisti continuano e, prima o poi, Raj inciamperà su qualcuna. Nonostante non abbia avuto quell'happy ending canonico che ci aspettavamo, l'astrofisico ci ha dato un grande insegnamento: è meglio stare da soli che accontentarsi. L'amore arriverà al momento giusto ma l'importante è aver imparato a stare bene con se stessi.
Ecco perché il finale che gli autori hanno dato a Raj è semplicemente perfetto per lui!