"Sons of Anarchy" è molto più che una Serie Tv, è un viaggio stroboscopico alla scoperta dell'esistenza umana. Impossibile non rimanerne segnati.
Ogni appassionato di serialità che si rispetti avrà già fatto suo questo concetto da molto tempo: guardare una Serie significa prima di tutto mettersi in discussione, dichiararsi disponibile a venire influenzato da ciò che si vedrà, sentirà e capirà nell'ammirarla. Talvolta però, in presenza di un'opera di livello assoluto, succede che l'influenza diventa cambiamento. Un cambiamento pesante, oserei definirlo esistenziale.
"Sons of Anarchy", la folle creatura di Kurt Sutter, fa parte della tipologia d cui sopra. Se siete usciti vivi da quelle 7 meravigliose stagioni potete tranquillamente considerarvi degli iniziati, quasi dei privilegiati, potrete raccontare ai vostri nipotini di aver iniziato quel viaggio in un modo e averlo concluso rendendosi conto di essere diventati qualcos'altro, anzi, qualcun altro.
Questi sono i 5 cambiamenti esistenziali che Sons Of Anarchy vi provocherà (o se siete fortunati, vi ha già provocato!).
PS: troverete qualche esemplare selvatico di spoiler qua e là. Non dite poi che non siete stati avvisati.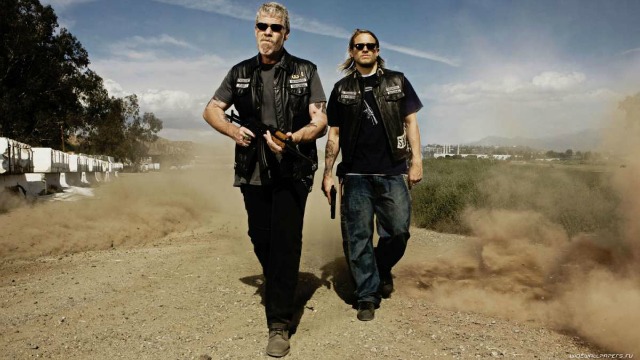 1) LA SECOLARIZZAZIONE DELLA VITA – A Charming la vita è veramente dura. Ogni giorno ci si alza dal letto e si scende in battaglia, non esiste di fatto un singolo momento di pace e anche concetti come quello di pietà, perdono o rettitudine si sono estinti da un pezzo. Nello slang americano esiste un termine per definire tutto ciò: "dog fight". È una lotta tra cani, furibonda e letale, dove non esistono di fatto delle vere regole e chiunque può rimanerci secco da un momento all'altro. Opie non avrebbe dovuto salvarsi? Non si poteva risparmiare la povera figlia di Tig? Possibile che non esistesse un modo per evitare il folle gesto di Gemma? In un Mondo ideale probabilmente avremmo preso in considerazione queste obiezioni, ma non in quello dei SAMCRO e sicuramente nemmeno in quello reale.
Pensateci un attimo: al di là delle estremizzazioni e dell'inevitabile drammatizzazione, non vi sembra di riscontrare la stessa scellerata e immorale forma mentis generale anche nella nostra società? Eh già, era dura aprire gli occhi, ma grazie a Jax & Co. ora potete dire di aver compreso quali pieghe assurde può prendere l'esistenza umana.