Questa settimana ci sono tanti ottimi trailer, tra cui l'attesissimo di Stranger Things, una speciale linea Primark ispirata a Game of  Thrones che adorerete, e tanto altro ancora per riuscire a svoltare la vostra giornata.
STRANGER THINGS: RILASCIATO IL TRAILER DELLA TERZA STAGIONE
Finalmente è stato rilasciato il trailer esteso della terza stagione di Stranger Things, che tornerà su Netflix il 4 luglio.
Siamo nell'estate dell'85 e mentre Eleven sembra perfettamente ambientata a Hawkins, i nostri protagonisti dovranno affrontare nuovi terrificanti mostri (potete trovare qui maggiori informazioni).
LUCIFER 3: ANNUNCIATA LA DATA DI USCITA SU NETFLIX
Netflix Italia ha annunciato con un tweet che Lucifer 3 arriverà sulla piattaforma streaming il primo aprile.
La terza stagione di Lucifer era una delle stagioni più richieste dagli abbonati, che finalmente sono stati accontentati (potete trovare qui maggiori informazioni).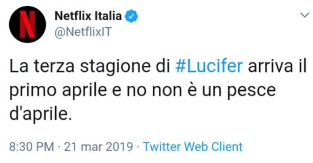 AFTER LIFE: RICKY GERVAIS ANNUNCIA IL RINNOVO PER UNA SECONDA STAGIONE
After Life ha debuttato su Netflix solamente da pochi giorni ed è già stata rinnovata per una seconda stagione.
A rivelare la buona notizia con un tweet è Ricky Gervais, ideatore e protagonista della serie (potete trovare qui maggiori informazioni).
Once again, I have to thank you from the bottom of my heart for all your amazing tweets about #AfterLife. I've never had a reaction like it. I have a spring in my step as I skip towards writing series 2. pic.twitter.com/AUxYoZSMWm

— Ricky Gervais (@rickygervais) March 20, 2019
CHERNOBYL: RILASCIATO IL TRAILER DELLA NUOVA SERIE HBO
Chernobyl è la nuova serie prodotta da HBO a cui, proprio questa settimana, abbiamo potuto dare un primo sguardo.
La Serie racconterà gli eventi che hanno portato al disastro nucleare avvenuto in Russia nel 1986 (potete trovare qui maggiori informazioni).
GAME OF THRONES: PRIMARK RILASCIA LA LINEA ISPIRATA ALLA SERIE
Questa settimana Primark ha lanciato la sua nuova collezione ispirata a Game of Thrones.
La linea spazia dagli articoli per la casa, al make-up, all' abbigliamento, fino a delle uova/candele di drago (potete trovare qui maggiori informazioni).
L'ultima stagione sta arrivando…Assicurati di mettere le mani sulla nostra esclusiva collezione #GameOfThrones per celebrare l'occasione!
CHILLING ADVENTURES OF SABRINA: RILASCIATO IL TRAILER DELLA SECONDA PARTE
La seconda parte di Chilling Adventures of Sabrina arriverà su Netflix il 5 aprile e, da quanto svelato dal trailer, ci aspettano dei nuovi episodi terribilmente eccitanti.
Sabrina ha ormai firmato il Book of the Beast, ma dalle immagini possiamo intuire che non si sottometterà così facilmente a Satana (potete trovare qui maggiori informazioni).
YOU VS WILD: ARRIVA SU NETFLIX LA SERIE INTERATTIVA CONDOTTA DA BEAR GRYLLS
You vs. Wild è il nuovo show Netflix in cui l'avventuriero Bear Grylls ci condurrà attraverso le zone più pericolose del pianeta, in un'avventura dove sarà lo spettatore a decidere.
La Serie sarà infatti un nuovo esperimento ad episodi interattivi in cui è il pubblico, attraverso le proprie scelta, a decidere l'andamento della storia (potete trovare qui maggiori informazioni).