Non era ancora terminato Game of Thrones che HBO aveva annunciato di voler procedere con una serie di spin-off ambientati nell'universo creato dalla mente di G. R. R. Martin. Le indiscrezioni parlano di cinque diversi progetti. Per ora si hanno due conferme: il prequel ambientato centinaia di anni prima delle vicende di Got, la cui protagonista sarà Naomi Watts, il cui pilot dovrebbe essere già in post-produzione e quello ispirato da Fire & Blood su i Targaryen. Quest'ultimo molto vicino alla chiusura dell'ordine.
Ovviamente in diverse occasioni dall'annuncio da parte di HBO l'interesse di stampa e pubblico si è rivolto allo stesso Martin per cercare di carpire più informazioni possibili. Recentemente, dopo l'ennesima domanda, ha scritto sul suo blog:
"Io posso dire che ci saranno dei draghi. Chiunque altro lo ha detto, perciò perché non io?"
"Potrei dirvelo…", "… ma poi dovrei uccidervi" sono il titolo e l'incipit del post datato 16 settembre che Martin ha pubblicato sul suo Not A Blog, dove cerca di far chiarezza e districarsi sulle varie notizie riguardanti tutti questi nuovi progetti seriali della HBO.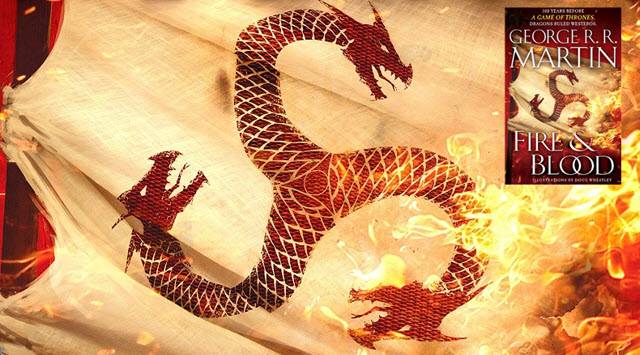 Ovviamente non può dire molto. Comunque ha confermato che HBO si sta muovendo nella direzione di mettere in piedi più "successori" di Game of Thrones. Chiaro il riferimento al prequel che ha firmato lui stesso a quattro mani con Jane Goldman ma ancora senza titolo. Probabile sia The Long Night ma si resta in attesa di conferme. Come detto il pilot è gia in post-produzione e lo scrittore è convinto di poter avere presto l'occasione per una visione privata. Almeno del first-cut. Martin inoltre riporta di essere stato a Belfast questa estate e di aver avuto la possibilità di "sbirciare" il dietro le quinte di alcuni set, definendoli "spettacolari".
L'altro spin-off di Game of Thrones di cui si hanno notizie è quello che prende spunto da Fire & Blood. Su questo Martin tiene a precisare che:
"[che chi lo ha letto] realizzerà che contiene abbastanza materiale per una dozzina di show."
Sull'argomento prosegue rivelando che per questo prequel sui Targaryen il titolo esiste già. Ma nessuno in HBO l'ha rivelato, quindi non lo dirà nemmeno lui. Comunque conferma che non si tratta di un titolo ovvio o scontato. Quindi improbabile che vedremo "Fire & Blood" o "Danza dei Draghi".
Martin ci tiene comunque a precisare che questo secondo prequel è ben lontano dall'essere messo in produzione. Ribadisce infatti che "essere vicini" all'ordine di un pilot, non vuol dire che la serie sia già stata ordinata da HBO:
"Quando HBO davvero ci darà l'ordine di un pilot, mi sentirete urlarlo ai quattro venti."
Questo è quanto sappiamo sulla situazione dei due prequel. Martin esprime grande entusiasmo si del lavoro con Jane Goldman che per quello con Ryan Condal (Colony) per questo secondo prequel di Game of Thrones. E l'entusiasmo non è minimamente minato dal dover lavorare con entrambi, praticamente contemporaneamente, su i due differenti progetti. Anzi sugli script messi in piedi finora utilizza parole incoraggianti, come: "fantastici, eccellenti, emozionanti". E aggiunge, concludendo il suo post con delle parole che sono una bella iniezione di fiducia anche sui futuri spin-off:
"Il mondo di [Cronache] Ghiaccio e Fuoco è un MONDO, ragazzi e ragazze. Immensi continenti, diecimila anni di storia, città, deserti, oceani, misteri, trionfi e tragedie."