C'è poco da discutere, il modo in cui Jaime è partito da Grande Inverno per Approdo del Re nella 8×04 di Game of Thrones ha lasciato l'amaro in bocca per vari motivi. Non solo per le parole dure con le quali si è accomiatato da Brienne, che aveva cercato di convincerlo a rimanere con lei invece di andare incontro a morte certa, e che lui ha invece lasciato in lacrime senza guardarsi indietro.
Ad amareggiare di più è stato vedere Jaime, che nel corso delle stagioni ha avuto un'incredibile evoluzione, forse la più notevole tra i personaggi di Game of Thrones, ricadere in quella trappola che era il suo amore malato per Cersei, dalla quale sembrava essersi liberato alla fine della settima stagione, come chi cede alla dipendenza dalla quale ha strenuamente tentato di disintossicarsi.
E come se non bastasse, l'addio tra lui e Brienne doveva inizialmente essere ancora più amaro di quanto non sia stato.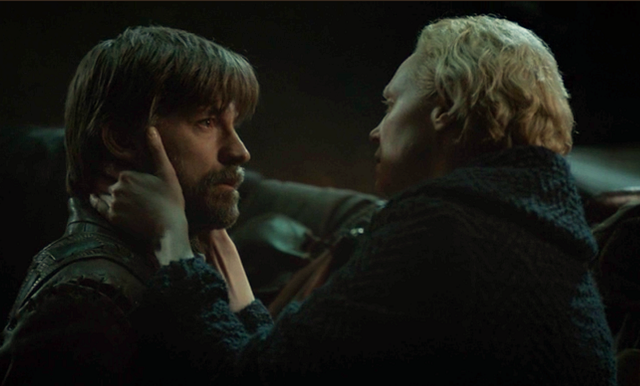 Dai contenuti extra del cofanetto dell'ottava stagione di Game of Thrones sono emersi molti dettagli interessanti, come il luogo in cui Drogon ha portato il corpo di Daenerys e delle scene tagliate mai andate in onda. Dal commento alla stagione è emerso un dettaglio sull'addio tra Jaime e Brienne, che forse, per una volta, è stato meglio perderlo che trovarlo.
Benioff e Weiss hanno ammesso che nello script originale c'era una battuta di Jaime che "avrebbe contribuito al dolore di Brienne". Nel lasciarla, infatti, Jaime avrebbe dovuto dirle "Io non ti amo. Nessuno ti ama.".
Parole di una cattiveria ingiustificata, che avrebbero ancor più aggravato la situazione di Jaime, che così non avrebbe avuto quella che si può leggere come una specie di "ricaduta", ma avrebbe avuto una vera e propria regressione. Una tale crudeltà sarebbe andata contro anni di evoluzione e maturazione, vanificandoli e ridicolizzandoli.