I momenti forse più carichi di pathos dell'ultimo episodio di Game of Thrones sono stati proprio quelli che hanno mostrato la fine di Daenerys. La Madre dei Draghi, che nell'episodio precedente ha conquistato Approdo del Re con fuoco e sangue, si è ritirata nella sala del Trono di Spade dopo aver tenuto un discorso di vittoria dai toni allarmanti.
In quella sala, prima ancora di poter far altro che toccare quel trono tanto agognato, Daenerys ha incontrato la morte per mano dell'uomo che amava. E in quella sala Drogon ha trovato il corpo morto di sua madre, e in ruggito carico di cordoglio e furore ha ridotto a metallo fuso quello stesso trono, simbolo della ricerca di potere che l'ha condotta alla follia, trono che se non suo, non sarebbe stato di nessun altro.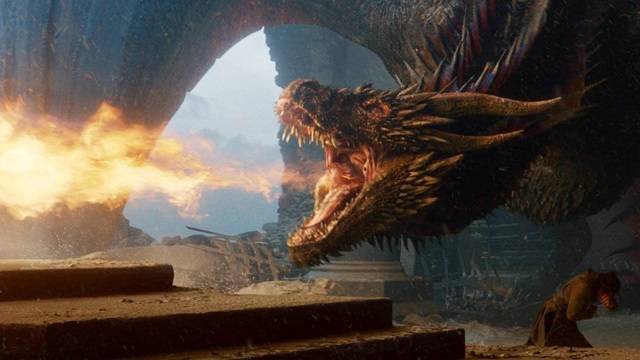 L'ultimo dei figli di Daenerys ha raccolto il corpo di sua madre e l'ha portato via con sé. Volando verso est, a quanto ha fatto sapere Bran poco prima della fine dell'episodio, ma della loro destinazione, in Game of Thrones, non si è saputo altro.
Che fine ha fatto Drogon, e dove ha portato il corpo di Daenerys? Ora lo sappiamo.
Nel commento all'ottava stagione di Game of Thrones contenuto nel cofanetto rilasciato recentemente Emilia Clarke e i due showrunner David Benioff e D.B. Weiss hanno discusso anche di questo. La Clarke temeva che Daenerys avrebbe finito col diventare "cibo per draghi" dopo aver sentito che questo destino toccava ad alcuni signori dei draghi. Subito è arrivata la rassicurazione che non è questo che è accaduto, bensì Drogon ha portato Daenerys a Volantis.
La più antica delle Città Libere di Essos, Volantis era parte dell'originario Impero Valiriano, oltre che luogo d'origine dei draghi e della dinastia Targaryen. In poche parole, Drogon ha portato sua madre nel luogo che più si avvicinasse a una casa.