L'ottava stagione di Game of Thrones concluderà la Serie e i fan sono ormai impazienti. Non vedono l'ora di scoprire come finirà la Serie e sapere, una volta per tutte, chi conquisterà il Trono di Spade. Per avere una risposta a questa domanda si dovrà però aspettare il 2019.
Tempo fa circolava un'interessante notizia in merito al finale di Game of Thrones: la HBO avrebbe girato finali multipli al fine di evitare una possibile diffusione di anticipazioni prima della trasmissione dei nuovi episodi. Se ben ricordate, la HBO ne ha gà passate tante (clicca qui per una rinfrescata di memoria!). Evitare il ripetersi di questa situazione sarebbe l'ideale!
Tuttavia alcuni attori, come Nikolaj Koster-Waldau avevano negato le riprese dei finali multipli. La situazione sembra infatti assurda, ma non è ancora detta l'ultima parola!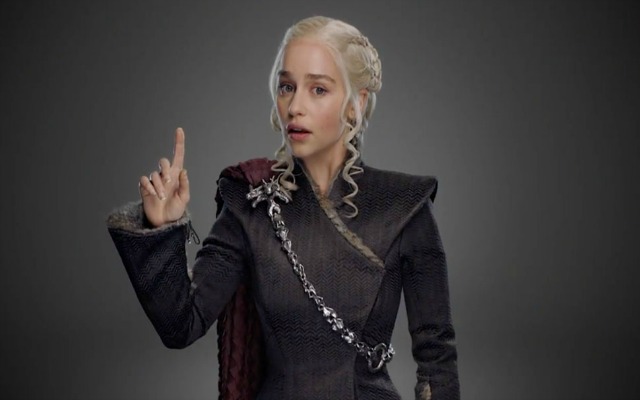 Emilia Clarke (Daenerys Targaryen) ha recentemente dichiarato, durante un'intervista con The Hollywood Reporter, che non è più certa di sapere come finirà Game of Thrones. Ecco le sue parole:
Non so nemmeno quello che so al momento. Sono seria. Credo stiano filmando un po' di roba e che ce lo stiano nascondendo. Sono davvero molto seria! Sembra quasi che non abbiano fiducia in noi.
Con questa dichiarazione, sembra che la HBO stia davvero girando finali multipli per l'ottava stagione di Game of Thrones. L'attrice ha poi continuato:
Ci sono diversi finali che potrebbero concludere la Serie. Quello che penso è che li stiamo girando tutti e non siamo stati avvisati su cosa accadrà realmente.
L'attrice potrebbe aver fatto queste dichiarazioni per confondere i fan, ma se così non fosse? La HBO potrebbe aver messo in atto questo piano iniziale per evitare che anche gli attori si lasciassero scappare qualche spoiler in merito all'ultima stagione. Perchè diciamocelo: sarebbe davvero un gran peccato!