Cersei Lannister, interpretata da Lena Headey, ha compiuto atti davvero terribili e tutti in nome della famiglia. O forse, da brava narcisista, per se stessa considerando i figli un'estensione del sé. Il fandom di Game of Thrones si divide in quelli che l'hanno amata e in quelli che hanno amato odiarla: il suo personaggio si è dimostrato uno dei più enigmatici e complessi dello show e forse avrebbe meritato una fine diversa.
La costumista di Game of Thrones, Michele Clapton, ha specchiato le esperienze e la storia familiare di Cersei nei suoi elaborati abiti, in cui ogni dettaglio è strategico e significativo. Cersei ci racconta molto di quello che sta succedendo nella sua vita e nella sua psiche attraverso il guardaroba, proprio come fa Sansa Stark – che però tende a emulare chi le sta intorno.
"Cersei ha sempre parlato molto attraverso i suoi costumi, spesso perché non aveva una voce. In Game of Thrones devi dire così tanto in così poco tempo. Uso gli abiti di Cersei per trasmettere il suo stato d'animo" afferma Clapton.
L'evoluzione del personaggio attraverso gli abiti di Cersei è stata più sottile di quella di Sansa o Daenerys. Non ci sono stati molti cambiamenti improvvisi e drammatici nel taglio o nel colore. In generale indossa tonalità brillanti e sfumature dorate per riflettere il suo status regale e richiamare il suo retaggio da Lannister, cosa che spesso fa indossando un medaglione ritraente un leone. La forma dei vestiti è inizialmente molto femminile, con colori tenui e dettagli delicati affatto appariscenti: segno che è consapevole dei limiti imposti al suo genere e per questo tende ad agire nell'ombra. Andando avanti nella serie però le tonalità dei suoi abiti diventano più decise, sperimentando nuovi stili e manifestando all'esterno il suo crescente potere.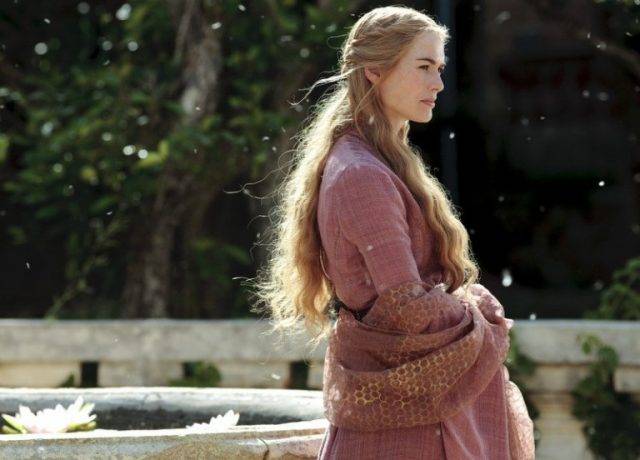 Ecco quindi la classifica dei migliori outfit di Cersei, quelli che meglio testimoniano il suo ruolo nel gioco del trono o che danno inizio a una nuova fase. Enjoy!