2) L'abito nero del processo a Tyrion: l'oscurità si fa strada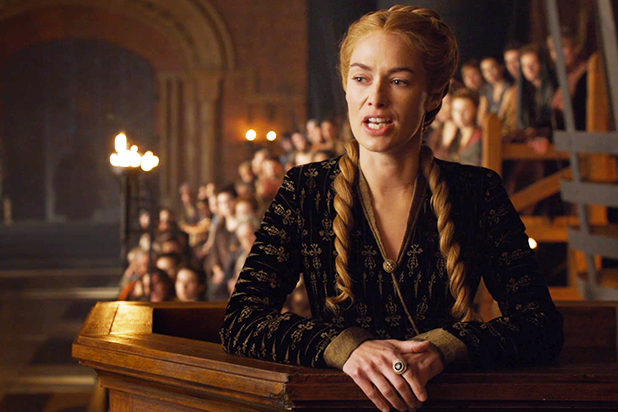 Dopo la morte di Joffrey, per Cersei nulla sarà come prima. In occasione del processo a Tyrion per l'assassinio del figlio, Cersei indossa un abito nero in segno di lutto adorno di gioielli granitici e con ricami di pugnali a testimoniare la volontà di vendicarsi con la violenza. Tutti dettagli che torneranno nei successivi outfit.
Ma il tempo dell'odio e del dolore profondo dato dalla morte dei figli è appena iniziato. "When you play the Game of Thrones, you win or you die".
La passione di Cersei per la moda è smorzata dalla tristezza: il guardaroba un tempo variegato lascia il posto a pochi look e tutti in tinte lugubri. Riesce persino a riutilizzare in parte l'abito del processo per un altro outfit, forse segno che la Corona sta davvero soffrendo per la mancanza di risorse più volte accennata dai Tyrell.