Dai pesanti mantelli degli uomini del nord come quello di Jon Snow, agli abiti esotici sfoggiati da Daenerys Targaryen nelle prime stagioni. Quel che i personaggi di Game of Thrones indossano spesso dice molto su di loro – e sul loro stato d'animo – tanto e anche più delle loro stesse parole.
Come per ogni altro elemento della serie, anche i più piccoli dettagli sono di importanza fondamentale per il reparto costumi. In effetti, è uno dei capisaldi persino nell'ottava stagione, dove abbondano le incongruenze.
Guidato dalla talentuosa costumista Michele Clapton (il cui incredibile lavoro può essere visto anche in The Crown), il reparto costumi nasconde molte curiosità. Vi abbiamo elencato le principali. Pronti?
1) Il reparto costumi di Game of Thrones è enorme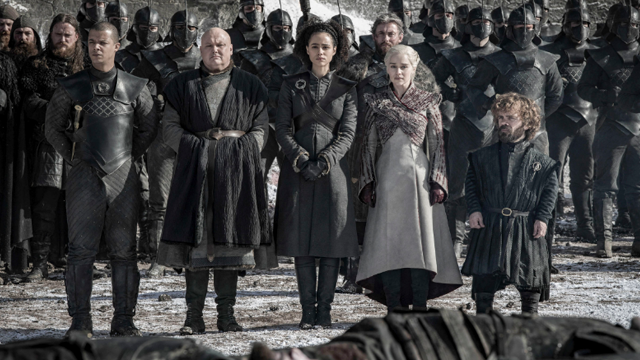 Con così tante fazioni in lotta e ognuna con un proprio stile, vestire il cast di ben otto stagioni di Game of Thrones è stato un lavoro immane. Michele Clapton stima in media la creazione di circa 120 costumi principali a stagione, supportata da un team che va dalle 70 alle 100 persone. Tra gli specialisti ci sono ricamatori, pellettieri, tipografi, tagliatori, armatori, metallurgici, tintori e gioiellieri.
"Il 99% dei costumi sono fatti in casa, a Belfast", dice la Clapton al Los Angeles Times . "Abbiamo tutto sul posto: i nostri armatori, i nostri tessitori e le nostre ricamatrici. Tessiamo il nostro tessuto con il nostro telaio. Molti tessuti sono fatti letteralmente da zero". C'è addirittura una squadra preposta solamente a far sembrare logori gli abiti.