Attenzione: evitate la lettura se non volete imbattervi in spoiler su Friends. Per colpa del piccolo Ben
Il bello delle teorie è che ci permettono di vedere un'intera serie tv con una prospettiva differente. Spesso grazie ad un piccolo dettaglio, apparentemente insignificante. È così anche si parla di Friends, una delle comedy più famose di sempre. Di cui pensiamo di sapere davvero tutto. Ma la realtà, credeteci, è un'altra. Facciamo un esempio: ricordate quando scoprimmo la relazione di Monica e Chandler?
La risposta sembra ovvia e ci riporta a The One with Ross's Wedding: Part Two, season finale della quarta stagione. È indimenticabile: i nostri friends volano a Londra per il matrimonio di Ross con Emily e Monica, dopo una sera tormentata, si risveglia con Chandler al suo fianco. Nasce in quel momento una delle storie d'amore più belle e significative di sempre, ma c'è un aspetto sorprendente: avremmo potuto scoprirlo molto prima. Nell'ottavo episodio della terza stagione. Grazie ad un personaggio imprevedibile: Ben Geller.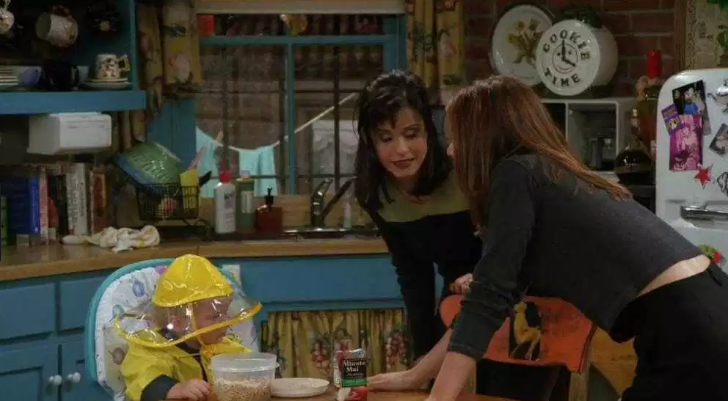 The One with the Giant Poking Device, incentrato principalmente sulla presunta "maledizione del dentista" che ha colpito Phoebe, mette in scena anche Monica e Rachel nei panni di due improbabili babysitter. Ross, infatti, decide di affidare loro per qualche ora il figlio Ben, pentendosene poco dopo. La sorella, mentre gioca col bambino, gli fa sbattere la testa contro il soffitto. I divertenti tentativi delle due ragazze di nascondere l'episodio spiacevole catalizzano la nostra attenzione, ma Ben, candidamente, rimarca più volte l'accaduto. Esclamando un simpatico "Monica bang!". Ma siamo sicuri che abbia detto questo? Secondo molti fan, la battuta sarebbe un'altra. Molto più significativa.
Il bambino, infatti, potrebbe aver detto "Monica Bing!", "spoilerando" quindi il matrimonio tra Chandler (Bing) e Monica che chiude la settima stagione. Dobbiamo crederci? Se si riascolta la voce di Ben (qui trovate il video) il dubbio resta, ma è innegabile che l'assonanza tra la "a" e la "i" possa portare in quella direzione. Gli autori, già decisi a mettere insieme i due futuri sposi, avevano anticipato la grande svolta di Friends con un simpatico scherzo? Oppure Ben ha detto, semplicemente, "Monica bang!"? Forse non avremo mai una risposta definitiva, ma una cosa è certa: Chandler, allora fidanzato con Janice, decide di lasciare la ragazza proprio in questo episodio. Un caso? Forse no. Il piccolo Ben potrebbe aver capito cosa sarebbe successo prima di tutti. Inclusi loro. E a prescindere da ogni considerazione, è bellissimo pensarlo.