Un cuore di pietra, come quello di Sayid Jarrah in Lost, non si scioglie sotto i raggi del sole. Un cuore il cui battito è incastrato in una cicatrice fredda, eppure dolente, rimane immobile. Sempre.
Sayid Jarrah è tutto questo e molto altro. Quando il torturatore assorbe le pene del torturato subisce una violenza che non ha nome.
And another one bites the dust
Oh, why can I not conquer love?
And I might have thought that we were one
Wanted to fight this war without weapons

Elastic Heart – Sia
Lost è un lungo viaggio in cui lo spettatore esplora i lati più reconditi e misteriosi dell'umanità. Per certi versi si può dire che Lost, a nostra insaputa, ci permette di conoscere meglio noi stessi, affrontare le nostre paure e, si spera, superarle. Ogni personaggio si incammina inconsapevole sul sentiero della salvezza, ma si tratta di un sentiero ricco di spine e intemperie. Non tutti sono disposti a percorrerlo.
La redenzione è un prodotto che l'Isola di Lost vende a caro prezzo.
Sono passati diciassette anni da quando Lost è approdata sui nostri schermi. Eppure il tempo non sembra sopire la fama e il successo riscosso da questa serie tv. Non a caso, per una fetta non indifferente di serial addicted, Lost è considerata La Serie per eccellenza. D'altronde, che si concordi o meno con questo assunto, è un dato di fatto che la serie tv di J.J. Abrams sia l'apripista di una lista molto lunga di prodotti televisivi più o meno recenti. Proprio per questo ci siamo chiesti se Lost sarebbe stata una serie Tv migliore se fosse nata ai giorni nostri (ne abbiamo scritto qui).
Uno dei motivi principali per cui Lost è tanto amata dal pubblico è la dettagliata quanto profonda caratterizzazione dei personaggi, in una serie in cui è decisamente faticoso identificare un vero e proprio protagonista. Per certi versi è lo spettatore stesso che entra a far parte della narrazione, intraprendendo un viaggio tanto arduo quando appassionante.
In questo #VenerdiVintage abbiamo deciso di approfondire la complessa figura di Sayid Jarrah, il soldato di Lost.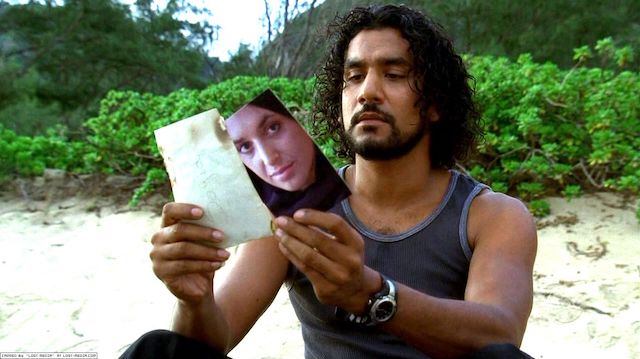 Sayid Jarrah ci viene presentato come un torturatore burbero e pragmatico, dotato di una straordinaria capacità di attraversare le persone con lo sguardo e carpirne le menzogne. Anni e anni di addestramento nella Guardia Repubblicana irachena hanno forgiato una corazza che è diventata una seconda pelle.
Sayid impara a sopire i sentimenti, davanti ai suoi occhi c'è esclusivamente la guerra. È diventato un uomo prima ancora di capire cosa significhi essere un bambino. Sayid è piccolo in un campo di rose. Gli hanno insegnato a guardare le spine, abbracciarle fino a perdere la sensibilità. Nessuno gli ha mai detto di alzare il capo e ammirare la morbidezza dei petali e i loro colori.
Tuttavia, sul viale della vita sente nascere il germoglio dell'amore e, finalmente, si sveglia dal torpore dolente in cui si era adagiato per tutta la sua esistenza. Grazie a Nadia il soldato combatte per la prima volta, ma non in nome della guerra in cui gli altri lo hanno cresciuto. Questa volta combatte per il sentimento irascibile e ingestibile che è fiorito nel suo cuore.
Non è difficile leggere nei suoi occhi la sofferenza. La società in cui si è formato lo induce a credere di non avere accesso alle cose belle della vita. Un soldato combatte. Un soldato non prova sentimenti. Il resto è come una ceramica pregiata che puoi guardare ma non toccare.
Così, a un certo punto della sua vita Sayid Jarrah è costretto a tagliare il filo rosso che collega la sua anima al fiorire dei sentimenti.
Sayid Jarrah non prova più niente.
Non provo nulla. Rabbia, felicità, dolore… Non provo più niente di tutto questo.
Il suo è un meccanismo di difesa. Tutto ciò che sa è che la vita è un susseguirsi continuo di sacrifici. L'amore, il dolore, la pietà sono segni di debolezza che non può permettersi di mostrare. Jarrah impara presto, e a caro prezzo, che per andare avanti bisogna imparare a sacrificare tutto.
Rinuncia a ogni gioia, a ogni barlume di luminosità. Sayid è un mostro. Sayid non lo merita. Sayid è debole.
And I wanted it, I wanted it bad
But there were so many red flags
Now another one bites the dust
Yeah, let's be clear I'll trust no one

Elastic Heart – Sia
Tuttavia, è lo schianto fragoroso e inaspettato di un aereo a far luce sulla sua anima. Il naufragio apre una piccola crepa nella corazza dorata del soldato. Una crepa che lascia intravedere tutta la bellezza di un'anima silente, sensibile e profondamente empatica. Le fratture dimenticate in cantina iniziano il loro processo di guarigione. Finché il soldato non è in grado di deporre le armi e aprire se stesso all'amore, e con esso alla possiblità di essere ferito e di soffrire. Ancora.
L'Isola di Lost concede ai suoi naufraghi la possibilità di espiare i loro peccati.
Tuttavia, nella maggior parte dei casi, l'aspetto più difficile di questo processo di espiazione consta proprio nel riconoscere la natura delle proprie mancanze. Ognuno di loro si colpevolizza per qualcosa di totalmente errato. Questo perché guardandosi allo specchio giudicano un'immagine che riflette i canoni preconfezionati della società, non già l'essenza nuda e veritiera del loro essere.
Sayid, cresciuto con la cultura del sacrificio, comprende che in realtà le torture, le violenze e le guerre non hanno nulla a che fare con le sue colpe. Noi siamo chi sentiamo di essere, non siamo gli insegnamenti che ci hanno imposto. Il soldato è pronto al vero sacrificio d'amore solo quando raggiunge la consapevolezza delle sue colpe. Sayid si è sempre odiato, il non volersi bene è probabilmente la sua più grave mancanza.
Quando capisce di non essere una persona cattiva, quando sente di meritare finalmente la vita e le sue meraviglie. A quel punto è pronto a correre via, stringendo tra le mani un sacrificio che non è una privazione verso se stesso, ma un dono d'amore per gli altri.
You did not break me
I'm still fighting for peace

Elastic Heart – Sia