Una telefonata può significare molte cose. Può comunicare nostalgia, rabbia, amore o una richiesta d'aiuto. Nelle serie tv come nella nostra vita di tutti i giorni, il telefono è diventato un prolungamento del corpo umano. In particolar modo in alcuni show le telefonate sono state impiegate per la creazione di scene devastanti, che non dimenticheremo mai. Quella telefonata in Lost ad esempio resterà a lungo nelle nostre menti come una delle scene televisive più potenti sotto il profilo emotivo.
Oggi vogliamo elencare quelle che sono secondo noi le 10 telefonate più strazianti delle serie tv. Lo faremo raccontandole una ad una e concentrandoci su cosa le abbia rese così d'impatto e indimenticabili.
Preparatevi, perché insieme a quella chiamata in Lost ce ne sono altre nove pronte a scavarvi solchi nell'anima. Iniziamo, ma non da Lost!
1) Karla (Orange Is the New Black)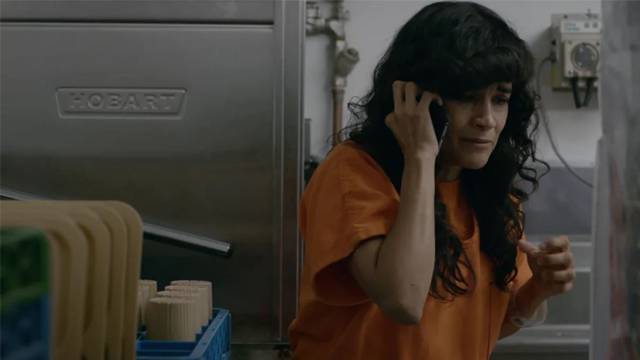 Nell'ultima stagione di Orange Is the New Black (qui la nostra recensione) abbiamo assistito a una chiamata da pelle d'oca. Dopo aver seguito le vicende di Karla, detenuta in ottemperanza alle politiche migratorie di Trump, abbiamo assistito all'epilogo più triste che potessimo immaginare. La donna verrà rimpatriata con esecuzione immediata e i suoi 2 amati figli resteranno negli USA.
Con un telefono illegalmente introdotto nel carcere, Karla chiama i suoi ragazzi per salutarli e dire loro che farà di tutto per tornare.
Non importa quello che vi diranno o cosa succederà, farò di tutto per tornare da voi e non mi fermerò fino a quando non saremo di nuovo insieme. Nel frattempo prendetevi cura l'uno dell'altro, perché io non potrò essere lì a farlo per voi. Vi amo più di tutto.
Con il telefono stretto tra le mani e la voce strozzata, Karla ha voluto assicurare ai suoi bambini che non si sarebbe arresa e che loro per lei significavano tutto. Questa scena viene resa ancor più straziante dalla consapevolezza che di finto, in dinamiche del genere, non c'è nulla e che purtroppo si tratta di situazioni all'ordine del giorno.