Delle prime due puntate di The Walking Dead abbiamo già parlato nelle nostre recensioni (qui il link) e nelle nostre pagelle semi-serie (qui il link).
C'è un aspetto fondamentale di questi episodi a cui è giusto lasciare un po' di spazio in più. Come annunciato da tempo, l'ottava stagione dovrebbe rappresentare un cambiamento radicale nella storia di The Walking Dead per come la conosciamo noi. Ci siamo già accorti che le regole sono cambiate, che il mondo si è allargato. Gli zombie non sono (quasi) più un problema, anzi diventano spesso e volentieri un'arma contro il nemico o un'occasione per distrarre e agire nell'ombra.
Il punto è sempre lo stesso: chi è vivo ha imparato a sopravvivere. Che sia con inganni o tradimenti o con una pistola e una balestra, non importa.
Rick Grimes ha formato un gruppo, una famiglia. Ha condotto le persone da Atlanta ad Alexandria. Ha messo 'a capo' delle nuove comunità i suoi 'generali'.
La struttura è pronta, ma per essere pronta a reggere il peso del nuovo mondo deve superare un'ultima prova: la guerra contro i Salvatori. Parlando con Maggie, Rick dice chiaramente 'quando sarà finita sarò io a seguire te'. Michonne, invece, ad Alexandria, parla a Carl come degno erede del padre. Rick Grimes deve affrontare un'ultima sfida e questa stagione rappresenterà proprio il raggiungimento della tanto ambita vetta (vita).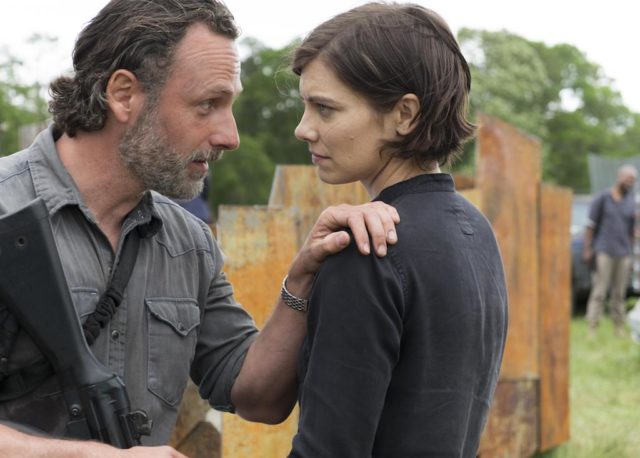 È evidente come in queste prime due puntate si sia focalizzata l'attenzione sull'ostacolo principale all'obbiettivo: "l'ira che rischia di prevalere sulla misericordia". Nell'episodio 8×01 l'ex sceriffo mette a repentaglio la sua stessa vita e il compimento finale del piano elaborato in precedenza nel tentativo di riuscire a colpire Negan. Solo con l'intervento, definibile quasi divino, di Padre Gabriel, Rick recupererà la lucidità che gli permetterà di mettere in moto l'auto e iniziare a completare l'opera.
Nella puntata della scorsa settimana invece, la 8×02, l'ira del leader di Alexandria ha fatto sì che una neonata, pari quale la sua un paio di anni prima, rimanesse senza padre (e anche senza una famiglia, probabilmente). Davanti a quella culla, così pacifica ed estranea ad un mondo totalmente violento ed insanguinato, Rick ci viene mostrato vulnerabile ed immediatamente pentito, come mai era successo prima d'ora.
Ad aggiungersi a questa già critica situazione, il ritorno dal passato di Morales costringerà Rick ad un esame di coscienza notevole. Quando le loro strade si divisero entrambi gli uomini era diversi. Questo mondo è riuscito a cambiarli nonostante avessero giurato a se stessi alcuni principi fondamentali ("noi non uccidiamo i vivi").
Se questa affermazione fosse rimasta tale, probabilmente The Walking Dead si sarebbe conclusa alla seconda stagione.
Ma, allo stesso tempo, se questo principio fosse stato mantenuto, ora Gracie avrebbe un padre. Noi spettatori sappiamo bene che Rick Grimes ha fatto anche di peggio, molto peggio, ma sempre con una sorta di giustificazione più 'alta'. Quel che è certo è che per arrivare alle scene intraviste nel flashforward della 8×01 bisognerà fare i conti con il cambio di rotta necessario per rendere davvero il nuovo mondo migliore (in tutti i sensi).
Gracie avrà bisogno di un padre che combatta per lei, ma che sia disposto a prendersi il rischio del sapere prima di premere il suo grilletto. Così quel padre raggiungerà la vetta, rendendo onore anche a tutti quelli caduti per strada.
"il nuovo mondo avrà bisogno di Rick Grimes" (cit. Abraham Ford)