Ci sono personaggi che da spettatori ci godiamo malgrado siano obiettivamente difficili da sopportare. Sono un po' l'equivalente di Venezia, "che è bella, sì, ma non ci vivrei". È divertente, ma non ci avrei a che fare. Chi è il miglior rappresentante della categoria? Quel soggetto che riscuote grande successo come personalità fittizia, ma che nella realtà darebbe filo da torcere al nostro sistema nervoso. Non ci sono dubbi: si tratta di Michael Scott, a cui non a caso abbiamo assegnato la palma del più detestabile di The Office.
The Office, il mockumentary della NBC andato in onda dal 24 marzo 2005 al 16 maggio 2013, ha conosciuto uno straordinario picco di popolarità con l'inserimento nel catalogo Amazon Prime. Grazie all'acquisizione da parte della nota piattaforma streaming, una nuova generazione di spettatori si è appassionata alle esilaranti vicende del gruppo di dipendenti che si ritrova a svolgere il proprio lavoro davanti all'obiettivo delle telecamere h24.
Il team di impiegati della filiale di Scranton è guidato da Michael Scott, personaggio a cui presta il volto l'istrionico Steve Carell. "Il capo migliore del mondo", come recita la tazza di cui lo vediamo munito sin dal pilot della celebre sitcom statunitense. Andando avanti con la visione, si avrà modo di scoprire che la descrizione è un motto puramente autocelebrativo e non una fedele rappresentazione della realtà.
Michael Scott è un individuo infantile, arrogante ed egocentrico, incapace di ricoprire il suo ruolo e di gestire le sue relazioni interpersonali. Eppure ci piacciono le sue idee malsane e i suoi ridicoli melodrammi, ci piace guardarlo mentre spadroneggia in mezzo al biasimo e allo sconforto dei poveri martiri che lo circondano. Ma se fossimo noi quei poveri martiri? Se ci ritrovassimo noi ad essere il Dwight di turno quando Michael ha un problema da risolvere?
Osservare Michael Scott restando a debita distanza è facile, ma ritrovarselo faccia a faccia sarebbe tutta un'altra storia. Passarci un'intera giornata, poi, rientrerebbe a pieno titolo nelle 12 fatiche di un Ercole in versione serializzato.
Provate a immaginarlo. Michael che arriva in ufficio allegro e pimpante, convinto di essere il motore da cui deriva l'energia che fa funzionare il mondo. Nemmeno il tempo di salutare che vi rifilerebbe un commento inappropriato o una battuta scadente a cui non potreste far altro che ridere, visto che siete diversi gradini sotto di lui nella scala delle gerarchie d'ufficio.
E se il giorno da condividere con Michael fosse quello in cui c'è un evento da organizzare? Rischiereste di finire catapultati in un comitato organizzativo messo su non tanto per assolvere al compito, ma per far sì che esso venga eseguito in considerazione dei criteri imposti dal grande capo. Criteri che, naturalmente, corrispondono a una lista di capricci su cui non avete la possibilità di metter bocca, perché è colui che comanda ad averli stabiliti.
Credete che sia il peggio che potrebbe capitarvi al cospetto di Michael Scott? Allora non avete valutato un'altra terrificante ipotesi: quella che sia lui a occuparsi di un evento a cui dovrete obbligatoriamente prender parte. Niente scuse da poter accampare, nessuna possibilità di declinare l'invito. Pensate a tutto quello che vi toccherebbe rimetterci: tempo, soldi, dignità.
E se proprio quel giorno foste afflitti da un problema che non avete voglia di condividere? Michael partirebbe con una sequela di domande a cui non avete intenzione di dare risposta perché, cavolo, sono affari vostri, ma poi finireste per cedere e vuotare il sacco. Seguiranno pessimi consigli spacciati per perle di saggezza, proclami sulla solidità della vostra inesistente amicizia e, soprattutto, l'inequivocabile certezza che tutto ciò che avete confessato diventerà di dominio pubblico. Mentre Dio distribuiva il tatto e la discrezione, Michael faceva la fila per la smania di protagonismo.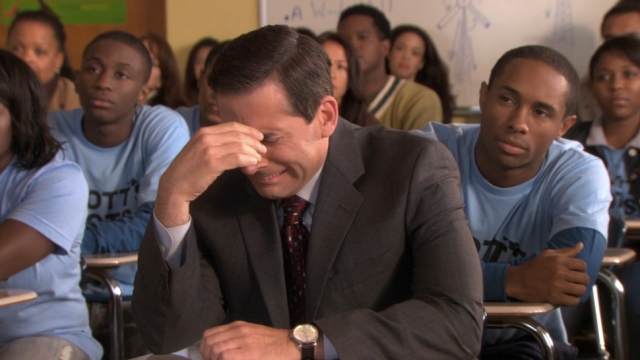 Queste sono solo alcune delle mirabolanti esperienze che potrebbero toccarvi se trascorreste una giornata in compagnia di Michael Scott. Il pacchetto potrebbero includere anche uscite sessiste, omofobe o razziste e sessioni di improvvisazione in cui venite colpiti a ripetizione da una raffica di proiettili immaginari.
Morale della favola? Ti vogliamo bene, Michael, ma quando si tratta di te preferiamo fare come con gli animali esposti allo zoo: ammirare da lontano senza andare a disturbare, o meglio, a essere disturbati.