La terza stagione di The Handmaid's Tale sta arrivando. Il trailer e il teaser, uscito ancora prima durante il Super Bowl, hanno parlato chiaro: sono stati una vera e propria chiamata alle armi. Wake Up America. Svegliati. È ora di combattere. È ora di lottare contro l'oppressione. Di spezzare il silenzio.
Questo è stata The Handmaid's Tale fino a ora. Ha messo in scena un incubo antico e insieme tremendamente attuale. La società che rappresenta è una specie di mostro, nato da un mondo già per molti versi sbagliato. Un mostro da cui si subisce nel dolore e nel silenzio, che trasforma in altrettanti mostri coloro che in essa vivono. Una descrizione perfettamente calzante di tutto ciò che Gilead rappresenta la troviamo in una canzone dal titolo quanto mai appropriato dei Metallica: Some Kind of Monster.
Il brano, apparso nel 2003 nell'album St. Anger e rilasciato come singolo l'anno seguente, prende il titolo da una descrizione che il cantante e chitarrista James Hetifield fece del testo. Riguardava una creatura come Frankenstein, una specie di mostro. Ed è questo che la canzone rappresenta e racconta. Una volta visto The Handmaid's Tale è impossibile ascoltare il brano e non collegarlo immediatamente alla serie. Immagini mostruose di oppressione e rabbia, inganno e potere, minaccia e liberazione si susseguono e intrecciano tra loro. Un vortice disordinato e caotico in cui diventa impossibile distinguere quando a "parlare" sia la vittima e quando il carnefice.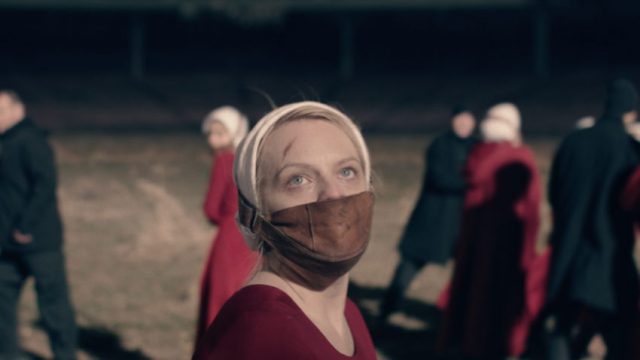 These are the eyes that can't see me
These are the hands that drop your trust
These are the boots that kick you around
This is the tongue that speaks on the inside
These are the ears that ring with hate
This is the face that I'll never change
This is the fist that grinds you down
This is the voice of silence no more
Occhi che non possono vedere, che diventano quelli degli oppressi, di chiunque al di fuori dei Comandanti, a cui non è dato sapere nulla. O gli Occhi, le spie di Gilead, nascoste ovunque, che cercano ogni trasgressore alle ferree leggi del regime, ai pochi che osano fare Resistenza. Odio e violenza usati come armi, incanalati e utilizzati per portare dalla propria parte la gente che ha affidato loro il potere. La fiducia tradita di chi si è visto togliere ogni libertà, inclusa quella di espressione.
Non è dato avere un'opinione, non è dato nulla. Persino i saluti sono cristallizzati in rigide forme rituali. Uscire dal seminato significa rischiare di essere puniti, se non uccisi. Avere un opinione è possibile, per chi abbastanza forte e abbastanza ardito. Per chi è abbastanza sveglio da tenersela per sé. Finché si riesce a non lasciar trasparire l'odio che si prova per chi è riuscito a piegarti e a costringerti a una simile situazione.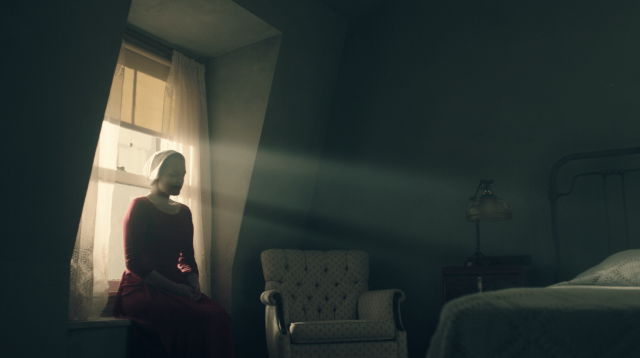 This is the test of flesh and soul
This is the trap that smells so good
This is the flood that drains these eyes
This are the looks that chill to the bone
These are the fears that swing over head
These are the weights that hold you down
This is the end that will never end
This is the voice of silence no more
The Handmaid's Tale propone una situazione impossibile, che mette alla prova anima e corpo. Una realtà nella quale, eccezion fatta forse per i Comandanti, tutti hanno perso tutto. L'idea di un mondo nuovo nel quale sarebbe stato possibile tornare ai fasti di una volta, nel quale la razza umana avrebbe potuto tornare a fiorire dopo il terribile calo demografico che minaccia di portarla all'estinzione, è stata incredibilmente allettante. Una trappola nella quale tutti sono caduti prima di rendersene conto.
Perché Gilead è nata molto prima che il regime totalitario venisse instaurato.Il clima di terrore era già presente, l'avversione per il diverso nuovamente fomentata dopo anni di futili sforzi. Sguardi diffidenti, sguardi d'odio gelavano il sangue nelle vene e facevano temere per sé e i propri cari. Donne e uomini di pensiero, fede, sessualità o professioni considerate immorali o lontane dall' oscena parodia della visione puritana del mondo, hanno presto capito l'aria che tirava. In molti sono fuggiti. Altri hanno deciso di rimanere a loro rischio e pericolo.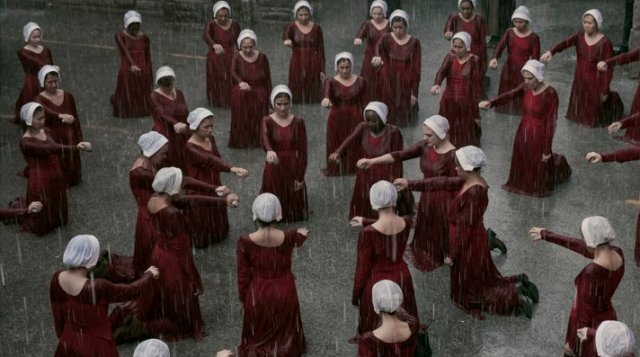 Altri ancora hanno aperto gli occhi troppo tardi e sono rimasti intrappolati. E quando Gilead ha gettato la maschera e si è mostrata per quello che era realmente, famiglie sono state distrutte, donne imprigionate e seviziate solo per utilizzare i loro corpi come incubatrici viventi. La paura è la nuova valuta, lo strumento per tenere a bada il gregge. La fine del mondo è giunta, e ha un volto granitico che promette di rimanere immutato per sempre.
These are the legs in circles run
This is the beating you'll never know
These are the lips that taste no freedom
This is the feel that's not so safe
This is the face you'll never change
This is the god that ain't so pure
This is the god that is that pure
This is the voice of silence no more
Intrappolati in questa nuova condizione, gli abitanti di Gilead conducono vite vuote nella monotonia senza scampo di giornate uguali a loro stesse. L'unico saltuario fremito quello di una vita che si appresta a nascere, di cui le ancelle saranno private quando la creatura verrà strappata loro in seguito al parto. Un fremito che le Mogli, quasi tutte sterili, non potranno mai conoscere, ma cercano comunque di imitare in una messa in scena che sfiora l'indecenza.
La stessa indecenza con la quale nel creare Gilead non ci si è fatto alcuno scrupolo a sfruttare i testi biblici per giustificare i propri scopi. Si è fondata l'intera struttura del regime su una interpretazione deviata ed estremista della Bibbia. Una perversione religiosa,una visione corrotta usata come pretesto per legittimare i propri mezzi. Un Dio che diventa occhio malevolo, che di rassicurante non ha più nulla. Eppure, proprio nel cuore di chi è cresciuto con i nuovi precetti inculcato a forza nella mente, senza conoscere altro che questa realtà spaventosa, proprio qui troviamo la fede più pura. Una fede vera, che sorregge un cuore innocente nell'affrontare una condanna ingiusta e terribile.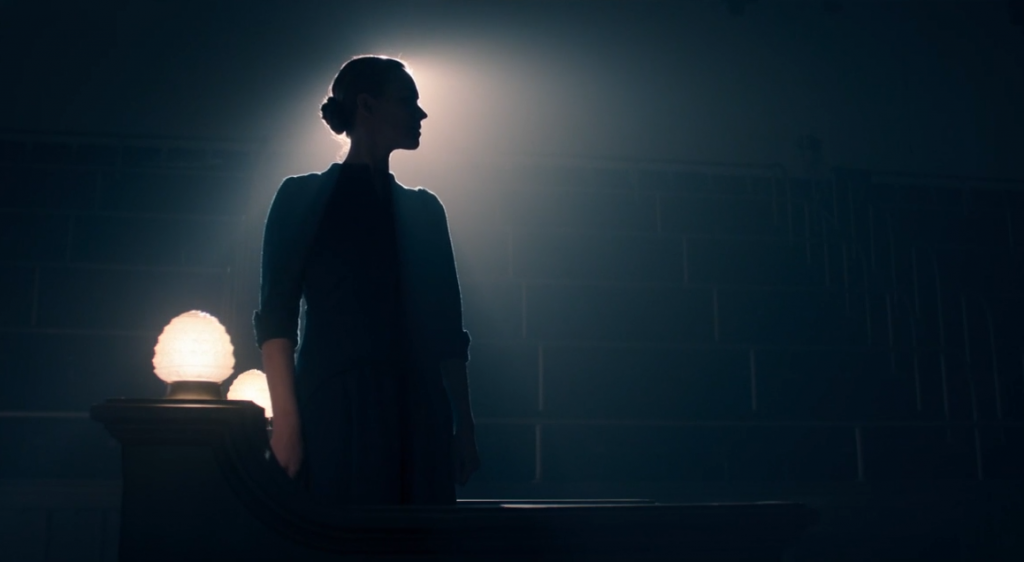 Gilead spoglia i propri abitanti di ogni libertà, anche quella di amare. Ma le vittime non sono solo i giovani che non hanno conosciuto altro, coloro che non hanno potere, le donne che valgono solo quanto possono offrire come serve o perché fertili. Anche le Mogli si sono viste privare di qualsivoglia libertà. Spesso membri di spicco della società precedente, ora non è più concesso loro neanche leggere o scrivere. Persino la donna che ha contribuito in maniera essenziale a fondare l'ideologia del regime ha visto tutto ciò andarle contro. È finita prigioniera di una gabbia che ha costruito e di cui ha saldato la chiusura lei stessa.
We the people
Are we the people?
[…]
Some kind of monster
This monster lives
La consapevolezza infine giunge, e in ogni dove. Colpisce nel profondo, nei timori più reconditi, sfondando gli alti muri eretti dalla negazione. Gilead, costruita inseguendo il sogno di un futuro migliore, altro non è che una creatura deforme e mostruosa, che ha affondato i suoi artigli nella carne del suo popolo di schiavi, prede inermi che si tramutano in creature orribili a loro volta, dilaniandosi a vicenda. Gilead è un mostro, e vive. È arrivato il momento di accettare la realtà dei fatti, di non subire più passivamente gli orrori perpetrati dietro il pretesto di un bene più grande.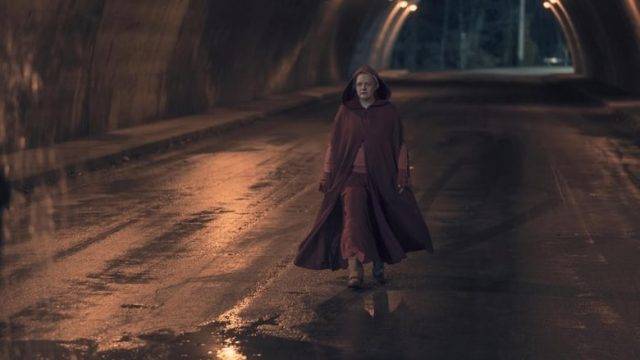 Alla fine di ogni strofa, il grido di rivolta, la chiamata alle armi che costituisce il cuore pulsante di The Handmaid's Tale. L'esortazione che prima implicitamente e poi sempre più a gran voce si fa largo nel cuore di June, Moira, Nick, Emily, Rita, Serena Joy, Ancelle, Marte, Mogli…
This is the voice of silence no more
Questa è la voce del silenzio che non ci sarà più. L'oppressione non sarà più accettata, il silenzio con il quale si stendeva un velo su tanta atrocità verrà spezzato da coloro ai quali per primi è stato imposto. È ora di combattere.
Blessed be the fight.