The Handmaid's Tale 3 è pronto a riportarci nella distopia di Gilead. Dopo il primo trailer rilasciato in occasione del Super Bowl di quest'anno, ora possiamo dare un'ulteriore sguardo a cosa ci aspetta con un secondo trailer ufficiale.
In The Handmaid's Tale 3 ci aspetta una stagione di resistenza. Difred/June (Elizabeth Moss) capisce di dover cercare aiuto. "Se voglio cambiare le cose", dice, "avrò bisogno di alleati. Alleati che hanno potere".
"Eresia: per questo puoi essere punito. Non puoi essere punito perché sei parte della resistenza, perché ufficialmente non esiste la resistenza. E nemmeno perché aiuti le persone a scappare, perché ufficialmente non esiste alcuna fuga.
Sembra proprio che June cercherà di ottenere il supporto di Serena Joy (Yvonne Strahovski): "In quanto signora Waterford avete influenza". Al che Serena Joy le risponde: "Fino a un certo punto". Ma June non demorde: "E allora spostate quel punto".
Il trailer ci ha anche aggiornamenti sul destino di alcuni personaggi: vediamo Zia Lidia (Ann Dowd), che è sopravvissuta all'attacco dell'episodio finale della seconda stagione, e Emily (Alexis Bledel) che sembra essere al sicuro insieme a Holly, la figlia di June. Vediamo anche il Comandante Lawrence (Bradley Whitford), che dice a June: "Sembra che tu sia brava a influenzare le persone".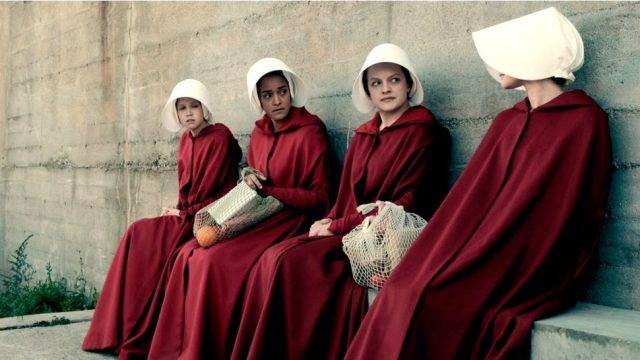 Possiamo vedere inoltre una scena di June con Nick (Max Minghella), il salotto dei Waterford in fiamme e una scena in cui June si inginocchia vicino al letto di Hannah mentre quest'ultima dorme.
Oltre agli attori già citati, in The Handmaid's Tale 3 ritroveremo anche Joseph Fiennes (Comandante Waterford), Samira Wiley (Moira), Amanda Brugel (Rita), Madeline Brewer (Janine) e O.T. Fagbenle (Luke). Al cast si aggiungono anche Elizabeth Reaser e Christopher Meloni.
The Handmaid's Tale 3 arriverà questo giugno su Hulu (e in Italia su TIMVision), precisamente il 5 giugno.