Gli spettatori del Super Bowl sono stati risvegliati dal torpore che la soporifera partita tra Patriots e Rams stava loro regalando con uno straordinario trailer da parte di Hulu della terza stagione di The Handmaid's Tale.
Il trailer della serie, che si basa sul romanzo distopico di Margaret Atwood, incentrato sull'oppressione delle donne, è un piccolo gioiello dal gusto teatrale che reinterpreta in modo straordinario uno spot della campagna elettorale del presidente Ronald Reagan del 1984, noto come "Morning in America" (Risveglio in America).
"Oggi, più donne andranno a lavorare come non mai nella storia del nostro paese", dice una voce fuori campo mentre il trailer di Hulu ci fa vedere una folla di ancelle, le donne schiavizzate utilizzate solo a fini riproduttivi, che si preparano per il lavoro. La scena, che incredibilmente prende il via con un'atmosfera quasi ottimistica, imita la campagna di Reagan. Ma non vi è alcun riferimento agli uomini.
Lo spot presentato nel trailer di Hulu però, alla fine, ci rivela molto di più, mostrando una scena raffigurante il monumento alla memoria di Washington con una croce gigante. E la scritta a lettere rosse sullo schermo: "WAKE UP AMERICA. MORNING'S OVER" ("Sveglia America, la mattina è finita").
La reazione del pubblico sui social è stata eccellente. Le aspettative per la terza stagione sono lievitate ancora di più di quanto non fossero prima. La scelta di Hulu di puntare su un  vero e proprio spot, più che un trailer, ha decisamente pagato. E anche gli spettatori l'hanno interpretato come  qualcosa di più, di un semplice spot.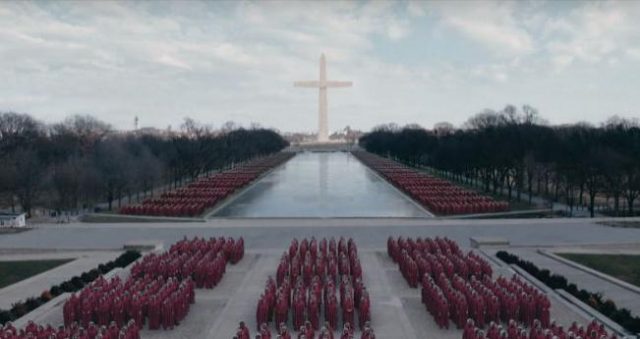 Il produttore esecutivo di  The Handmaid's Tale, Warren Littlefield, ha dichiarato a USA Today che la tag line della terza stagione sarà: "Benedetta sia la lotta". Ha anche assicurato agli spettatori che la prossima stagione non sarà così lenta e pesante come la precedente. Per fino la direzione di Hulu ha rilasciato una dichiarazione al Wall Street Journal. In questa si legge che la pubblicità fatta vedere stanotte riflette l'obiettivo stesso della serie: "mostrare la relazione tra persone con potere e persone senza".
Sembra davvero che le aspettative verso la terza stagione siano fortunatamente ben riposte. Le ambizioni di Hulu e produzione alte. Ora non ci resta che sederci e aspettare di poterla finalmente vedere.
Leggi anche – The Handmaid's Tale: You don't own me