Se dovessimo definire The Handmaid's Tale 4 con una frase probabilmente quella più calzante sarebbe "una serie tv dalla quale non si sa mai cosa aspettarsi". Non che il capolavoro di Hulu non abbia sempre portato con sé questo caratteristico tratto, ma è possibile che la stagione appena conclusa abbia in qualche modo affinato la tecnica della sorpresa. Non c'è episodio di questa stagione che non sia riuscito in qualche modo a sorprendere e scioccare lo spettatore. Con inizi lenti e finali col botto, toni in sordina ed eventi sconvolgenti sul finale.
The Handmaid's Tale 4 ha fatto di quest'altalena un tratto fondamentale della sua evoluzione, e il finale cui abbiamo assistito ieri non è stato da meno. Anzi.
The Wilderness non solo alza l'asticella dell'effetto-sorpresa ma porta The Handmaid's Tale 4 a un nuovo livello di narrazione in cui la distopia si mescola e confonde con il thriller, l'elemento dark emerge con forza, e la tensione si taglia a fette. Già il finale dello scorso episodio aveva aperto una voragine in tal senso mostrandoci la furia di una June tutt'altro che disposta a scendere a compromessi con il mostro. Ma il lato oscuro della sua evoluzione ci era stato mostrato ben prima.
Nel momento stesso in cui June ha messo piede in Canada, riabbracciato Luke e chiesto asilo politico al paese, sapevamo che un'insidiosa oscurità si era ormai impossessata di lei. Con l'andare degli episodi è stato sempre più chiaro come la donna che June Osborn è stata prima di Gilead sia morta il giorno in cui il regime le strappò Hannah dalle braccia. L'amorevole madre, moglie e amica di un tempo ha lasciato spazio a una donna che ha dovuto rinnovare se stessa per sopravvivere alla violenza e ribellarsi all'oppressione.
Poi, nell'episodio 8 di The Handmaid's Tale 4 (qui la nostra recensione), la nuova June ci ha fatto capire a chiare lettere come in questa realtà non possa esserci posto per il perdono, per la riconciliazione, o per una pacifica guarigione.
La June creata da Gilead non è in cerca di una vita tranquilla lontana dall'orrore, ma di giustizia, vendetta se necessario. E in questa realtà, odio e violenza calzano molto meglio delle più popolari parole d'amore. Ecco perché in questa visione non può esserci pace per chi vede il proprio mostro cavalcare l'onda di una giustizia perversa, fatta di compromessi, diplomazia e scambi che non sempre lasciano tutti contenti. In questa realtà, la furia con cui June minaccia di morte Tuello, deve trovare il suo canale di sfogo. E lo troverà.
Buona parte di quest'ultimo episodio ci lascia addosso la sensazione di incompiutezza di quella giustizia che a qualcosa deve rinunciare pur di abbattere un nemico più grande del singolo Fred Waterford. Sembra giunto il momento in cui June lascerà che le cose vadano come devono, costretta ad ammettere il "valore" strategico della cooperazione del suo carneficie con il paese che le ha dato asilo e salvezza. Ma la donna che ha osato sfidare Gilead dall'interno, più e più volte, non può essere la stessa che lascerà cadere in un misero, inascoltato videotape la prova di un orrore senza fine.
E quando tutto sembra ormai finito è lì che la furia incontenibile di June lascia spazio all'astuzia, al "gioco sporco", alle altre sfumature di ciò che Gilead ha fatto di lei. E sfruttando tutto ciò, forzando un po' la mano e con un po' di sfacciato stalking, la donna riesce a portare perfino un calcolatore come Tuello su una strada alternativa.
Rivediamo inaspettatamente il vecchio Joseph Lawrence, al confine tra Gilead e Canada, seduto in un interessante incontro con June e lo stesso Tuello.
Sempre pungente, sempre al meglio del suo cinisco sarcasmo, il comandante Lawrence. Ma soprattutto, sempre consapevole di cosa sia meglio per Gilead. E in cima alla classifica, adesso, figura proprio quel Fred Waterford intento a svelare al Canada tutti i segreti del paese che ha servito. Vertici, struttura, obiettivi, strategie militari. Tutto in cambio della propria libertà e della possibilità di una famiglia con Serena. Non più un Figlio di Giacobbe da salvare, ma un nemico della patria da mettere a tacere prima che sia troppo tardi.
Stavolta è Tuello a trovarsi davanti un difficile compromesso. Ma stavolta sul piatto ci sono ben 22 donne della resistenza. Un risultato troppo importante perché i sussurri di Waterford valgano ancora più di ciò che "lui ha portato via a June". Per la donna c'è tempo per un ultimo incontro col mostro, nella confortevole prigione costruita per lui. Un incontro che si è fatto attendere, ma che è valso tutti e dieci gli episodi di The Handmaid's Tale 4.
La narrazione è intensa, il ritmo lento ma deciso. La tensione, nonostante lacrime e sorrisi al limite tra falsità e fanatismo, si taglia col coltello. È forse proprio questo il passaggio in cui si sviluppa meglio la componente thriller di questo finale di The Handmaid's Tale 4. Una dinamica che sembra scaldarsi lentamente prima di far esplodere l'incendio.
Un incendio che il "povero" Fred Waterford non sa esser pronto per lui quando saluta Serena, convinto di essere a un passo dalla libertà. Lui, ancora convinto di valere qualcosa di almeno lontanamente simile a ciò che fu durante i gloriosi tempi da comandante di Gilead. Metafora di come il mondo possa davvero essere diverso da quello che ci si può costruire nella propria testa. La sua spocchia si tramuta ben presto nello sgomento di chi sente vicino il tocco della giustizia divina: quella che ferisce un peccatore con la stessa arma da lui creata.
Alla fine Tuello sarà stato davvero dalla parte di June quando ha deciso di accettare l'accordo e riportare Fred Waterford "a casa" con le sue stesse mani. In quel paese da lui concepito, per rispondere alle leggi da lui stesso create. Ci si deve sentir strani quando la mannaia fatta scendere sulla testa di tanti sta per calare sulla propria. E la mannaia caduta sulla testa di Fred Waterford porta il ghigno di Joseph Lawrence e la soddisfazione di Nick Blaine. Due persone che, a pensarci, avevano a loro volta qualche sassolino da togliersi dalle scarpe nei confronti di quest'uomo.
Ma soprattutto, quella mannaia porta su di sé, in tutto e per tutto, la firma della sua Gilead. Nei modi bruschi dei soldati, nella spietata ipocrisia di chi lo prende in carico, nel buio di boschi e camionette, e in quelle catene al collo e ai piedi che lo imprigionano come tante volte hanno imprigionato donne e uomini innocenti. Ma è l'arrivo di June in quei boschi a portare la firma definitiva al capolavoro della fine di Fred Waterford.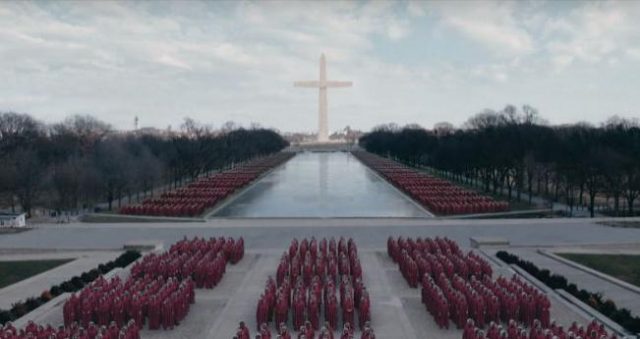 In un mondo di pacifiche guarigioni e diplomazia, June resta fedele a ciò che Gilead ha fatto di lei, scegliendo l'odio, la vendetta e la violenza. E un'esecuzione perfettamente in linea col paese creato, amato e servito dal suo carneficie (finché gli è andata bene).
Un fischietto in omaggio alle Zie e un vecchio rituale: il linciaggio dello stupratore. Legge prevista da Gilead per la quale tanti innocenti perirono sotto i calci delle ancelle. Ma stavolta non c'è forzatura, nessuna costrizione: solo il genuino desiderio di restituire il favore. Ancora una volta Nick si dimostra pronto a tutto per June, anche a servirle la vendetta pronta in un bosco, dove altre donne come lei aspettano un fischio che stavolta non significa oppressione ma libertà di scelta. E ad esser stato scelto stavolta, è il proprio lato oscuro. Quello plasmato da Gilead, l'unico che adesso sembra in grado di dare a June, a Emily e alle altre donne la "chiusura" di cui hanno bisogno per andare avanti.
June assapora quella libertà con la stessa foga con cui il comandante che un tempo la teneva in scaccio assaporava le sue labbra come fossero il suo giocattolo. Il linciaggio di Fred Waterford è forse la più intensa e la più truce delle scene che The Handmaid's Tale 4 potesse regalarci.
Torna con nostro grande piacere un vecchio tema musicale, tanto caro a questa serie e di cui parlammo già anni fa (lo trovate in questo articolo): You Don't Own Me. June sembra sentirle nell'aria le note di Leslie Gore. Sembra cantarle mentre prende Fred a calci in faccia, sembra dirgli a suon di morsi come adesso, davvero, lui non possa più possederla. Sembra dirgli con i pugni:
Nolite te bastardes carborundorum: non lasciate che i bastardi vi schiaccino.
Sono passate quattro stagioni dall'episodio che ci fece conoscere questa frase, e finalmente è tornata. Non come messaggio disperato, lasciato impresso con le unghie su un muro nascosto, ma come notizia: giustizia è stata fatta. Stavolta è stato uno dei "bastardi" a esser stato schiacciato, e tutto ciò che ne resta è un monito appeso al muro. E un dito indirizzato a Serena.
Chissà che sapore aveva l'aria ripulita dal proprio carneficie, quando June ha respirato la brezza del mattino, nell'alba che segue la sua vendetta. E chissà se, come sostenuto da Lawrence, tutto ciò basterà a darle pace. Una volta intrapreso il cammino dell'oscurità è difficile trovare una via d'uscita per tornare indietro. Almeno questo June lo sa, e ancor meglio lo sa Luke. Svuotato nell'anima dalla consapevolezza di come quella davanti a sé non abbia più chance di essere la June che aveva amato e sposato prima di Gilead.
C'è stato un prezzo da pagare per sopravvivere e ribellarsi. Un prezzo le cui conseguenze restano addosso come il sangue di Fred sul volto di June. E come quel sangue, June non sembra disposta a ripulirle per esssere di nuovo la donna che è stata prima che Gilead le portasse via Hannah, la libertà e l'umanità. È la dolorosa realtà con cui ci lascia The Handmaid's Tale 4, ed è la realtà che June ha deciso di abbracciare e far propria. E forse sarà proprio questo l'ultimo capitolo di questa serie: l'oscurità, perpetua e incontenibile, che segue un orrore impossibile da dimenticare.