The Big Bang Theory è giunta alla conclusione e da qualche tempo non seguiamo più le storie di Sheldon, Amy, Leonard, Penny e di tutti gli altri. Come vi abbiamo raccontato qui, noi fan non saremo gli unici a soffrire il distacco dai nostri nerd preferiti.
Dopotutto si tratta di una sitcom che è andata in onda per ben dodici anni! E non sono pochi. È entrata a far parte delle nostre vite ed è stato dirle addio. Questo ovviamente non vuol dire che la serie sia perfetta, anzi spesso è stata criticata e accusata di essere diventata statica e ripetitiva. Noi, però, oggi vogliamo soffermarci su Penny, spesso proprio al centro di molte critiche legate al sessismo e alla cattiva rappresentazione delle donne in tv. Ma vogliamo farlo con leggerezza, senza acredine e risvolti antropologici.
Nel corso di 12 stagioni di The Big Bang Theory abbiamo notato alcuni misteri legati a Penny, come la storia del suo cognome, e anche 5 stranezze che ci hanno colpito particolarmente.
1) Rapporti inesistenti con la famiglia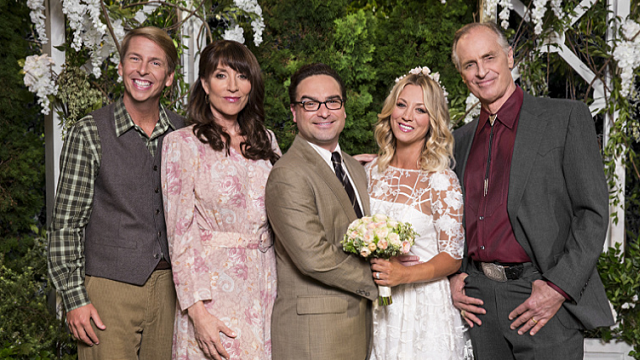 Penny è una ragazza nata e cresciuta nel Nebraska che si trasferisce a Pasadena per inseguire il sogno di diventare attrice. Lo fa quando è molto giovane, appena ventenne. Si trasferisce nell'appartamento di fronte a quello di Sheldon e Leonard e con il tempo entra a pieno titolo nel gruppetto di nerd. All'inizio Penny ha la sua vita, vive da sola e fa le sue cose… quindi possiamo presumere tenga i contatti con la madre e il padre mentre noi spettatori siamo impegnati con le scenette di Sheldon.
Ma a parte sporadiche apparizioni del padre di Penny, di sua madre (vista solo al matrimonio) o di suo fratello, noi potremmo pensare che lei sia orfana e sola al mondo. In un episodio Penny dice anche di avere una nipote: ma ne conosce almeno il volto? Non vogliamo fare i soliti italiani mammoni, ma è mai possibile che una persona non senta mai i suoi genitori? Addirittura l'anaffettiva madre di Leonard ogni tanto chiama suo figlio su Skype!
2)  Non ha altri amici?
Quando Penny tanti anni or sono si è trasferita nell'appartamento 4B, era una gran festaiola. È proprio lei a organizzare la festa di Halloween che ci ha regalato uno Sheldon vestito da Effetto Doppler. È chiaro che con il tempo le cose cambino, Penny ha intrapreso un lungo tira e molla con Leonard (intervallato dalla frequentazione con altri ragazzi) e non ha avuto modo di coltivare le sue amicizie.
Dopo essersi stabilizzata, però, non ha fatto nulla per allargare il suo giro di amici. Certo, Penny è molto legata a Amy e Bernadette e le loro uscite donano sempre colore alle puntate di The Big Bang Theory. Quando è con il gruppone di scienziati, però, la ragazza sembra chiedersi: cosa ci faccio qui? Quindi, perché non cercare di stringere amicizia con persone più simili a lei e con cui condivide degli interessi? Questo non escluderebbe le cenette tra amici sul suo divano o le partite di paintball. Sarebbe solamente un'occasione per essere se stessa senza timore di essere criticata da Sheldon.
Anche il suo nuovo lavoro alla casa farmaceutica avrebbe potuto farle conoscere nuove persone e creare un gruppo di amici tutto suo. È un peccato che lo stare in coppia le abbia tarpato così le ali sociali.
3) Non conosce film classici…e voleva fare l'attrice!
Questa è una stranezza che ci perseguita da anni. Penny ha da sempre avuto il sogno di fare l'attrice ma è assolutamente ignorante quando si parla di cinema. Come è possibile? In un episodio delle prime stagioni lei chiama losers (sfigati) i suoi amici perché sono super eccitati per l'uscita di un film mezzo sconosciuto: il nuovo della serie di Indiana Jones.
Ora, per quanto a lei possa non piacere, Indiana Jones è una pietra miliare del cinema e lei, anche solo per cultura cinematografica, dovrebbe conoscerlo a menadito! E di certo non dovrebbe criticare i suoi amici che sono contenti di andare a vederlo. Dopotutto se lei avesse fatto l'attrice avrebbe dovuto solo sperare di avere fan così fedeli.
4) Beve così tanto ma non ingrassa. Come?
Proprio in uno degli ultimi episodi, Amy ha affermato che secondo lei Penny passa tutto il suo tempo libero in palestra per mantenersi così in forma. Ma quando mai? Raramente abbiamo visto Penny fare sport, e al massimo era yoga. Ma anche se andasse in palestra, dovrebbe veramente fare degli allenamenti distruttivi per mantenere la sua linea. Spessissimo lei e gli altri mangiano cibo d'asporto unticcio e di certo non dietetico, e già questo minerebbe la dieta di chiunque.
Ma la cosa più strana è che Penny beve, beve e beve. Non i famosi 2 litri di acqua al giorno, sfortunatamente. Penny è amante del vino, un'amante devota. E come tutti coloro che si sono messi a dieta almeno una volta sanno, l'alcol è la prima cosa che deve essere eliminata perché super calorico! Forse Penny ha un ritratto, stile Dorian Gray, che ingrassa e invecchia al suo posto?
5) Perché ha lasciato il college pubblico?
Proprio all'inizio di The Big Bang Theory Penny aveva detto a Leonard di essersi laureata all'Università pubblica di Pasadena. Si è poi scoperto che si trattava di una bugia: lei ha lasciato il college per qualche motivo ignoto. Forse pensava che la laurea non avrebbe giovato alla sua carriera di attrice.
Durante la sesta stagione, però, Penny si rimette in gioco e si iscrive a un corso di Storia. Un intero episodio è dedicato al suo litigio con Leonard, che le corregge il saggio sulla schiavitù senza il suo permesso. Alla fine lei si fa aiutare delle amiche e ottiene anche una B-. Ok, tutto bello… ma poi? Perché non ha completato il corso? Perché non ha proseguito? Mistero di The Big Bang Theory.
Certe domande non avranno mai una risposta, soprattutto quando risalgono a episodi andati in onda anni e anni fa. Però non fa mai male porsele: unire le nostre menti e i nostri ricordi potrebbe farci trovare le risposte che cerchiamo.