Ci sono comedy che hanno fatto la storia del piccolo schermo: due in particolare hanno portato il loro livello di popolarità fino alle stelle.
How I Met Your Mother e The Big Bang Theory sono due visioni molto diverse di un genere che si è evoluto dalle più antiche sitcom fino ai giorni d'oggi.
Da una parte la grande trama dietro la comicità, in una serie incentrata sulle lezioni di vita e su come queste possano essere impartite con una vena comica ma momenti profondi quasi in egual numero.
Dall'altra parte una versione molto moderna della sitcom incentrata sulle battute e le risate davanti al pubblico, con una serie basata su stereotipi che col tempo non si rivelano più tali e sulla risata, attraverso un'evoluzione lenta e meticolosa dei personaggi.
Se però dobbiamo iniziare questo confronto, facciamolo sin da subito.
Dove è meglio How I Met Your Mother e dove The Big Bang Theory?
A livello di profondità dei personaggi, il prodotto di Bays e Thomas è qualche passo avanti. Il gruppo degli amici di Ted è protagonista di una serie il cui tema punta fin da subito sulla profondità dei caratteri e il loro sviluppo, e dall'altra parte ottiene una concorrenza più grande di quanto possiate immaginare.
Sicuramente il personaggio più profondo nella serie di Chuck Lorre è Sheldon. L'uomo nel corso delle stagioni ha un lungo cambiamento emotivo che lo fa brillare all'interno del cast ma non è il solo. L'evoluzione a livello emotivo di Raj verso il genere femminile denota un aumento di grande sicurezza nell'uomo. Mentre Howard, che inizialmente nella serie ha atteggiamenti troppo spesso viscidi e inquietanti, diventa un coscienzioso padre di famiglia con Bernadette.
Nota di merito anche a Penny, la cui crescita è forse la più grande insieme a Sheldon. Da donna insicura ed all'apparenza solo ragazza della porta accanto, a personaggio fondamentale per i rapporti del gruppo e cresciuto sotto ogni punto di vista.
Ted & company però sono un passo avanti. A partire dalla lunga e frastagliata relazione tra Marshall e Lily, passando per l'apertura di Robin verso una vita amorosa parallela alla sua carriera ma non opprimente. Arrivando poi al percorso emotivo della ricerca della felicità e il vero amore di Ted, che ce lo mostra di fronte ad ogni possibile situazione.
Per Barney le parole sono ormai sprecate. Un arco narrativo stupendo che rende quello che poteva sembrare la macchietta comica forse il miglior personaggio della serie. Il vestito che si è cucito intorno inizia piano piano a lacerarsi per far entrare le persone a cui tiene veramente nella sua vita, ed anche con qualche inciampo nel finale tutti e cinque i personaggi hanno una profondità emotiva incredibile.
Anche se parliamo di caratterizzazione, How I Met Your Mother è davanti. Il gruppo di amici nerd è cambiato molto nel corso degli anni e l'iconicità di Sheldon Cooper è innegabile, ed anche come caratterizzazione punto forte della serie, ma non riusciamo a metterlo sopra gli avversari neanche sotto questo punto di vista.
Ted può sembrare il classico protagonista in cerca dell'amore e al centro della vicenda, ma il suo sviluppo lo porta a diventare un personaggio unico alla fine della serie. Esattamente come Barney che da spalla comica molto spinta trova una caratterizzazione tutta sua nel corso delle stagioni. Tra momenti emozionali e battute iconiche, il cast di Bays e Thomas si porta a casa anche questo punto.
E purtroppo anche nei personaggi secondari The Big Bang Theory non regge il confronto. I parenti dei protagonisti, in particolare le madri di Howard, Sheldon e Leonard, sono funzionali allo sviluppo emotivo dei nostri nerd preferiti. Oltre a loro però possiamo giusto contare qualche fiamma di rilievo e Stuart, il venditore di fumetti che rimane nulla più di una spalla comica.
Dall'altra parte How I Met Your Mother ha creato una rete di personaggi secondari vivi e realistici, ognuno con uno scopo e un ruolo.
Da Victoria a Stella, al Capitano, perfino Klaus riesce a regalare a Ted uno dei migliori momenti di tutte le stagioni. Intorno al cast principale vediamo quei personaggi leggeri come Ranjit, ma anche una lunghissima serie di figure importantissime.
Se invece si parla di pura comicità, il discorso è ben più complicato: le due serie hanno due modi di far ridere completamente diversi, ed entrambi molto efficaci. Le prime stagioni di The Big Bang Theory in particolare furono una vera aria di freschezza nel genere, e vogliamo premiare l'impegno che fu usato per presentare il mondo nerd sotto una luce diversa.
Purtroppo da lì in poi nella sitcom di Chuck Lorre la parte centrale cala molto, non riuscendo a rinnovare le prime ottime stagioni e rialzandosi solo nelle ultime. La serie non è di certo un esempio di costanza a livello di qualità, ma How I Met Your Mother riesce a compensare il tutto.
La serie non solo ha uno dei finali più controversi e discussi della storia, ma già dall'ultima stagione, se non prima, aveva iniziato a perdere pezzi per strada. Certo, nel corso delle stagioni precedenti la qualità è stata costante, ma con un prodotto che punta a risolvere uno snodo narrativo così grande, un crollo proprio durante questa risoluzione è pesantemente influente. Per motivi e tempistiche diverse, sotto questo punto è un pareggio.
Un forte equilibrio rimane anche sotto il punto di vista del cast e dell'innovazione nel genere. Il primo propende forse un po' verso How I Met Your Mother che ha un nucleo principale di attori più consolidato, tra cui ovviamente Neil Patrick Harris, Jason Segel e Alyson Hannigan.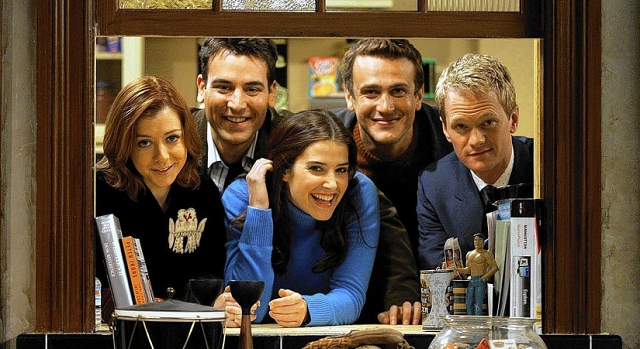 Ma tra apparizioni di vario tipo, guest star del mondo nerd e comunque un cast di livello, anche The Big Bang Theory riesce a dire la sua, portandosi in pari se non un gradino sotto.
Per quanto riguarda l'innovazione, non è di sicuro il punto di forza delle due serie: da una parte i continui paragoni con Friends e le similitudini tra i due show, dall'altra un'idea molto semplice di una sitcom seppur ambientata ai giorni nostri.
In questo caso il gradino extra lo diamo a The Big Bang Theory, non solo per esser riuscita a sdoganare (senza scadere nei soliti stereotipi) il mondo dei nerd all'interno del piccolo schermo e non è cosa da poco, ma anche perché la più grande innovazione della controparte rimane l'idea del racconto di come è stata conosciuta la madre. Argomento importante ma che non porta un vero e proprio cambiamento nel filone delle comedy.
Arrivando con due ipotetici punti di vantaggio al confronto finale, possiamo già dare a How I Met Your Mother la vittoria, ma questa ultima parte è la sconfitta più netta e dolorosa: il finale di serie.
Non staremo qui a raccontarvi quanto il finale del prodotto di Thomas e Barys sia stato discusso e causa di polemica negli anni. Con una community spezzata a metà tra chi lo ama e chi lo odia, con lunghissime argomentazioni e discussioni da ogni parte. Finale che come già detto prima arriva a seguito di una stagione molto criticata anch'essa.
Chuck Lorre, invece, ha tirato fuori una conclusione semplice ma funzionale: che chiude forse la migliore delle stagioni di The Big Bang Theory.
Il discorso di Sheldon che ne consacra l'evoluzione e il cambiamento ha riscaldato i cuori di ogni fan della serie, anche chi aveva iniziato a criticarla durante il suo momento più negativo.
Ed è così che proprio sulle battute finali viene assegnato il punto più emotivo, decretando una già confermata vittoria di How I Met Your Mother, ma rendendo pieni d'orgoglio i cuori della concorrenza.