L'episodio di Grey's Anatomy (qui l'evoluzione di Meredith Grey) di questa settimana è, per certi versi, una lettera d'amore un po' scontata, un po' inutile, ma pur sempre vera e attuale. Una lettera che celebra l'amore, ma anche i suoi ostacoli e la sua fine. Sono principalmente quattro le storie che seguiamo, tutte diverse tra loro e potenzialmente interessanti.
L'idea di raccontare l'omosessualità in un periodo in cui era vista come un abominio, l'idea di raccontare l'omosessualità adesso, l'idea di raccontare la fine di una storia d'amore e l'idea di raccontare la fine di un matrimonio è potenzialmente fenomenale. Peccato per l'esecuzione tremenda, quasi infantile, di alcune storyline. Mi riferisco alle storie che vedono protagonisti Richard Webber e Catherine Fox e Jackson e Maggie.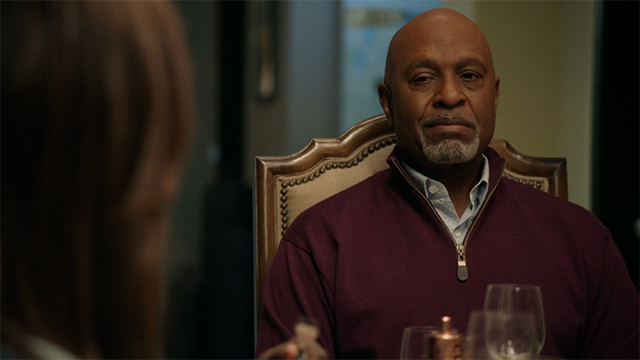 La fine del matrimonio di Webber e Catherine aveva tanti spunti narrativi. Si potevano analizzare nello specifico i motivi della rottura, si poteva creare una sequenza con i loro tentativi di rimettere le cose a posto, un po' come successe per April e Jackson in Japril: The Movie (12×11). Ma no, siamo saltati alle conclusioni dopo aver lasciato la loro storia per interi episodi in panchina. Non dico che avrebbero dovuto rifare Storia di un matrimonio (Marriage Story), ma se vogliamo trattare l'amore con le sue conseguenze, dunque, anche un'eventuale separazione, facciamolo bene Grey's Anatomy.
Idem con patate per Jackson e Maggie. Loro hanno rotto decenni fa. Erano una coppia che non ha mai funzionato e che non aveva un briciolo di senso. E, nonostante apprezzi la franchezza di entrambi nell'elencare i difetti altrui, ho come l'impressione che di 'sta storia non ci libereremo facilmente. Il costante insistere sulla fine di questa faccenda è sospetto. È come se gli sceneggiatori, tenendoli ancora forzatamente connessi, cercassero di attirare l'attenzione degli spettatori, sperando di far loro cambiare idea su questa coppia. Ma purtroppo la Jaggie è la coppia peggiore che sia mai esistita in Grey's Anatomy. E vi ricordo che ci sono state anche Callie e Penny, ma loro superano tutti in quanto a ribrezzo.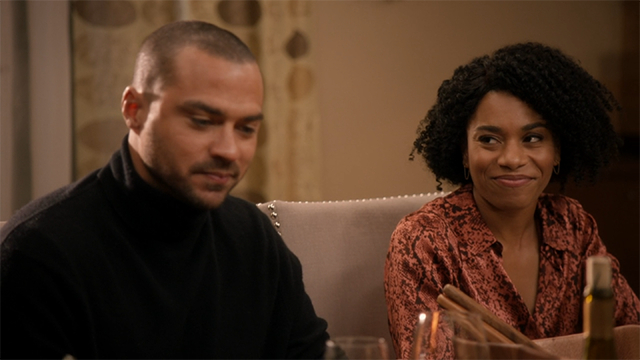 Al di là della parentela acquisita, questi due non hanno mai funzionato perché non c'era un minimo di chimica tra loro, forse c'era solo un affetto fraterno, nemmeno troppo forte o sincero, scambiato per qualcosa di più. Sono stati un abominio, un insulto al romanticismo e alle belle ed epiche storie d'amore di Shondaland per tutta la scorsa stagione e, finalmente, ci eravamo liberati di loro. Ma no, eccoli che rispuntano e si buttano a capofitto in una lite che sa tanto di to be continued… di qualcosa che non è terminato. Di affari in sospeso.
Parlare di Jackson e Maggie ora che hanno rotto, e considerando che non siano mai piaciuti a nessuno, è inutile. Alla stragrande maggioranza del pubblico di Grey's Anatomy (qui i personaggi più romantici della serie) italiano, ma soprattutto internazionale, questa coppia non piace. E di conseguenza a nessuno importa di assistere alle loro liti ora che si sono lasciati. Basta con le torture, basta con la Jaggie.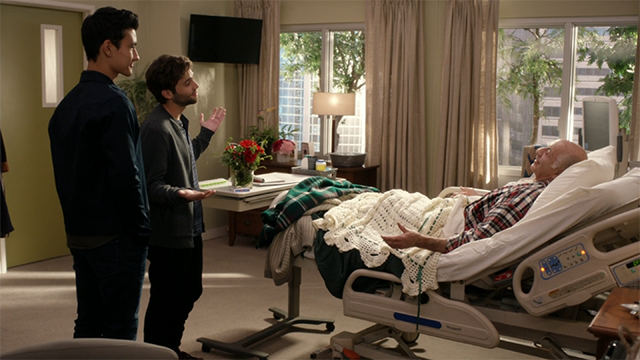 Passiamo adesso alle due storie che mi hanno emozionato, quelle che ho avuto piacere a seguire. Mi riferisco a Schmidt e Nico e a zio Saul e il suo compagno. Le due storie sono legate assieme dal tema dell'omosessualità.
Grey's Anatomy, senza mai diventare di cattivo gusto e senza cercare di fare moralismi, ha ricordato agli spettatori quanto sia importate non dare mai nulla per scontato. E lo ha fatto raccontandoci l'emozionante storia d'amore di zio Saul, zio di Schmidt che per tutta la sua vita è stato sposato con una donna pur essendo innamorato, e segretamente fidanzato, con un uomo. Ci viene raccontata la storia di un uomo quasi disgustato della sua natura per via dei pregiudizi altrui che gli avevano fatto credere di essere, in qualche modo, sbagliato.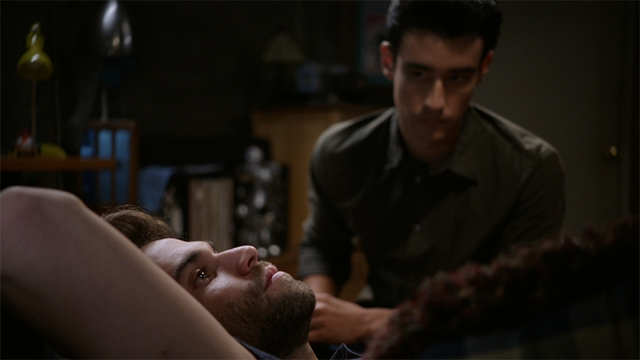 Di zio Saul sappiamo solo che era incredibilmente burbero e cattivo con tutti, tranne che con Levi. E lo capiamo solo quando il suo compagno rivela la propria identità. Saul sapeva che suo nipote fosse omosessuale, ecco perché gli stava tanto a cuore. Schmidt è come lui. Non è un nemico come il resto della famiglia che per una vita intera gli ha tolto la libertà di essere se stesso e di amare chiunque volesse senza vincoli, pregiudizi e odio. Saul non era un uomo libero e questo l'ha reso l'uomo inasprito e avvelenato dalla vita che ci è stato raccontato all'inizio dell'episodio.
Ho trovato molto emozionante il rito compiuto da Schmidt e dal compagno di Saul. E ho apprezzato tantissimo la decisione del ragazzo di andare via di casa e trasferirsi da Nico. Levi non è più disposto a nascondere la sua natura, non è più disposto a mostrarsi come qualcun altro che non corrisponde a ciò che è davvero. Ed io sono incredibilmente fiera di lui. Non c'è tempo per vivere in base alle aspettative degli altri. Ognuno deve vivere restando fedele a se stesso. Grazie Grey's Anatomy per aver ribadito il concetto.
Nonostante le due storyline banali (quella di Catherine e Richard e della Jaggie), la puntata è stata molto interessante. Spero vivamente che non si ritorni sul tema Jaggie e che si riesca ad archiviare questa faccenda il prima possibile.
Per questa settimana è tutto, alla prossima, halleloo!