Quando il mondo della musica incontra quello delle Serie TV uscirne illesi, per i più emotivi, è quasi impossibile.
Ci sono canzoni che, inevitabilmente, riportano indietro nel tempo, a quei momenti che hanno segnato e contraddistinto le scene più belle e, come i fan sanno, in questo campo Grey's Anatomy fa decisamente scuola!
È vero, forse Shonda Rhimes è un tantino propensa al melodramma, ma quando si tratta di scegliere la playlist giusta per un episodio, lei e il suo team riescono sempre a fare centro. Pensate che ci sono pagine internet e siti web dedicati all'argomento, dei veri e propri archivi on-line che raccolgono canzoni e musiche di ogni puntata.
Io oggi, però, voglio restringere il cerchio soffermandomi sulle canzoni più iconiche di Grey's Anatomy, quelle che, quando le ascoltiamo, associamo automaticamente alla Serie Tv senza nemmeno pensarci troppo.
Dunque, bando alle ciance, e iniziamo!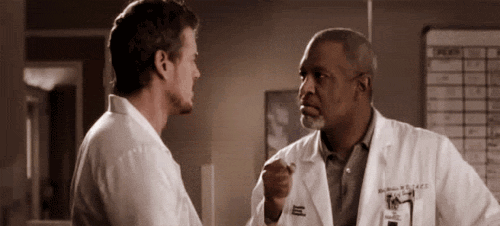 1.

"Cosy in the rocket" – Psapp
Stiamo parlando della sigla signori e signore. Per anni "Cosy in the rocket" ha fatto da intro agli episodi di Grey's Anatomy, diventando sin da subito un sinonimo dello show.

2. "How To Save a Life" –  The Fray
A proposito di canzoni che col tempo sono diventate sinonimo di Grey's Anatomy, in questo elenco non poteva mancare di certo "How To Save a Life", lanciata e resa famosa dalla stessa Serie Tv targata ABC.
3. "All of me" – John Legend
Come dimenticare la folle (quanto tenera) dichiarazione di April a Jackson in Perfect Storm? Diciamolo chiaramente, oltre a fare sognare i fan di Grey's Anatomy, la canzone ha reso il momento praticamente perfetto. Così perfetto da spingere giovani innamorati in tutto il mondo ad usare (ed abusare) le parole e la musica dell'autore tutte le volte che, ritrovandosi a corto di idee, hanno sentito il bisogno di fare una dedica alle proprie metà su social, muri, cartelloni, striscioni, bigliettini d'auguri e chi più ne ha più ne metta.
Ammettiamolo, tutti abbiamo un amico/a o conoscente che lo ha fatto!