Attenzione: evitate la lettura se non volete imbattervi in spoiler sulla 7×07 di Game of Thrones
La notte non è altro che un bicchiere riempito a metà. È la naturale conseguenza di un tramonto, da attendere timorosamente e vivere con angoscia, e il viatico verso un nuovo giorno, pieno di speranza. Una volta riemersa dalle tenebre, l'alba definisce una storia da scrivere, uguale o diversa da quella raccolta nel capitolo precedente. In fondo non è altro che una questione di prospettive: ci si può arrendere allo scorrere delle stagioni e non cercare una luce alla fine del tunnel, oppure combattere per conquistare un domani migliore. Se accettiamo l'idea che la notte sia un bicchiere pieno a metà, possiamo rimettere in discussione tutto. Anche la negatività della morte, soprattutto se si parla di Game of Thrones. The Wolf and the Dragon, meraviglioso ultimo atto della settima stagione, ha affrontato il tema da svariati punti di vista, regalandoci più di un'emozione.
Il cinismo innato nella caratterizzazione di personaggi e nella costruzione degli intrecci, elemento della poetica martiniana che rende realistico un racconto caratterizzato dalla presenza di draghi, metamorfi e resuscitati, ci impedisce di sostenere a priori che questa incredibile saga possa avere il lieto fine che sogniamo. Non possiamo escluderlo, ma è improbabile e quasi superfluo ragionare a riguardo. Siamo immersi in un calderone nel quale gli opposti tendono ad avvolgersi in un ciclo continuo, fino a sfumare la prospettiva dalla quale osservare vittime e carnefici, mai realmente tali. Solo se si parte da questo presupposto si può accettare l'idea di una morte che incrocia il destino di tutti, e farne la principale fonte di vita.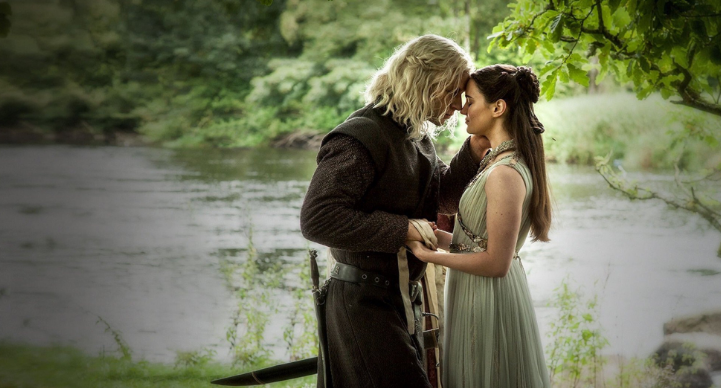 Prendere coscienza di ciò, almeno in relazione alle dinamiche esistenziali di Game of Thrones, è frutto di un difficile parto, come quello di una madre costretta al sacrificio estremo in nome di una nuova vita da mettere al mondo. Il pensiero corre ovviamente al triste destino di Lyanna Stark, morta dopo aver regalato l'alba a quello che presenta i contorni sempre più nitidi del leggendario Azor Ahai, legittimo erede del Trono di Spade. Lo stesso si può dire di Joanna Lannister (genitrice della terza testa di un drago che, alla luce degli ultimi sviluppi, potrebbe non nascere mai) e di Rhaella Targaryen, madre di una figlia, Daenerys, che potrebbe subire la stessa sorte dopo aver aperto gli occhi per la prima volta in una notte tempestosa.
L'esplosione della passione tra Jon Snow (ora pienamente sovrapposto all'Aegon Targaryen presente solo nei libri) e la giovane regina è il compimento della fusione del ghiaccio col fuoco, una danza dei draghi che porterà probabilmente alla nascita di un erede, più volte prospettata per vie traverse nel corso della settima stagione. L'eventuale morte di parto della Khaleesi darebbe l'ennesima chiave d'interpretazione possibile al terzo e ultimo passaggio della famigerata profezia legata al Guerriero della Luce (ne avevamo parlato a proposito di Daenerys nella recensione della 7×04 di Game of Thrones, la trovate qui) e chiuderebbe tragicamente un ciclo che vede coinvolti tutti i Targaryen in gioco, inclusi i presunti tali.
Se si parla della morte come portatrice di vita, draghi e lupi non sono gli unici protagonisti. Il leone, infatti, non è ancora stato abbattuto, e ruggisce rinvigorito dal futuro incarnato da un figlio insperato. L'ultimo atto della settima stagione di Game of Thrones ci ha mostrato una Cersei uguale e diversa da se stessa, nella quale l'astuzia non è altro che un mezzo per assecondare la pazzia. Lei, disposta a tutto pur di salvaguardare la resistenza di una casata che ormai si riconosce solo a tratti nei dettami del decano Tywin, è pronta a fare della tragedia di un'intera umanità l'unico strumento possibile per dare vita al pargolo in arrivo. Un paradosso, folle al punto da allontanare da lei l'amore di una vita, Jaime, il cui destino l'assocerà all'onore quanto allo sterminio di un re (approfondiremo il tema nei prossimi giorni grazie ad una teoria che lo vede protagonista con Bran) e, probabilmente, all'interpretazione del ruolo del valonquar che metterà fine ai deliri della gemella (come avevamo ipotizzato dopo il season finale di un anno fa). Cersei, infatti, sembra non dar particolar credito ad una profezia che le ha portato via tre figli e messo di fronte due giovani regine, e potrebbe pagare a caro prezzo la pesantezza di un'eredità che le ha impedito di eliminare i due consanguinei, protagonisti di due sequenze simmetriche dalla bellezza inestimabile.
Non sarà la follia a giustificare la sua morte agli occhi del karma martiniano, ma l'attaccamento eccessivo ad una casata che l'ha snaturata nel momento in cui avrebbe dovuto affondare la lama sui suoi fratelli, ormai Lannister solo nel cognome. Un'eredità è davvero tale solo se interpretata senza forzature, e Sansa l'ha capito fin troppo bene. In un mondo nel quale la giustizia non esiste e c'è spazio solo per i giustizieri, il tranello con cui ha fatto fuori Ditocorto rappresenta per gli Stark la genesi di una nuova era, ancor più della Battaglia dei Bastardi. L'esempio dei padri, portato avanti ingenuamente da un figlio salvato solo dalle capacità diplomatiche di Tyrion, è vivo anche nella testa delle figlie, ma la corruzione del contesto giustifica una scorrettezza in nome di un atto di giustizia sacrosanto. Rispettare un'eredità non implica la necessità di seguirla in ogni aspetto: la morte, quella di Ned, porta nuova vita solo se la memoria cede il passo ad un'interpretazione più funzionale. Un po' come nei casi di Theon, conscio del fatto che ciò che muore non debba morire mai, e di Euron, Greyjoy nel sangue seppur lontano dalla tradizione.
Game of Thrones ha fatto della morte il segno del riciclo della storia e l'elemento cardine del destino. Un compagno dal quale non ci si può separare e, allo stesso tempo, lo spauracchio leggendario e un nemico che non conosce lo scorrere del tempo. Un avversario, di cui sappiamo poco. Perché è vero che il bicchiere della Lunga Notte è riempito a metà dal sangue della Grande Guerra, ma è altrettanto sensato pensare quanto possa essere mezzo vuoto. Come ha evidenziato Alessandro Fazio in un interessante approfondimento di qualche giorno fa (se volete dargli un'occhiata, lo trovate qui), non conosciamo le reali intenzioni degli Estranei e, soprattutto, le motivazioni che li hanno portati a mandare in frantumi l'ultima frontiera che li separava da Westeros e far calare le tenebre su un intero mondo. Se la loro si rivelasse essere un'umanissima lotta per la sopravvivenza, resa necessaria da un'invasione bruta rea d'aver violato un patto millenario, saremmo costretti a rivedere tutto sotto una nuova luce. Ancora più inquietante, ma allo stesso tempo sensata.
Gli Estranei hanno fatto della morte l'unica forma di vita e non potremmo prendere le parti di qualcuno, persino in questo caso. Un'eventuale vittoria dell'Inverno (oppure un'incredibile armistizio tra le due fazioni), potrebbe rappresentare, a seconda dei punti di vista, un paradossale lieto fine. Vittime e carnefici avrebbero lo stesso volto e noi resteremmo a metà strada, ammutoliti di fronte alla magnificenza di una storia che non giudica nessuno e mette tutti sullo stesso piano. Inclusi loro, innocenti quanto l'urlo straziante di una madre all'ultimo respiro. E brutali, come il verso di un drago fuori controllo. L'ultima stagione ci dirà la verità e leverà ogni maschera, ma una cosa è certa: tutti devono morire, ma non per forza è un male. A patto che ci sia sempre una nuova alba.
Antonio Casu