Attenzione: evitate la lettura se non volete imbattervi in spoiler sulla 1×01 di Game of Thrones
La prima volta che sentii parlare di Game of Thrones fu ai tempi dell'Università. Era il 2012, o giù di lì, e nella pausa tra una puntata e l'altra alla macchinetta del caffè (quel lasso di tempo che molti altri studenti, curiosamente, chiamavano "Lezione") si discuteva tra compagni di corso circa due dei massimi sistemi della vita.
Calcio e Serie Tv, insomma. Ricordo ancora l'accorato appello ad iniziare a seguire le vicende del Trono di Spade di uno dei miei amici. Stile ultimo giorno di campagna elettorale, per intenderci:
Molti ti diranno che Game of Thrones è esclusivamente tette e sangue. Nulla di più falso, così come non è vero che è solo un fantasy con i draghi, la magia e altra roba da Nerd. GoT è dramma, guerra, passione, ambizione, lotta di potere, intrighi, mistero. Un'epopea dove non è chiaro il confine tra bene e male, e nella quale non sempre il giusto vince. Ti affezionerai, ti legherai a un personaggio, arriverai ad amarlo per poi sentirti tradito, sedotto e abbandonato. Dimentica tutto quello che hai visto prima, perché se non hai visto Game of Thrones, beh, allora non hai visto niente.
Devo essere sincero, a "tette e sangue" mi aveva già convinto, però ho apprezzato lo sforzo.
Quindi eccomi qui, 5 anni dopo, a riprendere il cammino iniziato quel giorno. Dopo 67 puntate è un discreto tuffo nel passato, come guardare le vecchie foto della cresima, o la programmazione serale di Mediaset Extra. Ecco, appunto, andiamo a dare un'occhiata – e se avanza tempo un paio di voti – al palinsesto di quel giorno su Westeros Tv.
LE PAGELLE DELLA 1×01 DI GAME OF THRONES
FORUM – VOTO 7
Altrimenti detto "La difficile giornata di Will". Prima esce in mezzo al freddo e al gelo per andare a caccia di Bruti, poi si imbatte in un'installazione temporanea di Christo a base di cadaveri, successivamente ha un incontro ravvicinato con degli Zombie. Infine scappa, viene catturato dai suoi commilitoni e condannato a morte.
L'oroscopo quella mattina glielo aveva detto di fingersi malato, ma lui niente.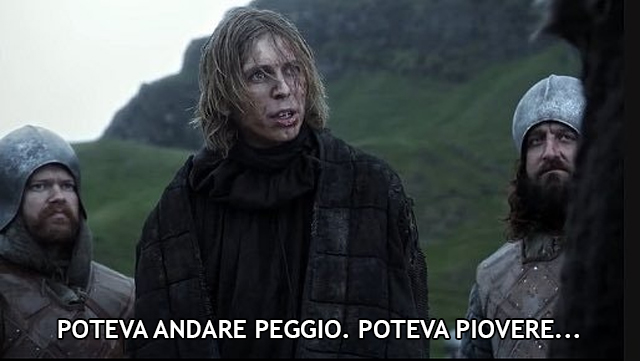 Da notare l'ingerenza del solito politicante locale in cerca di consensi, che si intromette nelle decisioni interne di un'organizzazione non governativa e super partes. Almeno, ha la decenza di eseguire in prima persona la sentenza. Il fatto che costringa il figlio di 10 anni ad osservare mentre taglia la testa a un poveraccio, invece, è un'altra storia.
Per la Palombelli, in ogni caso, la colpa di tutto questo è da attribuire al maschilismo imperante nella società.
Di ritorno dal tribunale, all'altezza dell'Autogrill di Grande Inverno Est, la compagnia trova una cucciolata di cagnolini abbandonati. Cinque piccoli meta lupi, uno per ogni figlio degli Stark, più uno bianco e schifato dagli altri.
Theon Greyjoy umilia Jon Snow, e se anche il figlio di un secessionista, rapito e tenuto come ostaggio per dieci anni per evitare che il padre ci riprovi ti prende per il culo, beh, non devi aver avuto una vita bellissima fino a questo punto.
4 FRATELLI SI VEDONO APPIOPPARE UN LUPO SOLO PER UN CAPRICCIO DI BRAN – VOTO 2
THEON È L'ASSISTENTE DEL PROFESSOR NERPIOLINI – VOTO 6
CORTESIE PER GLI OSPITI – VOTO 5,5
A Grande Inverno i giovani Stark si allenano con l'arco e le frecce. Da sagace motivatore quale è, Jon Snow sa benissimo quali corde toccare per tranquillizzare il giovane Bran senza caricarlo di aspettative.
"Vedi di fare centro. Nostro padre ti sta guardando, anche tua madre e tutti i fratelli. Anzi, c'è mezza città che sta solo aspettando che sbagli. Pure gli antichi Dei e quelli nuovi, loro vedono tutto, si sa. Anche Babbo Natale starà buttando un occhio, sicuro, insieme a Batman. Per non parlare dei milioni di persone che hanno scaricato illegalmente questa puntata."
Sì, anche Jon fa l'assistente.
La quiete del Nord viene scossa dalla notizia dell'arrivo del Re in villeggiatura. La carovana fa il suo trionfale ingresso nella piazza d'armi, e ci permette di conoscere la famiglia reale:
Re Robert Baratheon, primo del suo nome. Un uomo in perfetta forma fisica, almeno secondo gli standard della Federazione Internazionale di Sumo.
La regina Cersei Lannister, un'amabile signora. L'abbiamo vista chiacchierare con suo fratello gemello Jaime durante la cerimonia funebre del compianto Jon Arryn, e chi pensa che la cosa sia molto maleducata è meglio che non continui la visione di questa Serie.
Il loro figlio maggiore, l'erede al trono Joffrey. La copia sputata di suo padre.
Suo zio, e Guardia Reale, Jaime Lannister. La copia sputata di suo nipote.
Poco distante, in altre faccende affaccendato, l'altro zio Tyrion Lannister. Di lui si dice che passi tutte le notti a leggere. Anche perché, a prima vista, di giorno è decisamente impegnato.
Per Par Condicio, diamo uno sguardo anche ai signori del Nord:
Ned Stark, interpretato da Sean Bean, un attore che sicuramente avrete già visto morire da qualche parte.
Sua moglie Catelyn Tully, donna seria e dal carattere deciso, che ama tutti i figli di suo marito. Oddio, tutti tutti proprio no.
Robb, chiamato così in onore di Robert Baratheon.
Bran, chiamato così in onore dello scomparso zio Brandon Stark.
Rickon, chiamato così in onore dello scomparso nonno Rickard e a causa della sordità sopraggiunta con gli anni al tizio dell'anagrafe, probabilmente.
Arya e Sansa, chiamate così in onore di una scommessa persa.
Jon Snow, che in quanto figlio bastardo non merita il cognome dinastico.
Da quest'ultimo punto possiamo desumere un paio di considerazioni:
A Westeros, i figli bastardi assumono un nome ispirato a una caratteristica peculiare della regione dove ha sede la casata. Un po' come se in Italia i bastardi di Milano si chiamassero "Nebbia", quelli di Napoli "Solemare" e quelli di Roma "Traffico".
A giudicare da come finisce la puntata, la regola non vale per i bastardi Lannister.
GUARDANDO L'ESORDIO DI TYRION CI SIAMO TUTTI CHIESTI DI QUELLA COSA DELLA REGOLA DELLA "L" – VOTO 8
NON RIUSCIRE ANCORA A CAPIRE A DISTANZA DI ANNI LA BARBA DI SER RODRICK – VOTO 5,5
MATRIMONIO A PRIMA VISTA "PENTOS EDITION" – VOTO 6
La piccola Daenerys Targaryen ha sempre sognato un pony. Oh, alla fine le arriva, però non so, resto dell'idea che ci sarebbe stato di sicuro un metodo più facile da qualche parte.
Va beh, sbaglierò io. Comunque, suo fratello Vyseris è così bravo da riuscire a procurarglielo, rimediandole al contempo un appuntamento al buio con un gran bel partito.
Dopo un lungo corteggiamento, rispettoso della libertà e dei diritti umani della ragazza, finalmente il matrimonio. Gli invitati portano doni incredibili alla sposa: chi quelli che sembrerebbero essere tre sassi colorati a forma di pigna, chi invece dei libri usati e smangiucchiati.
E sì che la lavastoviglie era bene in evidenza nella lista nozze.
Durante il ricevimento i testimoni dello sposo, come spesso capita, alzano un pochino il gomito. Ma nulla può rovinare la gioia di Daenerys. Dopo il banchetto, è finalmente ora della Luna di Miele.
Khal Drogo si dimostra davvero un gentleman di altri tempi (il Pleistocene, ad occhio e croce). Falò sulla spiaggia, vista stupenda e Baglioni in un angolo con la chitarra a fare da accompagnamento ad attimi irripetibili di dolcezza infinita.
SOGGHIGNARE GUARDANDO IL PRIMO INCONTRO TRA JORAH MORMONT E DAENERYS – VOTO 9
SORRIDERE DI MENO FACENDO CASO AL FATTO CHE LEI HA 14/15 ANNI E LUI È PRATICAMENTE SUO NONNO – VOTO 4
CADUTA LIBERA – VOTO 5
Bran ha il vizio di arrampicarsi ovunque e intrufolarsi dove non dovrebbe. Da un certo punto di vista, pure Jaime Lannister. Il piccolo sbaglia la risposta alla semplice domanda "Hai visto?" e finisce con l'essere inglobato dalla botola.
In ogni caso, Gerry Jaime è pronto a mentire anche di fronte all'evidenza.
JAIME PROVA A SCAGIONARSI MA LA VAR LO INCHIODA – VOTO 7
VEDETE COSA SUCCEDE A NON UBBIDIRE ALLA MAMMA – VOTO 3
LA CITAZIONE DELLA PUNTATA
LE PREVISIONI DEL GUFO CON TRE OCCHI
Dopo ogni episodio elargiremo profezie sui destini dei protagonisti di Game of Thrones. I quali potranno tranquillamente risponderci, se sono capaci di scrivere sulla tastiera con una mano sola…
"Ned Stark sembra un personaggio molto carismatico. Sicuramente avrà un ruolo di primo piano lungo le molte stagioni che aspettano questa Serie Tv"
"Benjen Stark potrebbe davvero essere il mentore di cui Jon Snow ha bisogno per trovare la propria strada nella vita. Poi, nella versione italiana è doppiato da un mostro sacro come Christian Iansante, quindi è scontata la sua centralità nelle vicende dei Guardiani della Notte"
"Jon Snow si è dimostrato molto saggio nel salvataggio dei cuccioli di Meta-Lupo. Parrebbe essere un ragazzo che sa molte cose"
"Tyrion Lannister è solo un piccolo alcolista frequentatore di donnacce, dubito che potrà essere nulla più che un giullare all'interno della trama. Del resto, un po' di comicità serve sempre, pure in uno Show di questo genere"
"Questi non morti sono decisamente troppo vicini alla Barriera. Uno scontro con i vivi avverrà senza dubbio molto presto".