Attenzione: evitate la lettura se non volete imbattervi in spoiler sulla 1×01 di Game of Thrones
Volava via fino a schiantarsi al suolo, l'impavido intruso. L'amore non conosce compromessi, e la passione non ha ragioni. È un vortice rovente che centrifuga tutto, fino a lasciar spazio all'essenza di un sentimento senza tempo. Immortale, ben al di là della carne degli uomini. Il presente non è altro che un selfie in bianco e nero: è passato e futuro, in un ciclo perenne che non accetta altro se non la soluzione di continuità della Storia. Grazie alle storie, nelle quali cambiano i protagonisti per adempiere ad un destino già scritto, vivo nelle leggende di chi non sa crederci.
Game of Thrones ci aveva detto tutto fin dal primo episodio. Sbattendoci in faccia la realtà, oppure subdolamente. Non esistono dettagli casuali, e ogni dialogo ha una funzione precisa. La persistenza della memoria, vivida negli occhi malinconici di un Re che ricorda l'amor perduto per una donna ormai lontana, è la massima espressione di una storia che conosceremo da una miriade di punti di vista, e ci sconvolgerà. Sentiremo volar via l'impavido intruso, foriero di una passione proibita. Come quella tra due gemelli. E di chi non sa mantenere la Promessa più importante, al punto da aver sulla coscienza il sangue di milioni di innocenti.
Chi leggerà queste parole senza sapere cosa succederà dopo questo pilot, sarà confuso, ma non dovrà temere l'incombenza di un solo spoiler. Solo chi sa comprenderà il tormento del Cervo Robert, traditore tradito. Lui, ignaro pedone in una partita a scacchi col destino dal quale non si può uscir vincitori per sempre, si aggrappa all'amico di una vita, il Lupo Eddard, per tener saldo lo status quo regnante immutato per tanti anni, minato dalla morte misteriosa di un Padre adottivo che forgiò la generazione della Grande Ribellione. Solo chi sa coglierà fino in fondo l'importanza decisiva della dipartita del Primo Cavaliere Jon Arryn, le cui conseguenze risuonano ancora oggi, ad un passo dall'ultimo atto.
L'integerrimo Ned, plasmato dall'ingenuità (in)cosciente di chi non percepisce fino in fondo l'imminenza di un pericolo, non conosce altro Verbo al di fuori dell'onore della giustizia. Abbracciata con l'esecuzione in prima persona di una pena che non conosce prove d'appello, e dal dovere di involarsi in un approdo di Serpi che niente ha a che fare con la Dorne del domani. Gli Stark non son lupi famelici e attendono l'Inverno, a differenza dei Leoni. D'oro vestiti, corrotti dalla lussuria. Li abbiamo visti una sola volta e subito han mostrato un volto spietato, seppur sfumato tra le righe di una Storia in bianco e nero che non è mai né bianca né nera. Lo scopriremo attraverso gli occhi innocenti delle lupe che diventeranno grandi, e ancor più per mezzo dello sguardo di un bambino come tanti altri che grande lo sarà troppo presto.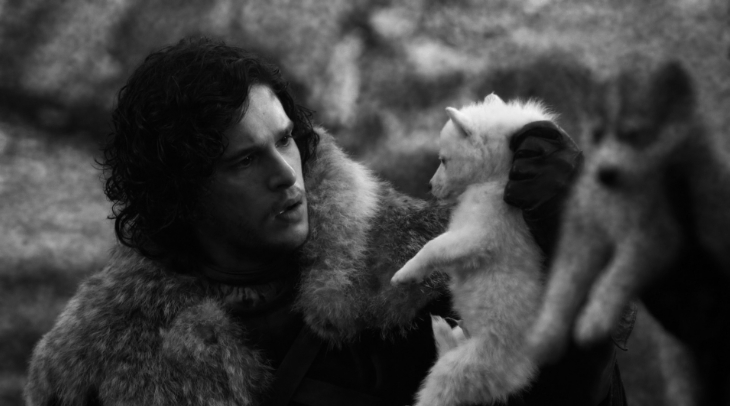 Game of Thrones è la Storia di Re e Regine, burattini e burattinai, leggende che (ri)diventano realtà e, come scorgiamo fin dal primo momento, nobili e reietti. Talvolta nobili reietti, come Jon e Tyrion. Il bastardo troverà la sua identità al confine del mondo, senza saperlo. Il nano, invece, sarà, semplicemente, uno tra i più grandi. Ci accompagnerà il simbolismo di ogni dettaglio, nel quale metalupi, vino e mignotte cantano in un coro stonato di voci che non fanno altro che cercare un ruolo da interpretare in coerenza con quel che si è. Loro, come il Drago Daenerys, succube dei deliri d'onnipotenza di un fratello perseguitato dalla Storia che non coglierà mai quanto le storie siano scritte dal fato, unito a doppio filo con le azioni degli uomini.
Il caos, d'altronde, è una scala, e Game of Thrones ci abituerà presto ai corsi e i ricorsi dei grandi trionfi, messi di fronte alle rovinose cadute di chi troverà un puntuale contrappasso dopo l'errore decisivo. D'altronde, arrampicarsi tra le pietre effimere di un'Estate che volge al termine non è sempre un'occasione: spesso è un pericolo terribile che potrebbe trascinare via in un volo infernale, fino a schiantarsi al suolo e dar vita ad un effetto domino dagli effetti imprevedibili. Il buio finale di un primo episodio indimenticabile aveva suggerito tanto, e chissà non possa essere un assurdo gatto che si morderà la coda. Vedremo, vedrete. E facciamolo con calma: questa grande avventura è appena (ri)cominciata.
Antonio Casu