È ormai passato un decennio dall'ultimo episodio di Friends, ma la comedy continua a essere una delle Serie Tv più apprezzate degli ultimi tempi. I cosidetti die-hard fan di Friends non riescono a smettere di parlarne, anzi. Dopo continui rewatch compulsivi portano alla luce nuove questioni. Alcuni fan hanno infatti recentemente notato che Rachel e Monica sono state sostituite durante due scene della comedy.
Probabilmente questo dettaglio può sfuggire all'occhio dello spettatore che si approccia per la prima volta a Friends. Ma basta prestare maggiore attenzione per notare che i personaggi di Rachel (Jennifer Aniston) e Monica (Courteney Cox) sono stati rimpiazzati dalle rispettive controfigure in ben due scene della Serie. Andiamo a vedere nel dettaglio di quali si tratta!
RACHEL (JENNIFER ANISTON)
All'inizio della scena Rachel, interpretata da Jennifer Aniston, ascolta Joey che parla di un'audizione con Leonard Hayes. La vera Rachel è quindi inizialmente presente, ma quando Joey si rivolge a Monica, il suo personaggio viene inquadrato con una donna dietro di lui. Dovrebbe essere Jennifer Aniston, ma chiaramente non lo è. Lo spettatore non vede la figura intera di Rachel, ma i contorni del volto non sono quelli della Aniston. Inoltre, la controfigura indossa dei vestiti diversi. Ecco il video che lo prova:
MONICA (COURTENEY COX)
Courteney Cox è stata sostituita dalla sua controfigura durante l'episodio 8×5, dal titolo The one with Rahcel's date. Durante la scena in questione Monica sta parlando con Phoebe sul divano del Central Perk. Quando la macchina da presa inquadra Phoebe, è però evidente che la donna di spalle non è Monica!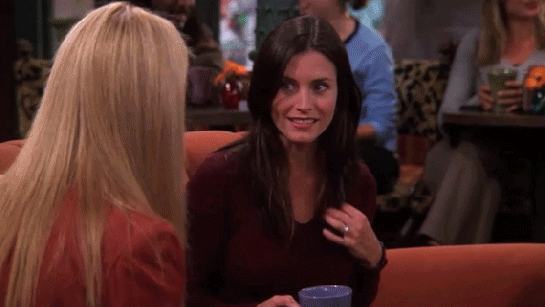 Fate parte dei die-hard fan che si sono resi conto di questo piccolo dettaglio oppure non lo avevate mai notato?