Quante volte abbiamo parlato di How I Met Your Mother? Se scorrete la lista di articoli che abbiamo dedicato a questa fortunata sitcom resterete davvero a bocca aperta perché sono più di un centinaio. Abbiamo infatti analizzato gli episodi più significativi della serie tv e le scene che ci sono rimaste nel cuore. Ma abbiamo anche parlato del cast, della colonna sonora e svelato le curiosità più assurde (scopri qui quali sono). Abbiamo inoltre scritto righe e righe sul controverso finale della serie: in alcuni articoli abbiamo cercato di evidenziarne i lati positivi, mentre in altri lo abbiamo bocciato completamente. Dopo aver speso così tante parole su una serie tanto amata non solo da noi di Hall of Series ma anche dai nostri lettori, potremmo pensare che siano esauriti gli argomenti da vagliare.
Ma non è affatto così: c'è un'altra questione da affrontare a proposito di How I Met Your Mother per dare il giusto valore a una puntata ingiustamente sottovalutata.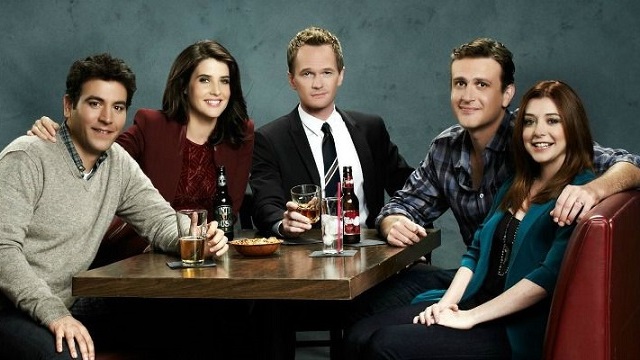 Prima di parlare di questo bisogna però fare una premessa che mi sembra piuttosto importante: tutti i fan di questa celebre sitcom sono d'accordo nel dire che le ultime due stagioni sono piene di episodi piuttosto deludenti e poco interessanti. Nell'ultima stagione di How I Met Your Mother poi ci sono addirittura due o tre episodi filler, ovvero riempitivi inutili ai fini della trama. Se volessimo citare degli esempi potremmo parlare di Bedtime Stories, in cui Marshall racconta delle divertenti storie in rima per far addormentare Marvin.
Anche l'esilarante quattordicesima puntata della medesima stagione di How I Met Your Mother in cui Marshall narra di un assurdo viaggio in Oriente fatto per apprendere l'arte dello schiaffeggiamento è più che discutibile. È apparso a tutti evidente che gli autori stessero esaurendo le idee e che volessero allungare il brodo nell'attesa di far comparire finalmente la tanto attesa Tracy. Quest'oggi non vi farò rivalutare uno di questi episodi filler perché sarebbe davvero difficile: quelle puntate sono superflue proprio come sembrano.
Il mio obiettivo è quello di ricordarvi di una puntata di How I Met Your Mother che forse avete rimosso o a cui non avete prestato abbastanza importanza, ma che invece ne merita. Voglio parlarvi di The Stamp Tramp, il settimo episodio della penultima stagione. 
Di cosa parlava questa puntata? Barney, avendo da poco rotto con Quinn e avendo saputo che la ragazza aveva ricominciato a lavorare al Lusty Leopard, capisce quindi di essere costretto a trovare un nuovo strip club. Scopre però che sono molti i proprietari che vorrebbero avere il playboy come cliente e quindi Barney decide di passare la patata bollente nelle mani di Robin. Sarà lei a valutare le varie proposte e a scegliere il locale perfetto per il suo amico. Dopo aver valutato le varie proposte sceglie il Golden Oldies in cui a lavorare sono le stripper della terza età. Quando Barney però scopre che la donna gli ha suggerito quel locale solo perché si è fatta corrompere dai proprietari, allora la priva dell'incarico.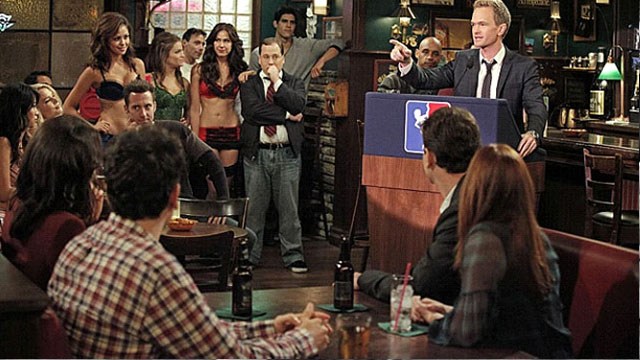 Alla fine è proprio il playboy a scegliere il suo nuovo strip club preferito e ad annunciarlo ai suoi amici in una divertente scena in cui finge di essere LeBron James.
Ovviamente il nuovo strip club va inaugurato ed è la sua socia Robin a seguirlo al Mouth Beach. Qui i due si divertono insieme e alla fine della serata si scambiano un bacio. Robin (scopri qui cosa vuol dire essere come lei) all'inizio ricambia il bacio, ma poi si tira indietro e gli dice che non possono farlo. Quindi lo lascia lì e se ne va.
L'altro protagonista indiscusso della puntata è Marshall che incontra un suo vecchio compagno di università in difficoltà e decide di aiutarlo.
Brad infatti, dopo essere stato licenziato dalla sua compagnia, è diventato praticamente un barbone e Marshall si offre di raccomandarlo per un posto nello studio legale dove lavora. Lily però non è affatto d'accordo e cerca di dissuaderlo: lo esorta a non compromettere la fiducia che il capo ha in lui raccomandandogli una persona che non conosce a fondo. Gli amici prendono in giro il povero Marshall definendolo un tipo dal timbro facile e gli fanno notare che, dato che lui approva qualsiasi cosa, il suo giudizio non ha molto valore.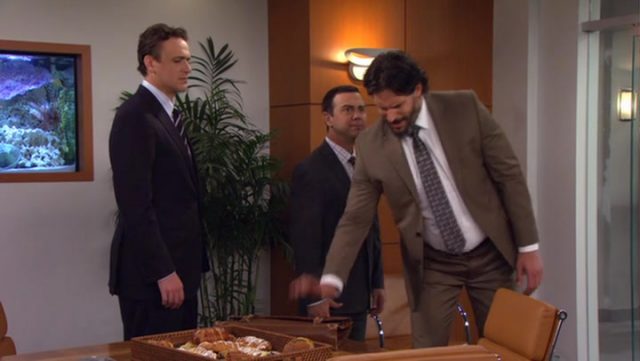 Alla fine i timori di Lily si rivelano fondati e Brad fa una pessima impressione al capo di Marshall, insultandolo per via della sua bassa statura e comportandosi in maniera inappropriata.
Alla fine l'uomo non solo non assume l'aspirante avvocato, ma decide anche di estromettere il giovane Eriksen dallo staff per la causa legale contro la Gruber Pharmaceutical.
Marshall riesce solo con grande fatica a riconquistare la fiducia del suo capo e a tornare nell'equipe che lavora al caso. Quando però si presenta in tribunale scopre la verità: Brad non era affatto disoccupato, ma lavorava per la Gruber Pharmaceutical ed era andato a fare un colloquio da Marshall solo per spiare i loro piani per l'accusa. Il capo è molto deluso e dà al suo dipendente un ultimatum: se non vince la causa contro la Gruber Pharmaceutical verrà licenziato.
Nel frattempo Ted, dopo essere stato accusato dai suoi amici di non aver mai avuto un'idea originale in vita sua, ritrova le cassette dei videodiario che girava all'università. Dopo aver passato diversi pomeriggi a guardarle scopre non solo quanto i suoi amici avessero ragione, ma anche che da giovane era un vero sfigato. Ma mentre sta guardando una di queste videocassette con Lily, ricorda che è stato proprio lui a spingere Marshall a impegnarsi con la sua attuale moglie e a dissipare tutti i suoi dubbi. Alla fine qualcosa di buono lo ha fatto da giovane!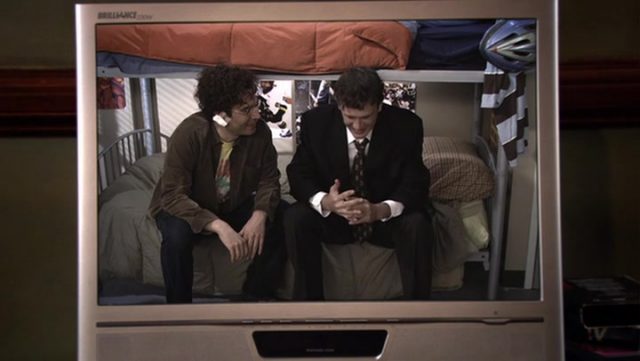 Questa puntata, quando la vedemmo per la prima volta, ci sembrò sicuramente divertente ma piuttosto inutile. Anche i critici non hanno lodato questo episodio all'epoca: Ethan Alter di Television Without Pity lo ha definito una perdita di tempo dato che non aveva fatto avanzare per nulla la trama, mentre Michael Arbeiter di Hollywood.com ha detto che l'episodio non offriva molto.
Ma questa puntata di How I Met Your Mother è davvero così inutile? Dopo aver riguardato con attenzione l'episodio, devo dire che abbiamo fatto male a sottovalutarlo.
In questi venti minuti possiamo assistere alla grande celebrazione di Marshall Eriksen, anche se in questa puntata sembra aver fallito. Le cose che rendono Marshall un personaggio unico sono la sua bontà e il suo coraggio: nonostante i suoi amici lo incoraggino a essere più cinico invece lui sceglie di credere nelle persone e di aiutare Brad. È vero che alla fine della puntata sembra che questa sua scelta non gli abbia arrecato altro che guai.
Ma ricordando quello che accade nelle puntate successive possiamo dire che Marshall, proprio grazie a questo piccolo fallimento, prende una decisione che cambierà totalmente la sua vita: provare a diventare giudice. A prima vista invece la storyline di Ted sembra davvero superflua ma possiamo rivalutarla grazie alla grande rivelazione finale. Scopriamo infatti che a dare vita alla storia d'amore più solida e longeva dello show è stato proprio lui, consigliando a Marshall di impegnarsi con Lily anche se aveva solo 18 anni. Emerge per l'ennesima volta l'animo romantico di Ted che tanto abbiamo amato nella sitcom e l'abbraccio che si scambiano lui e Lily è indimenticabile.

Ma i veri protagonisti dell'episodio di How I Met Your Mother sono Robin e Barney che si danno un bacio da ubriachi come hanno già fatto altre volte. Questa volta però è diverso: tra appena quattro episodi Barney le chiederà di sposarlo e lei accetterà. Ma tutto quello non sarebbe stato possibile senza questo episodio e questo bacio rubato. Robin aveva già spiegato con una frase divenuta iconica perché le cose non sarebbero funzionate con Barney.
Se c'è la chimica, hai bisogno solo di un'altra cosa: il tempismo.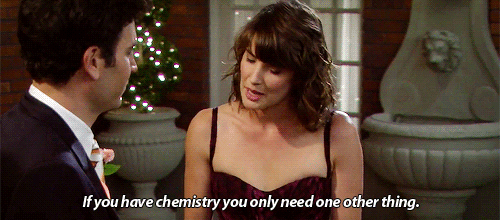 La chimica tra lei e Barney è sempre stata evidente e i due si sono sempre piaciuti, anche dopo essere usciti per qualche mese insieme ed essersi lasciati. Tuttavia ogni volta che hanno provato a riavvicinarsi non era mai il momento giusto: una volta Barney era impegnato con Nora, un'altra volta era Robin a non essere disponibile. Quando in questa puntata però il playboy bacia Robin entrambi sono liberi e potrebbero riprovarci. La chimica c'è, il tempismo pure. Eppure la ragazza fugge via spaventata per l'ennesima volta. È in questa occasione che Barney capisce che per convincerla deve elaborare un piano e farle credere di essersi fidanzato con la sua peggior nemica Patrice. Sapendo di non poterlo avere, Robin capirà quanto tiene a lui e supererà le sue paure.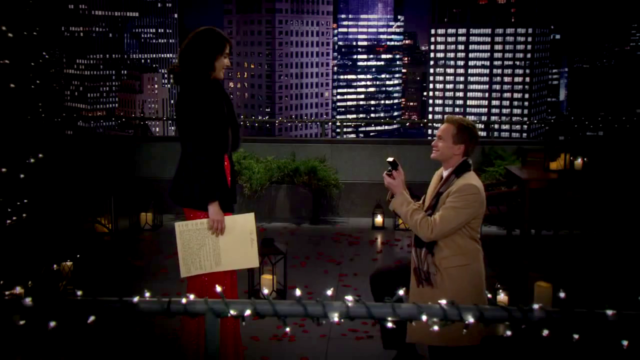 Senza questa puntata quindi non avremmo mai avuto la stupenda dichiarazione di matrimonio di Barney. Vi sembra sufficiente per rivalutare questo episodio? Io dico di sì.