Nata nel 1974, Alyson Lee Hannigan si è fatta conosce e amare grazie a ruoli che hanno segnato l'adolescenza, se non la vita, di molti di noi: da Buffy L'Ammazzavampiri, passando per American Pie, fino a How I Met Your Mother. Ma chi è davvero Alyson Hannigan? L'attrice che interpreta l'indimenticabile Lily Aldrin è ancor più incredbile! Scopriamo 10 curiosità su di lei.
1) Galeotto fu il set!
Galeotto fu Buffy the Vampire Slayer e Anthony Stewart Head.
Alyson Hannigan ha sposato Alexis Denisof, conosciuto sul set della serie tv sui vampiri: interpretava Wesley Wyndam-Pryce, il nuovo pedante Osservatore. L'attore – amico di Anthony Stewart Head, Giles nella serie tv – era stato scritturato solo per un paio di episodi, ma la sua bravura e alchimia con Head fecero sì che la parte di Wesley fosse estesa a tutta la terza stagione e, anzi, passasse come regular all'universo dello spin off Angel. La cosa curiosa è che in Buffy il suo personaggio si invaghiva di Cordelia e con Willow (Alyson Hannigan) ha avuto pochissime interazioni!
I due hanno iniziato a frequentarsi prima come semplici amici, soprattutto per la politica di Denisof, che sosteneva di non voler avere storie con le colleghe. Lo stesso Anthony Head li aveva messi in guardia dal trasformare la loro amicizia in qualcosa di più. Ma alla fine il sentimento amoroso è prevalso. E a quanto pare è stato un bene: i due sono sposati dal 2003 e hanno due figlie.
Ma se non avete ancora inquadrato chi sia Alexis Denisof aggiungiamo un dettaglio. Ha interpretato Sandy Rivers, l'insopportabile collega di Robin in How I Met Your Mother!
2) Il finale di How I Met Your Mother l'ha delusa
Il finale della serie tv cult creata da Carter Bays e Craig Thomas è uno dei più discussi anche dopo anni. Il pubblico è diviso e perfino tra i membri del cast le reazioni sono le più disparate. Anche Alyson Hannigan ha detto la sua sull'ultimo episodio Last Forever, ammettendo di essere rimasta lei per prima delusa. Ha sottolineato come la puntata trasmessa fosse molto diversa da quella che era stata proposta inizialmente. Il copione consegnato agli attori era molto più lungo e la durata dell'episodio sarebbe dovuta essere di circa due ore.
"Il finale è stato come uno schiaffo in piena faccia. La sensazione era che le cose stessero accadendo troppo velocemente, tipo 'Hey, aspetta! Che sta succedendo?'. Purtroppo è stato ridotto durante il processo di editing. Ricordo, per esempio, che avevamo girato diverse scene a tema "funerale", ma sono state eliminate. Penso, invece, che il pubblico ne avesse bisogno".
Ha poi aggiunto come la scelta di far sposare Barney e Robin, per poi vederli separarsi dopo solo tre anni, sia stata una forzatura. "Non era naturale." ha affermato. Secondo Lily Aldrin, se i fan avessero visto – o quantomeno letto – il copione originale, le critiche mosse sarebbero state certamente meno severe.
3) Buffy sarebbe dovuta finire con Willow secondo Alyson Hannigan
Tra i due litiganti il terzo gode. Da quando la serie tv è finita (attualmente la trovate in streaming su Amazon Prime Video), i fan continuano a scontrarsi pacificamente su chi sarebbe stato il partner perfetto per Buffy: Angel o Spike?
La rivelazione dell'attrice è arrivata in seguito a quella di Stacey Abrams, attivista politica georgiana ed ex candidata governativa: "Ad essere sinceri, Angel era il ragazzo giusto per Buffy nel momento in cui iniziava a conoscere il suo potere. Spike era l'uomo giusto con cui stare mentre raggiungeva il picco del suo potere". Il tweet della Abrams ha ricevuto l'approvazione della stessa Alyson Hannigan e di Josh Whedon in persona.
Ma per l'attrice che nella serie interpreta Willow Rosemberg non c'è dubbio su chi fosse l'anima gemella della Cacciatrice: "In realtà Buffy avrebbe dovuto far coppia con Willow", ha infatti affermato in un altro post sul social.
Quando però qualcuno ha mosso come obbiezione che questo avrebbe probabilmente rovinato l'amicizia tra le due ragazze, Alyson Hannigan ha risposto prendendo come esempio proprio il suo matrimonio: "Anthony Stewart Head mi aveva detto la stessa cosa quando io e Alexis Denisof stavamo pensando di frequentarci venti anni fa!"
4) È terrorizzata da una battuta di American Pie
Un'altra volta invece, al campo della banda…
Lo scorso anno si è tenuta la reunion del cast della saga cinematografica American Pie. Il primo film è uscito nelle sale nel 1999 e tra i protagonisti c'era proprio Alyson Hannigan nel ruolo di Michelle Flaherty, una ragazza in apparenza puritana e ingenua che in realtà rivela avere molta esperienza e un'attiva vita sessuale. Le commedie giocano sui doppi sensi e sulle situazioni imbarazzanti che derivano dall'inesperienza e della voglia di scoprire tipica dell'età adolescenziale.
L'attrice è diventata celebre per una battuta in particolare, che ancora oggi le viene ripetuta quando i fan la incontrano per strada. Durante un'intervista a The Kelly Clarkson Show ha però aggiunto:
"Ora ho due figlie e quando sono con me e qualcuno inizia a dire la battuta del primo film di American Pie, sono tipo: 'Sì, sì, so di cosa stai parlando… Possiamo fermarci qui?' Vado davvero nel panico! " Le bambine sono ancora piccole, di 7 e 10 anni, e lei non si sente pronta a parlare di queste cose. "Non voglio ancora avere quella conversazione con loro! Fortunatamente, (i fan) non finiscono la frase, ma sono lì terrorizzato che lo faranno."
5) Alyson Hannigan odia cantare
Si avete capito bene, Alyson Hannigan odia cantare! Sostiene di essere affetta da una sorta di fobia che la assale ogni volta che è costretta a cantare davanti a qualcuno. Eppure, per sua sfortuna, in entrambe le serie tv che l'hanno resa celebre ci sono stati degli speciali episodi musicali: Once More with Feeling (Buffy the Vampire Slayer) e Nothing Suits Me Like a Suits (How I Met Your Mother). E se torniamo con la mente a quelle puntate canterine ci accorgiamo che in effetti cantava veramente poco!
Anche nelle performance di gruppo – che sia nei panni di Willow Rosemberg o in quelli di Lily Aldrin – mentre il resto del cast ha battute più lunghe, lei per lo più rimane in silenzio.
L'interprete ha cercato di spiegare il suo problema agli sceneggiatori di How I Met Your Mother: "Ho supplicato gli autori di non farmi cantare. È come una fobia. Non riesco a farlo in pubblico. So che suona strano, ma è così e quando sono in qualche show e vogliono inserire una parte musicale io sono tipo 'Noooooo!!!'"
6) È molto legata ai ricordi con il cast di How I Met Your Mother
In occasione del 15° anniversario della serie tv che l'ha vista vestire i panni di Lily Aldrin dal 2004 al 2014, Alyson Hannigan ha voluto svelare alcuni retroscena, ricordi a cui è particolarmente legata e che ha condiviso con i membri del cast prima che la serie tv fosse in streaming. "Ridevamo così tanto… Siamo diventati davvero bravi a fare i giochi di parole! Penso che sia iniziato con qualcuno che ha menzionato la rivista Cat Fancy. Credo che fosse una guest star e non so perché sia iniziato un gioco di parole. Abbiamo continuato a farli. Sono stati anni di giochi di parole" ha condiviso.
L'attrice ricorda un giorno in particolare, in cui hanno deciso di parlare solo attraverso giochi di parole basate sulle canzoni degli U2. "Abbiamo riso un sacco. Ogni volta che sento una canzone degli U2 ora penso a quel giorno. E' così stupido, ma all'epoca era davvero divertente".
Alyson Hannigan ha continuayo con una punta di nostalgia a partlare die suoi colleghi: "Saranno sempre persone che amo. Non appena parlo con loro, è come se il tempo non fosse passato mai."
7) Le numerose connessioni tra Lily Aldrin e Willow Rosemberg
How I Met Your Mother è pieno zeppo di riferimenti e omaggi a film e serie tv che hanno segnato la storia del cinema, della televisione e poi dello streaming. Non c'è da stupirsi che anche i riferimenti a Buffy the Vampire Slayer abbondino. Eppure, non possiamo fare a meno di emozionarci quando notiamo tutti i collegamenti che legano la strega Willow Rosemberg alla creativa Lily Aldrin.
Il più evidente è il terribile sguardo Tu per me sei morto! che pochi – per fortuna – si sono visti riservare. Le pupille grandi e dilatate, il volto deformato dalla rabbia: tutto questo lo abbiamo già visto in Buffy quando Dark Willow cede alla magia oscura per vendicare la sua compagna Tara e uccidere Warren.
E proprio il suo orientamento sessuale è un altro richiamo a Willow. La ragazza come sappiamo, nella quarta stagione scopre di essere omosessuale proprio grazie all'incontro con Tara. Vi ricorda qualcosa? Le tendenze saffiche di Lily, il suo desiderio di baciare Robin e la paura – poco prima di sposarsi – che impegnandosi con Marshall avrebbe rinunciato a una possibile esperienza lesbo.
8) Il primo amore non si scorda mai
Eh sì, a quanto pare gli easter egg di Buffy in How I Met Your Mother non finiscono qui! Nell'episodio 6×06 della serie tv, Lily Aldrin e Marshall Eriksen iniziano seriamente a pensare al nome da dare al loro futuro figlio. E il primo nome che Lily propone – nel caso fosse nata una femmina – è proprio Tara! Un tenero omaggio alla dolce fidanzata di Willow. Ma non è tutto.
Ancora nell'episodio 9×02, Marshall è alla disperata ricerca di un mezzo di trasporto che gli consenta di arrivare in tempo per le nozze di Robin e Barney. Mentre Lily aspetta angosciata di rincontrarsi con suo marito, è costretta a un soggiorno in solitudine in una settimana dove tutto sembra essere all'insegna dell'amore. Come dimenticare il metodo che Lily Aldrin usa per sopravvivere? Linus! Il barista che paga cento dollari per assicurarsi di avere sempre il bicchiere pieno. Linus dice a Lily che ciò che ha richiesto è chiamato "pacchetto Kennedy". Kennedy è il nome di una delle potenziali cacciatrici che appaiono nella settima e ultima stagione e futura amante della strega. È con lei che Willow si aprirà in seguito ai devastanti eventi della sesta stagione… proprio bevendo drink al bar!
Ma se parliamo di primo amore non possiamo che riferirci a Oz, il lupo mannaro batterista che conosciamo nella seconda stagione di Buffy. Seth Green, interprete di Oz, appare anche nella serie tv in streaming su Netflix: è Daryl LaCoutre, il compagno di college ossessionato da Marshall e Lily!
9) I suoi momenti preferiti di Buffy
Buffy l'Ammazzavampiri (qui la spiegazione del finale della quarta stagione) occuperà sempre un posto speciale nel cuore della Hannigan. I momenti trascorsi con il cast, l'incontro con il suo attuale marito, il lascito di Willow. Ci sono alcune scene che però per lei hanno significato qualcosa in più e che anche dopo venti anni ricorda come fossero accadute ieri. Prima fra tutte la sua scena preferita tratta dall'episodio Innocence della seconda stagione. Willow e Oz sono nel furgone di lui, lei lo solleciata a baciarla e lui rifiuta. "È una scena tranquilla," ha affermato "ma ritengo sia un punto di svolta per il personaggio: la sua attenzione si sposta dalla cotta adolescenziale per Xander al rapporto più maturo con Oz".
Tra i momenti più divertenti e coinvolgenti invece ci sono gli episodi incentrati sulle realtà parallele. In particolare Doppelganger, nella parte finale, quando Good Willow interpreta Bad Willow, "Continuavo a dire 'Non riesco a muovermi con i pantaloni di pelle!' Quindi mi sentivo a mio agio a interpretare Good Willow che si sentiva a disagio!" Per altro, avendolo filmato con una controfigura, doveva continuamente interrompere, cambiare abito e con esso il personaggio. "Continuavo a domandarmi chi stessi interpretando!"
I suoi episodi preferiti invece sono Hush e The Body, entrambe alcune delle puntate della serie tv più acclamati dalla critica.
10) La scena più difficile che Alyson Hannigan abbia girato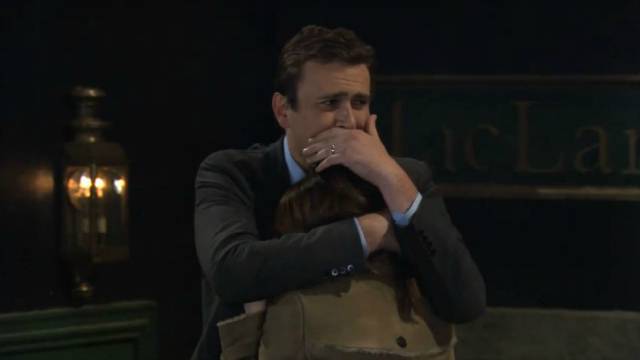 La scena più difficile che Alyson Hannigan abbia girato invece è stata nei panni di Lily Aldrin in How I Met Your Mother. Stiamo parlando di uno dei momenti più strazianti della serie tv, quando Lily deve comunicare a Marshall che suo padre è morto. Per noi spettatori, ogni volta che ci approcciamo alla visione streaming dell'episodio, è un duro colpo al cuore. A quanto pare quello stesso magone ha assalito i protagonisti mentre giravano le riprese.
Jason Segel, l'interprete di Marshall Eriksen, aveva deciso di non leggere il copione della scena, perché voleva che la sua reazione fosse il più cruda e vera possibile. Ma il taxi continuava a mancare il segno sulla scenografia così Alyson Hannigan continuava a tenersi pronta per poi dover interrompere, cancellare e ricominciare il processo di immedesimazione tutto daccapo. Quando hanno finalmente iniziato a girare, la prima ripresa che hanno fatto è stata talmente perfetta che non ne hanno dovute fare altre. Alyson ha ammesso che questa è stata la parte peggiore per lei, perché si sentiva stravolta, ancora in preda all'emozione e avrebbe voluto lavorarci sopra per dare sfogo ai suoi sentimenti in camera. "Avevo tante altre lacrime da regalare. Stavo ancora piangendo mentre tornavo a casa… non ho potuto fare a meno di pensare che fossero uno vero spreco!"