Questo articolo contiene spoiler sull'ottava stagione di Game of Thrones!
Tutti abbiamo odiato Theon Greyjoy quando lo abbiamo conosciuto nella prima stagione di Game of Thrones. Dopo la ribellione della sua casata, gli Stark lo presero in ostaggio ma Ned decise di crescerlo come un figlio. Allo scoppio della guerra con i Lannister, Theon rimane fedele agli Stark, soprattutto per l'amicizia con Robb, divenuto per lui un fratello. Assiste orgoglioso alla sua incoronazione come re del Nord dopo la morte di Ned.
La mia spada è la tua, nel trionfo e nella disfatta, fino alla fine dei miei giorni.
All'inizio di Game of Thrones era solo uno stupido arrogante figlio di papà. Nonostante tutta la devozione verso gli Stark, decide comunque di tradirli. Voleva compiacere il padre e la sorella malgrado le continue umiliazioni a cui è stato sottoposto da loro. Così assalta Winterfell e prende in ostaggio Bran e Rickon che però fuggono grazie a Osha. Non riuscendo a trovarli, Theon uccide due ragazzini facendoli passare per i fratelli Stark.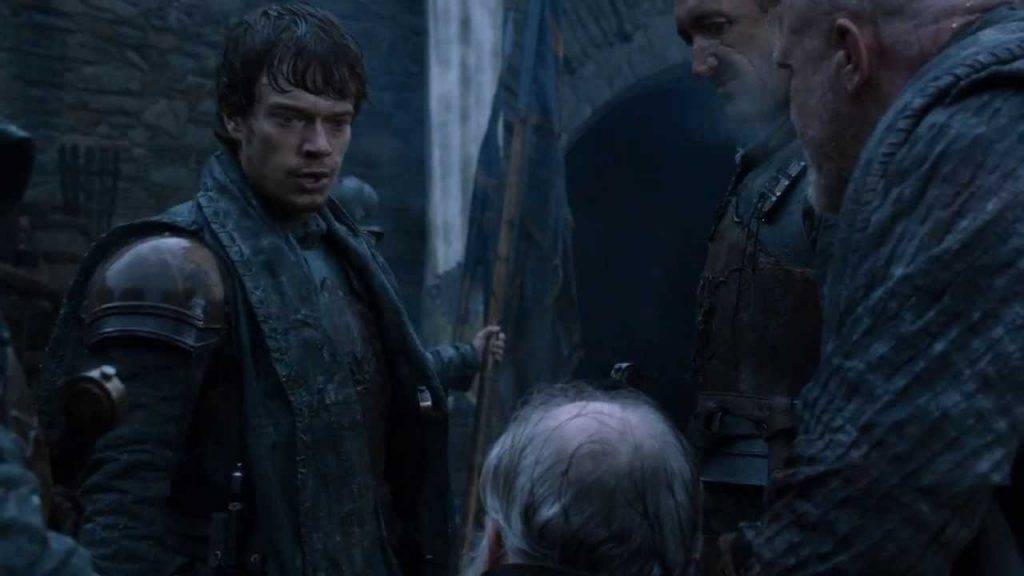 Quando i Bolton arrivano a Winterfell, gli stessi Uomini di Ferro, capendo di non poterli battere, consegnano Theon in segno di resa. Il giovane Greyjoy finisce nelle mani poco amorevoli di Ramsay Bolton.
Il suo aguzzino lo tortura in ogni modo possibile e l'evirazione è il culmine della violenza gratuita che il bastardo di casa Bolton compie su Theon. Quest'ultimo era un donnaiolo che aveva successo con le donne. Tolto quello, viene meno la sua identità, viene ridotto a niente. Ramsay è un fine stratega e sa colpire Theon nei suoi punti deboli. Lo trasforma in un automa, una marionetta completamente assoggettata al suo volere e troppo traumatizzata per poter reagire.
Theon diventa Reek e perde tutto se stesso. Non è più un uomo, è diventato un oggetto. Non neghiamo che all'inizio abbiamo provato una certa soddisfazione. Era come se avesse subito la giusta punizione per aver tradito gli Stark, la sua vera famiglia, in favore di una che non lo accettava. Non lo potevamo perdonare ma poi abbiamo iniziato a provare pietà per lui, perché quello che Ramsay gli ha fatto è di una crudeltà inaudita. Il suo sguardo, diviso tra l'obbedienza e la ribellione, è perennemente triste, sconvolto e difficile da guardare. Perché dietro quello sguardo si nasconde tutto quello che ha subito.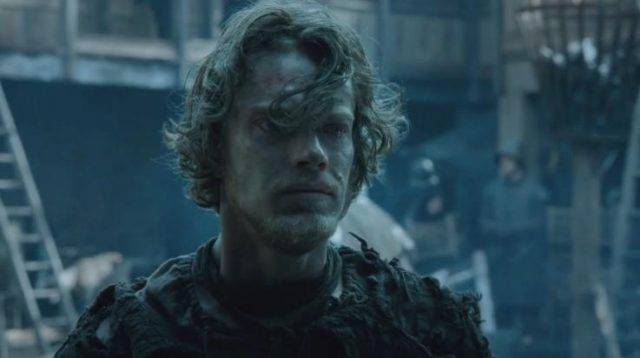 Ma Theon è ancora dentro di lui. Trova in Sansa la sua possibilità di redenzione. Lei gli ricorderà chi è, gli darà la speranza necessaria per ribellarsi a Ramsay, liberarsi di Reek e tornare a essere Theon. La sua rinascita inizia con un grande salto, quello dalle mura di Winterfell con Sansa. Assicuratosi che la giovane Stark è salva, ritorna a casa dove aiuta e sostiene Yara nella lotta contro Euron. Lo zio però riesce a tendere un'imboscata vincente alla flotta dei fratelli Greyjoy. Quando decide di salvare se stesso invece che Yara, sembra che sia tornato il Theon egoista e codardo di sempre.
Ma non avrebbe potuto fare altrimenti. Le parole di Euron, così simili a quelle di Ramsay, hanno rievocato esperienze che non intende rivivere a nessun costo, oltretutto correre sguainando la spada verso la sorella sarebbe stata una mossa stupida. Scappare era la scelta giusta. Yara è prigioniera ma viva e Theon può cercare la strategia migliore per liberarla. Farà di tutto per compiere questa missione, riuscendoci nell'ottava stagione di Game of Thrones!
Decide però di non seguirla nelle Isole di Ferro: vuole andare a Winterfell e combattere per Jon nella battaglia contro il Night King.
Ha ancora un debito da pagare nei confronti degli Stark. Per questo si offre volontario per difendere Bran nel Parco degli Dei. Nonostante i suoi uomini siano caduti, non ha smesso di combattere, anche quando era l'unico ostacolo tra il Night King e il giovane Stark. Si scaglia fieramente contro questo nemico apparentemente invincibile, consapevole di andare incontro alla morte. Il Night King non lo ha risparmiato, uccidendolo con la sua stessa arma.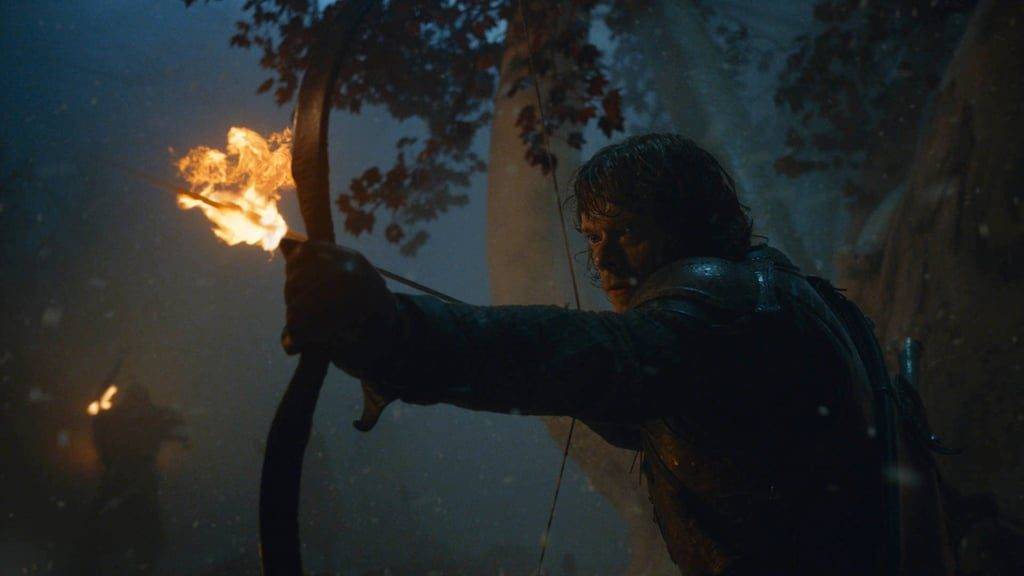 Una morte straziante, emozionante e dolorosa, ma coerente con questo personaggio di Game of Thrones.
Theon non è mai stato cattivo, semmai era un inetto, incapace a livello strategico, che cercava di ottenere il massimo dalle opportunità che gli si presentavano. Viene cresciuto come uno Stark ma gli viene costantemente ricordato che non è uno di loro, vive un conflitto interiore che lo porta a tradire quello che per lui era come un padre, un fratello e una famiglia. Doveva scegliere e ha scelto male. Però ha pienamente espiato i suoi peccati, ha pagato per le atrocità che ha fatto. Jon Snow lo sa e già nella settima stagione di Game of Thrones lo perdona e lo libera dal dover scegliere da che parte stare:
Non devi scegliere chi essere. Sei un Greyjoy. E sei uno Stark.
Jon libera il cuore di Theon da un grande peso, ma sarà Bran a dirgli esattamente quello che ha bisogno di sentire. Con quel "Sei un brav'uomo. Grazie", il giovane Greyjoy ha ottenuto il perdono che tanto desiderava. Ha posto fine al suo dilemma: è Winterfell la sua casa e ora può morire nel luogo a cui appartiene. Ormai non ha più paura del giudizio degli altri, delle conseguenze delle sue azioni, di sbagliare o di morire facendo la cosa giusta. Non gli viene concesso un ultimo spettacolare scontro perché il suo punto d'arrivo è rappresentato proprio dalle parole di Bran. Muore in maniera onorevole proteggendo la sua famiglia, quelli che un tempo aveva tradito e cercato di uccidere. La sua redenzione è completa.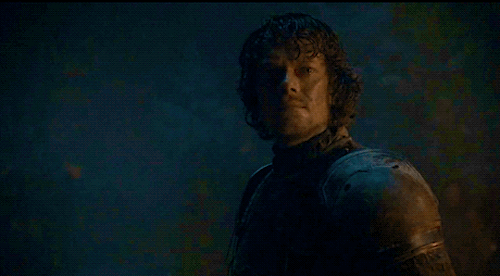 Theon non è mai stato un eroe, è un essere umano con i suoi pregi e i suoi difetti. Ma lo è stato nei momenti in cui contava. Lo è stato per Sansa, quando si è ribellato al suo istinto primario e l'ha trascinata via dalle grinfie di Ramsay. Lo è stato per Yara, quando ha scelto di non salvarla inizialmente, quando si è battuto per lei, quando finalmente l'ha liberata dalla sua prigionia. Infine lo è stato per Bran, quando ha tentato di proteggerlo dal Night King.
In conclusione, c'è solo una cosa da dire: grazie Alfie Allen per aver reso Theon Greyjoy uno dei personaggi meglio costruiti, più profondi e più umani di Game of Thrones.