Due episodi dell'ottava stagione di Game of Thrones ce li siamo lasciati alle spalle. Non è successo un granché in termini di azione ma le emozioni sono state tante. Come non dimenticare l'atto d'amore di Jaime nei confronti di Brienne? O gli incontri che tanto aspettavamo come quello tra Jon e Arya? O Jon che scopre finalmente chi è?
Al termine del secondo episodio abbiamo visto l'arrivo degli Estranei. Lo scontro è ormai imminente e ci prepariamo a una delle battaglie più epiche non solo in Game of Thrones, ma nella storia in generale. Non scordiamoci che per registrare questi 82 minuti ci hanno messo 55 giorni!
Nell'attesa dello scontro atteso da tantissime stagioni, nell'attesa di scoprire chi vincerà, chi vivrà e chi morirà, ripercorriamo insieme alcune della migliori battaglie di Game of Thrones.
1) The Battle of the Bastards (6×09)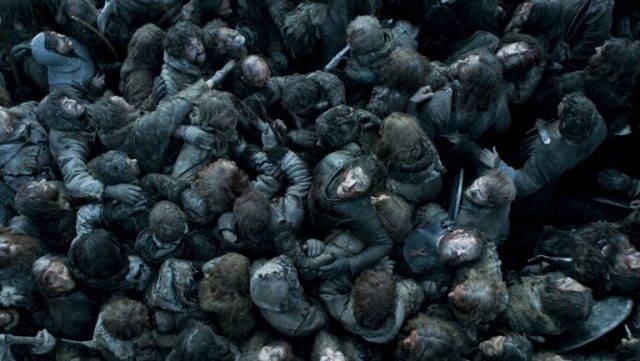 Partiamo subito con la migliore battaglia della serie tv targata HBO. Jon Snow vs Ramsey Bolton è Game of Thrones al suo meglio.
La Battaglia dei Bastardi è un climax ascendente di tensione, pieno di colpi di scena, a cominciare da Ramsey che gioca con Rickon: gli dà un minimo senso di salvezza, per poi ucciderlo con una freccia a pochi metri da Jon. Preso dalla rabbia, Jon spinge il suo cavallo verso l'armata dei Bolton, viene disarcionato, afferra la spada e si appresta ad affrontare i soldati da solo. E poi il suo esercito arriva e la battaglia comincia. Jon si fa spazio tra i soldati, mentre la sua faccia si incrosta sempre più di sangue e i corpi dei morti si accumulano, diventando un ostacolo fisico da superare. E quando tutto sembra perduto, ecco arrivare Sansa con i Cavalieri della Valle a salvare la situazione.
Quella tra Ramsey e Jon è la più grande scena di guerra mai vista sul piccolo schermo e non ha niente da invidiare a ciò che vediamo al cinema. Tutto l'orrore e la violenza della guerra emerge in sequenza iconiche e indimenticabili, come le montagne di cadaveri e Jon che riemerge dalla folla. Un momento di macabra bellezza, potere e tragedia.