Ci siamo lasciati alle spalle l'epocale e magnifica terza puntata dell'ottava stagione di Game of Thrones. Le perdite subite sono state strazianti, anche se forse sono state meno del previsto. Del resto una delle caratteristiche principali di Game of Thrones è riuscire ogni volta a sorprenderci quando fa morire uno dei suoi personaggi. Ci sono alcune uscite di scena che ci hanno letteralmente spezzato il cuore a metà (Ned e Robb Stark tanto per dirne due). Per altre invece abbiamo esultato festanti.
In questo pezzo c'è la top 10 delle morti più soddisfacenti di Game of Thrones. Ai piedi di questa classifica vi sono personaggi come Roose Bolton, l'Orfana, Shae, Pycelle, Polliver, Cranster e persino Stannis Baratheon, perché quello che ha fatto a Shireen è imperdonabile!
Ma non perdiamoci in chiacchiere e cominciamo subito.
10) Lysa Arryn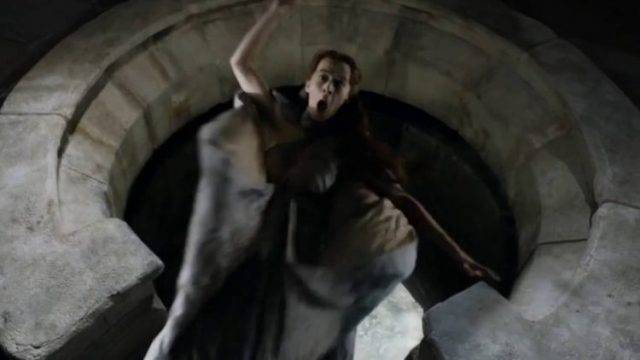 Lysa Arryn apre questa classifica. Personaggio totalmente negativo, da sempre ossessivamente gelosa della sorella Catleyn, ha un'attrazione morbosa per Ditocorto solo perché voleva superarla in qualcosa. Così asseconda il machiavellico Baelish in tutto, compreso quando le chiede di assassinare il marito Jon Arryn, Primo Cavaliere del Re. Sempre Lysa scrive una lettera in cui accusa i Lannister di aver ucciso il marito in modo da metterli contro gli Stark.
La sua gelosia si è spostata poi su Sansa, arrivando a minacciare di uccidere la giovane Stark poiché credeva che volesse sedurre Ditocorto, divenuto suo marito. Petyr prima cerca di consolarla, apparentemente per salvare Sansa, e poi la uccide spingendola attraverso la Porta della Luna, come nella più perfetta tradizione dantesca. E se alla fine le è successo tutto questo, è solo colpa di Lysa!