Ci siamo lasciati alle spalle Game of Thrones da un paio d'anni. Le perdite subite sono state strazianti, anche se forse sono state meno del previsto. Del resto una delle caratteristiche principali di Game of Thrones è riuscire ogni volta a sorprenderci quando fa morire uno dei suoi personaggi. Ci sono alcune uscite di scena che ci hanno letteralmente spezzato il cuore a metà (Ned e Robb Stark tanto per dirne due). Per altre invece abbiamo esultato festanti.
In questo pezzo c'è la top 10 delle morti più soddisfacenti di Game of Thrones. Ai piedi di questa classifica vi sono personaggi come Roose Bolton, l'Orfana, Shae, Pycelle, Polliver, Cranster e persino Stannis Baratheon, perché quello che ha fatto a Shireen è imperdonabile!
Ma non perdiamoci in chiacchiere e cominciamo subito.
10) Lysa Arryn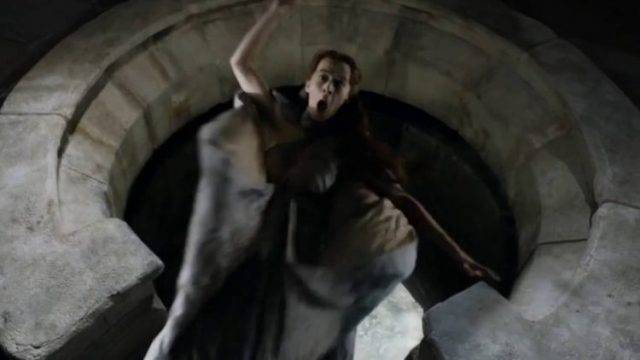 Lysa Arryn apre questa classifica. Personaggio totalmente negativo, da sempre ossessivamente gelosa della sorella Catleyn, ha un'attrazione morbosa per Ditocorto solo perché voleva superarla in qualcosa. Così asseconda il machiavellico Baelish in tutto, compreso quando le chiede di assassinare il marito Jon Arryn, Primo Cavaliere del Re. Sempre Lysa scrive una lettera in cui accusa i Lannister di aver ucciso il marito in modo da metterli contro gli Stark.
La sua gelosia si è spostata poi su Sansa, arrivando a minacciare di uccidere la giovane Stark poiché credeva che volesse sedurre Ditocorto, divenuto suo marito. Petyr prima cerca di consolarla, apparentemente per salvare Sansa, e poi la uccide spingendola attraverso la Porta della Luna, come nella più perfetta tradizione dantesca. E se alla fine le è successo tutto questo, è solo colpa di Lysa!
9) L'Alto Passero
L'Alto Passero era un personaggio diverso: non un politico spietato, né un villain perfido. Ma l'aria da santo predicatore che pensa di saperne più degli altri e usa le sacre scritture per disturbare l'ordine proprio non è piaciuta a nessuno. Ha preso di mira personaggi che lui riteneva essere peccaminosi, come Cersei o Margaery, perché avevano violato la legge sacra. Per tutto il tempo era libero di muoversi per King's Landing come se ne fosse il padrone e sembrava che il momento della sua giusta punizione non sarebbe mai arrivato.
Ma la sua convinzione è stata la sua rovina. Margaery lo aveva avvertito che c'era qualcosa che non andava ma l'Alto Passero non ha voluto ascoltarla. È stata la prima persona ad andare in fiamme quando l'Altofuoco ha distrutto quel grande edificio. La scena della sua morte è durata un secondo, ma è bastato per renderla una delle più gratificanti e chiudere una volta per tutte la noiosa storyline dei fanatici religiosi.
8) Ser Meryn Trant
All'ottava posizione troviamo Ser Meryn Trant, uno dei personaggi di sicuro più odiati di tutta Game of Thrones.
È un cavaliere violento con una propensione per le ragazzine e che si diverte a picchiarle. Nel corso delle sue apparizioni ha seguito senza esitazioni gli ordini di Joffrey, arrivando più volte a colpire fisicamente Sansa anche prima che il re glielo ordinasse. Non brilla nemmeno come cavaliere dato che è stato messo in difficoltà da un uomo con la spada di legno.
Incontrerà la sua fine in un bordello a Braavos, dove Arya Stark si finge una delle bambine date in pasto a Trant grazie a uno dei volti che ha preso alla Casa del Bianco e del Nero. In una scena molto splatter lo accoltella più volte, prima al volto, poi all'addome, facendogli soffrire le pene dell'inferno prima di ucciderlo. Arya ha ottenuto giustizia per la sorella e per il suo insegnante, diventando così una spietata assassina.
7) Ser Alliser Thorne, Olly e i Guardiani della Notte traditori
Uccidere uno dei personaggi più amati di Game of Thrones in quel modo è da vigliacchi, ma sperare di farla franca è da ingenui. Alliser Thorne, i Guardiani della Notte traditori e Olly lo hanno imparato a proprie spese. Il primo ha dedicato tutta la sua vita ai Guardiani. Non voleva che l'ordine finisse per i principi di un uomo, cosa che credeva sarebbe successa con Jon Snow come Lord Comandante. Da sempre aveva nutrito un odio profondo per lui e venir superato proprio dal bastardo Stark era uno smacco impossibile da sopportare
Così ordisce la congiura alla quale partecipa anche Olly, il ragazzino al quale Jon aveva salvato la vita. E come lo ripaga? Prima uccide Ygritte, la donna che il suo rivale ama e poi infrange il giuramento di proteggere il Lord Comandante pugnalandolo a morte. Tutto perché a Olly non piaceva la collaborazione tra Jon e i Bruti, rei di aver ucciso i suoi genitori.
Peccato che Jon riesca a tornare in vita e a ottenere la sua vendetta impiccando i traditori.
6) Viserys Targaryen
La morte di Viserys Targaryen è stata particolarmente soddisfacente perché è stata la prima meritata.
Non esita a vendere la sorella, pur di conquistare il Trono di Spade, a uno degli uomini più feroci del pianeta. Nel corso degli anni si è divertito a picchiare e abusare di Daenerys in ogni modo possibile. Man mano che Game of Thrones proseguiva, Daenerys acquistava sempre più consensi tra i Dothraki mentre Viserys vedeva scendere la sua popolarità.
Divenne stupido, arrogante e impaziente. Daenerys non si sentiva più minacciata dal fratello, ora che aveva Drogo dalla sua parte. Viserys tocca l'apice quando irrompe ubriaco alla festa per il bambino della sorella. Brandisce una spada nella città di Vaes Dothrak con la quale minaccia il figlio non ancora nato di Daenerys se Drogo non lo avesse aiutato a riconquistare la sua corona. E Drogo gliela dà la sua corona: gli versa sulla testa una cascata di oro fuso, uccidendolo. Il suono della sua testa solidificata che colpisce il terreno ci ha fatto capire che non tutte le morti dello show sarebbero state tristi!
5) Tywin Lannister
Non possiamo negare quanto sia geniale Tywin Lannister a livello politico. Grande anche la sua capacità di trovare una soluzione giusta per qualsiasi situazione, pure se significava compiere massacri come il Red Wedding. Era lui che regnava, non Joffrey, Tommen o Cersei. Oltre che per la carneficina sopra citata, c'è un altro motivo per cui non possiamo perdonare Tywin: l'odio insensato rivolto verso il figlio minore Tyrion, colpevole di essere un nano e di aver presumibilmente ucciso la moglie durante il parto.
Già dall'inizio di Game of Thrones lo avevamo capito, quando Tyrion dice: "Tutti i nani sono bastardi agli occhi dei loro padri". Un rapporto complicato che tocca l'apice nella quarta stagione, quando Tywin condanna il figlio a morte per l'omicidio di Joffrey. È proprio Tyrion a togliere la vita all'uomo più potente di Westeros. Dopo aver ucciso Shae (trovata nel letto di Tywin), prende la balestra di Joffrey e uccide il padre mentre era seduto sulla latrina. Una morte non proprio onorevole ma estremamente gratificante per noi!
4) Petyr Baelish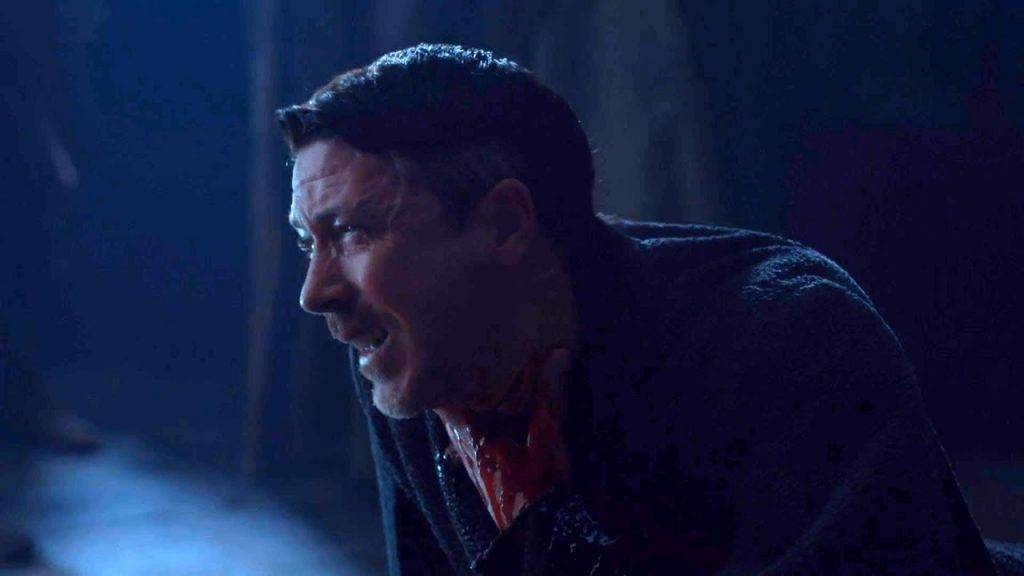 Ai piedi del podio si piazza Petyr Baelish, uno dei personaggi più longevi di Game of Thrones.
È il responsabile di alcune delle cose più terribili mai successe a Westeros. Ha tradito Ned Stark condannandolo a morte, ha manipolato Lysa Arryn facendole prima assassinare suo marito, poi sposandola e infine uccidendola. Ha "venduto" Sansa Stark ai Bolton ed è colui che ha messo in circolo la voce che Lyanna Stark era stata rapita da Rhaegar Targaryen. Se non ci fosse stato Ditocorto, non ci sarebbe stato Game of Thrones!
Petyr Baelish era una viscida serpe che credeva di essere il più intelligente di tutti. E solitamente questi villain arroganti che credono di essere sempre un passo avanti agli altri vengono battuti al loro stesso gioco. Il tentativo di mettere l'una contro l'altra le sorelle Stark fallisce e Baelish viene processato per i suoi crimini. Inutili le sue proteste: Sansa dà l'ordine e Arya gli taglia la gola con il suo stesso coltello.
3) Walder Frey
Al terzo gradino del podio non poteva non esserci il vecchio, acido, borioso e viscido Walder Frey. Magari all'inizio poteva anche aver ragione visto che Robb sceglie di sposare una sconosciuta piuttosto che una delle sue figlie. La sua reazione però è alquanto esagerata. Ha infranto il diritto di ospitalità uccidendo il Re del Nord, sua moglie incinta, sua madre e tutto il suo seguito, regalandoci una delle morti più strazianti di Game of Thrones! Ha tenuto prigioniero il genero, a cui ha rapito il figlio. Si vantava delle sue imprese, dicendo a Jaime che non erano così diversi perché erano dei sopravvissuti. E poi è arrivata Arya.
In uno dei momenti più soddisfacenti dello show, la giovane Stark si finge una cameriera, uccide i figli di Walder e glieli offre in una torta. Poi, mentre Walder si stava alzando, lo ha afferrato per i capelli e gli ha tagliato la gola.
E lo sguardo di Arya era esattamente come il nostro: soddisfatto ed estasiato.
2) Ramsay Bolton
Al secondo posto si piazza un bastardo di nome e di fatto: Ramsay Bolton. Lo abbiamo conosciuto come il torturatore di Theon Greyjoy ed era una figura piuttosto marginale. Poi il maniaco di casa Bolton è diventato centrale nelle politiche del Nord e abbiamo imparato quanto sadico e crudele potesse essere.
Tortura le persone senza provare alcun rimorso, caccia le ragazze nei boschi con i suoi cani, stupra ripetutamente Sansa. La sua mente è così malata da avergli fatto concepire l'omicidio del padre e quello della matrigna con il figlio, divorati dai suoi cani. Non contento ha ucciso Osha e Rickon, quest'ultimo proprio di fronte a Jon.
La sua morte l'abbiamo assaporata in tutto il suo splendore. Prima Jon lo pesta, riempendo di sangue tutto il suo volto. Poi la legge del contrappasso di abbatte su Ramsay: chiuso nel suo canile, legato a una sedia, mentre Sansa libera i suoi stessi mastini che lo sbranano.
1) Joffrey Baratheon
C'erano davvero così tanti dubbi su chi occupasse il primo posto in questa classifica? Era la morte che volevamo, quella di cui avevamo bisogno e che meritavamo. Joffrey era egoista, arrogante, stupido e codardo. Non dimentichiamoci del coraggio dimostrato in Blackwater! Ma c'era di più: nascondeva un'oscurità profonda che si manifestava in modi imprevedibili.
Già l'idea di uccidere Ned Stark in quel modo non era proprio brillante dato che si è inimicato tutto il Nord. Ma non gli bastava. Ha dovuto torturare Sansa in ogni modo possibile, a cominciare da quando le mostra la testa mozzata del padre. Le continue umiliazioni inflitte a Tyrion raggiungono il culmine quando Joffrey impone allo zio di fargli da coppiere al suo matrimonio. Non è un caso che Olenna si sia assicurata che il bicchiere di vino di Joffrey fosse avvelenato. Non avrebbe permesso a Margaery di sposare quel mostro.
La sua è una morte lunga e dolorosa. Ci siamo gustati il momento in cui il figlio di Cersei soffocava lentamente mentre la sua faccia diventava viola.